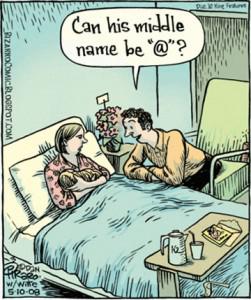 I
'm making an effort to remove myself from people who are negative, mean-spirited, and not at all fun. I try to spend a lot of time around funny people, because I'm convinced that my good health is due primarily to the fact that I laugh a lot. I love when I go to the doctor and they ask, "What medications are you on?" and I get to say, "None." And then I laugh and laugh, just so they know that's part of the package. It's a challenge to laugh a lot and not seem ditzy, but I'm up to it.
So last week, I had to remove myself from a Facebook conversation where someone brought up - in all capital letters, which is another favorite of mine - the fact that President Obama's middle name is Hussein.
Who is
still
talking about that? Anyone who's fixated on the fact that our president has a Muslim middle name needs to move along, folks. Nothing here to see. Now, if you want to talk about funny middle names, then I'm right there with you. Let's start with Joe Biden's: Robinette.  SEE? ISN'T THIS MORE FUN?
I've never been a fan of middle names. They're nothing but trouble. From what I can tell, they only come in handy if you become an assassin. Not having one could keep you out of a lot of trouble.
When my kids were born, I was more interested in choosing the hospital photo package than picking out a middle name for them. I had absolutely no interest. Once their first name was chosen, I happily moved onto the 5-by-7 vs 4-by-5 decision. My husband doesn't have a middle name, so he was no help. We finally decided to pick a middle name and give it to all of our kids.  Kinda like pulling a George Foreman, but not as creepy. On the other hand, we have two boys and a girl, and they all share the same middle name. Even George didn't do that.
My middle name is Carol, and my mom said she was always being asked if I was named after "that black actress on
Julia
," Diahann Carroll.  My brother was given my dad's name for a middle, and my sisters got Joyce, Patricia and Sue. Weirdly, none of us were burdened with Marie or Ann, the two most popular middle names for girls for going on four generations now.
Very few people use their middle names, so I'm a little surprised that we're still giving them to babies when they're born. It's just another thing for kids to wish their parents hadn't done to them. Barack Obama and Joe Biden probably have whole conversations about it. Barack: "At least your middle doesn't conjur up images of WMDs or the lack thereof." Joe: "Hussein, Huschmein . . . At least you don't sound like a French can-can dancer."