Hi everyone,
As you might've already heard, to celebrate 25 years of the Simpsons, MAC Cosmetics have collaborated with The Simpsons, or more specifically, 'Marge Simpson' to create a limited edition collection to be released in September!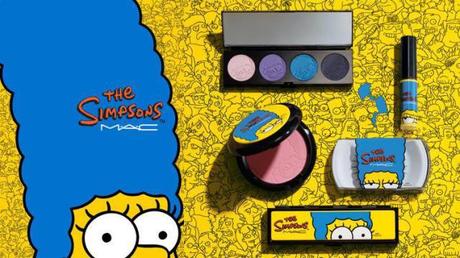 The 10 piece collection hasn't been completely revealed, however the image released by MAC shows an eyeshadow palette, a blush, false eye lashes and a lip gloss. Reports have also said that nail stickers will also be a product from the range and prices are said to be: $16.50 for nail stickers, $44 for the eye shadows (palette I believe),  $16.50 for the lip gloss and lashes priced at $18.50.
The products will be packaged with Marge Simpson's eyes and blue hair the focus!
What are Marge's favourites from the line? "They're all so great, but I must say that Lisa's Spikes really works well with my skin tone and of course, Beehive Blue complements my hair perfectly."
The Collection will be officially released and exclusively available at a one day pre order sale on July 26th at the Gaslamp District MAC store to coincide with Comic Con in the US while the limited edition collection will be available from the MAC US website on the 28th of August. It will be released in stores on September 4th.
What are your thoughts on this collaboration? Are you interested in picking up any of the products from this collection? Leave a comment below!
Like this post?
Follow me on Bloglovin'!
Like my Facebook Page
Follow me on Twitter
Follow me on Instagram
That's all for now,
triedandtestedblogger XOXO