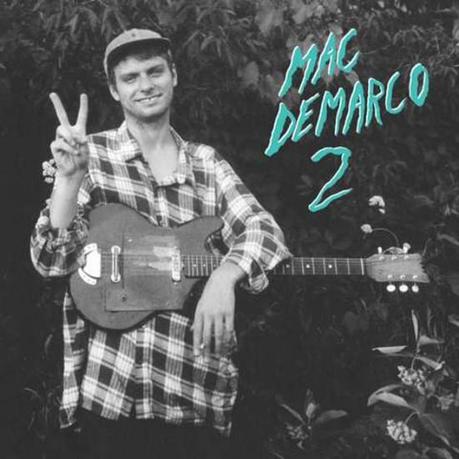 My Kind of Woman – Mac DeMarco // Buy
Freaking Out the Neighborhood // Buy
Mac DeMarco (@msldemarco) is a young gun in the wild plains of oddball troubadours.  Rock And Roll Night Club, last year's off-the-wall debut, was well received by critics for its lo-fi conception and hook-heavy execution. Now, DeMarco has followed up with a more focused sophomore effort, simply titled 2.
For fans of his debut, you're in luck. 2 is a lot of the same sleazefest: tons of slutty tremolo on the guitars and DeMarco's signature husky baritone dishing out lines that ooze with high-school cool. Though he's still the same self-deprecating goofball, there's far more focus this time around.
DeMarco keeps the sound securely in a cloud of basement haze with an eerie slant that errs on surf-glam. Sounds interesting right? Well, if you don't think so, steer clear of 2, as he doesn't really bother taking it anywhere else — not that it's a bad thing. DeMarco's songs feel as classic as a '57 Chevy, with strong songwriting to boot. Highlights come on "Robson Girl", with its ultra-groovy guitar part and bass lines straight out of the Paul McCartney method book (not to mention the freak-out guitar solo), and "Ode To Viceroy", which features some of DeMarco's best hook writing on the album. And the kid knows how to write a hook. Album opener, "Cooking Up Something Good" is another gem that will delight fans of Urge Overkill.
I have to mention, though, that the album does suffer from lack of variety, both in songcraft and sound. DeMarco's tremolo-drenched guitars permeate every song, with a brief respite given on the short, instrumental "Boe Zaah". DeMarco does make sparing use of an organ throughout, and it comes as a welcome relief when it surfaces. Still, as 2 barely clocks in at over thirty minutes, these issues likely won't bother until the fourth or fifth listen, not something out of the norm for his listeners. At least not for this one.
Overall, Mac DeMarco knows how to keep things sensitive without treading water in melancholy milieu. Where some singer/songwriters may become stuck in morbidity and introspection, DeMarco is young, wild and spontaneous. Ear-marked by many as a "must-see" artist during this year's CMJ Marathon in New York, expect more (and better) things from DeMarco as time goes on After all, the kid isn't even halfway through his twenties and already sounds like a young Lou Reed. Not too shabby.