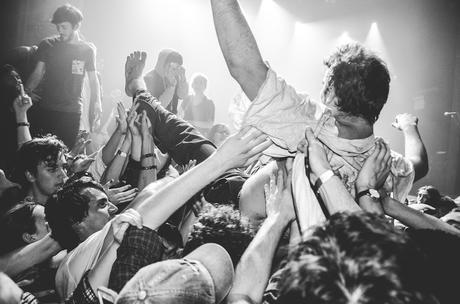 Photos by Joyce Lee
What didn't happen at the Mac DeMarco show on Sunday night? I had seen the Canadian cult hero before at Coachella in 2015, but never in a headlining setting like this. Things started off tame — Mac and his band kicked it off with songs old and new ("The Way You'd Love Her", "No Other Heart", "Salad Days"), cracking jokes and champagne while fans watched on in the crowd and his friends ("the bistro table") observed from the stage.
During a mid-set jam session, a fire started that couldn't be stifled — there were at least three bodies floating gloriously across a sea of people. Crowd surfers were surrendered to the stage, and after attempted selfies with Mac DeMarco, dove back into the abyss. After the crowd surfers subsided, Mac encouraged two of his friends to dive into the crowd and instructed fans to keep them up the entire time unless they wanted him to (jokingly) "pinch [their] necks till [they] can't breathe no more." The crowd obliged and Mac's friends survived.
What else can be said? A Mac DeMarco crowd is a spectacle on its own, and when paired with Mac's banter and musicianship, it can't be missed. A girl streaked across the stage for her 21st birthday and a couple crowd surfed to the stage to make out in front of Mac. During the last song of the set, Mac leapt into the crowd with a bright orange life jacket and took in all the glory. On his way around the crowd, joints were passed to him and fans even helped light his cigarettes.