Hello Dolls,
MAC has been constantly hiking it's prices and it's becoming a heartbreaking reason for Many MAC lipstick lovers to avoid splurging on MAC Lipsticks. But today we have a wonderful MAC Lipstick reviewed by our dear Aditi . MAC BRAVE lipstick has been the talk of toun and is a fast selling shade in the Western countries. Brave and Velvet Teddy are shades from the same category and belong to N*de lipstick section. So, let's move on to the review of MAC Brave Lipstick Review and Swatch .
MAC Brave Lipstick Review , Swatch and FOTD : MAC Satin Lipstick BRAVE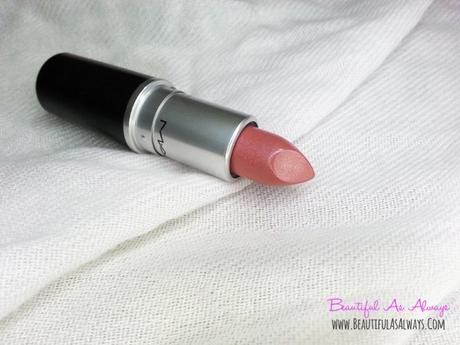 I am pretty sure all of us reading this would be much aware (and some of us like me would be crazy ) about the #instafame KYLIE JENNER lip trend, and with that came into the limelight MAC BRAVE LIPSTICK, soar and whirl lip liners, MAC BRAVE, which has become my cult favorite these days is what I am writing about today.
MAC Claims: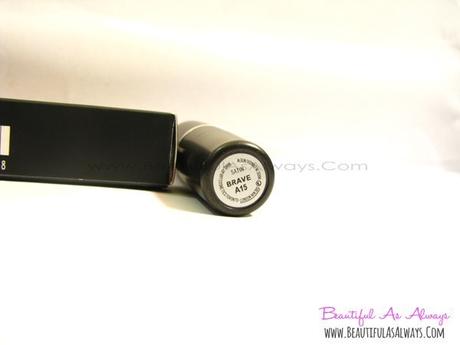 Colour plus texture for the lips. Stands out on the runway. Simmers on the street! What made M·A·C famous.
3 g / 0.1 US oz
Packaging of MAC BRAVE Lipstick :
Like all other MAC permanent line lipsticks, it comes in the regular black MAC packaging, with its name written at the bottom of the bullet. The cap closes with ease, making it easy to carry on the go. The lipstick comes in a small black cardboard box with all details mentioned.
Price of MAC BRave Lipstick :
MAC BRAVE Lipstick is priced at 1450 INR
Review of MAC BRAVE Lipstick :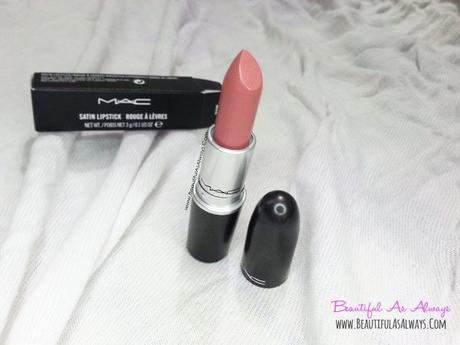 Sporting a satin finish from MAC, BRAVE is a really beautiful pinkish brown n*de color. It has tendencies to show up a little different each time, under different lighting situations. Sometimes, it looks more pink on me, sometimes a little pale, or sometimes gravitating towards mauve. Despite being a satin finish, this lipstick does have very tiny micro shimmer particles, which impart a soft metallic sheen during initial period on application. Unlike it's cousin TWIG from the same satin finish, it doesn't show up fully opaque in one swipe, in fact you need to go on with a couple of swipes for a total opaque finish. Once applied on the lips it exhibits a soft metallic sheen on the lips (which I don't like), but luckily that goes away after 5 to 10 mints after application.
You may Want To Read : MAC Girl About Town Lipstick Review
I won't really say , that it is an universally flattering colour, but anyway from the palest complexion to someone of NC25-30 would be able to sport it without any doubts, going down the line, our Indian dusky beauties would love to add a darker pink/mauve coloured lip liner first and then go on with brave over it. Without a lip liner BRAVE sure would appear washing out on deeper complexions. Even myself being a NC35 feel more comfortable when I use my MAC pink treat lip liner around it with a very light hand. The staying power of this is about 3 to 4 hours maximum, with light snacking in between. It is that perfect n*de for me and is a total pick me up. Steadily making it up to my favourites list. The next one I want is FAUX, which is a darn similar to this.
PROS and CONS of MAC BRAVE lipstick :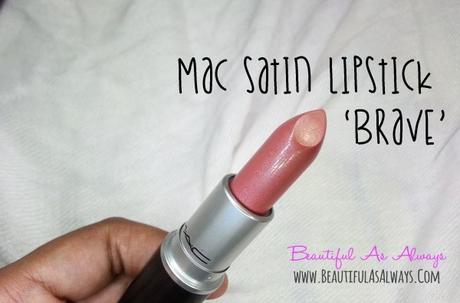 Pros:
Beautiful nude colour, that doesn't wash me out
It would work for darker skin tones as well if used with a lip liner.
Doesn't transfer on to cups or other items that come in contact
Doesn't bleed, or settle into the lip lines
Application is super smooth
Has a very creamy yet non-melting, easily gliding formula.
No tugging or pulling while application.
Cons: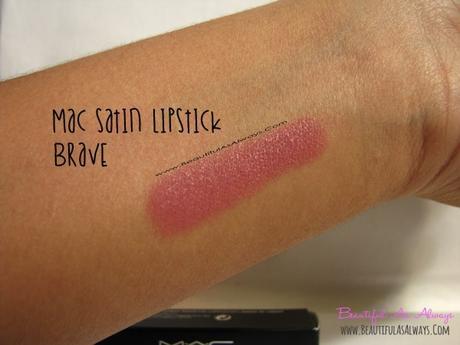 It would wash out any body over NC40, if not used a lip liner with .
The initial metallic sheen.
Final Words :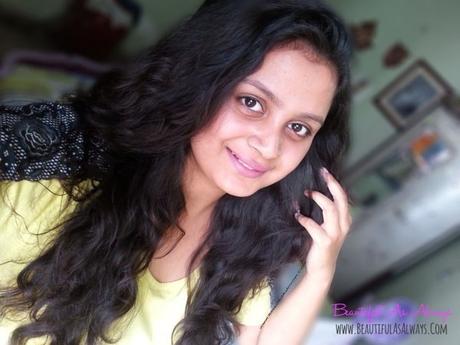 Overall , of you are a KYLIE JENNER fanatic like myself, the what are you waiting for, run to the store and grab it as soon as possible . I personally love the creamy texture and also that it doesn't bleed . A versatile shade, but I would suggest to try it out at the store first before buying. J
That was my take on MAC BRAVE Lipstick , do share your favorite nudes in the comments, hugs .
Guest post By : ADITI