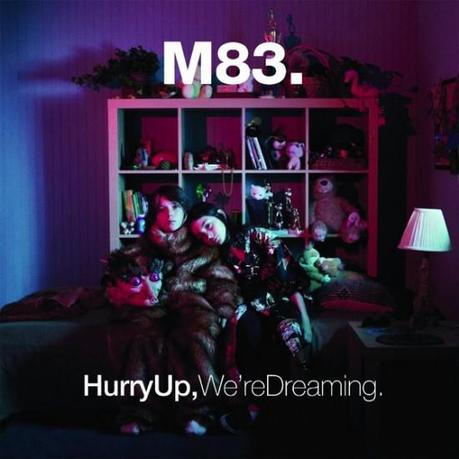 Midnight City – M83
Moving from his usual haunting sound to 80s inspired dance songs and virtuosic classically inspired songs, M83′s Hurry Up, We're Dreaming is, like its title suggests, as varied and shifting as the strange movements of a dream. In this ambitious double CD, Anthony Gonzales returns to his strong sense of atmosphere. Though more upbeat than his earlier efforts, Hurry Up, We're Dreaming uses Gonzales' traditional ambience to create songs that reach the platitudes of sublimity.
With his high-energy cheerful melodies, M83 (@m83music) has written an album that promises more than a few dance club hits. "Midnight City", his summer single release that's already played incessantly in clubs, bars, and coffee shops, is only one of the dance-worthy songs. "Reconte-Moi Une Histoire," "New Map," and "Steve McQueen," just to name a few, use drum-machine rhythms reminiscent of New Order and anthem chants that will rock your socks off.
It would be a mistake, though, to see this album as just a dance club record. Songs like "The Bright Flash" maximize Gonzales' speed and ambience to give an arresting impression of time. Here, M83 does what he does best, namely contrasting fast percussion with airy harmonies to give an almost devastating sense of motion. The song speeds along until it seems to get stuck in a loop, then drops off, ending as quickly as it began. Gonzales seems not only to be exploring the, in some ways extremely romanticized, joys of childhood, but also the unstoppable passage of time.
Crescendos, like the one in "The Bright Flash," give a hugeness to the album that sounds classical. "Reconte-Moi Une Histoire" and "Echos of Mine" end with harmonies that sound like Georgian chants. These classical motifs, used in a clearly electric album, make the expansiveness of the release feel otherworldly.
Though it's incredibly pleasurable to see sunny side of M83, and while it's used extremely well throughout most of the album, there are a few songs, like "Claudia Lewis" that rely a little too heavily on 80s nostalgia. While Gonzales' smart manipulations of the drum machine usually serve him well, "Claudia Lewis" brings back too many cheesy elements, like an electric slap bass and saxophone, that make the song sound like a cheap knock-off of The Time. M83 has a much stronger effect on the ear and the emotions when he focuses on his unique qualities, instead of trying bring back the past in such a literal way.
Despite its faults, which are few, the joy of hearing Hurry Up, We're Dreaming is that it resists being pigeonholed into one genre of music. Meditative, dancey, nostalgic and fleeting, M83's new album shifts its moods from song to song and takes its listener on an ephemeral journey as exciting as it is unpredictable. Hurry Up, We're Dreaming promises to be one of the better albums this fall.
Written by: Amanda Lowe