Monday 14th September 2015
With the house and its private gardens already covered in Part 1, it's now time for me to recount the adventures I had exploring the rest of this grand estate last month.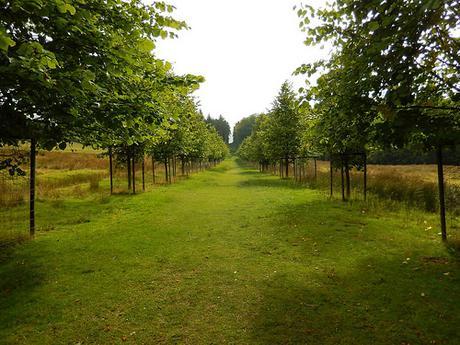 Lyme Park has a lot to offer beyond first impressions.
Leaving the house via its northern entrance and, after recollecting my bag from the friendly woman I'd met earlier, I set off on a walk, continuing north that would lead me to an item on the visitor map that I was very keen to visit.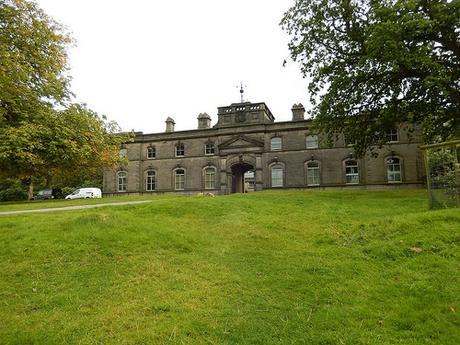 We'll get to that in a moment. First of all though, I noticed a little disappointingly that the stables courtyard was still in use and therefore off limits to the general public.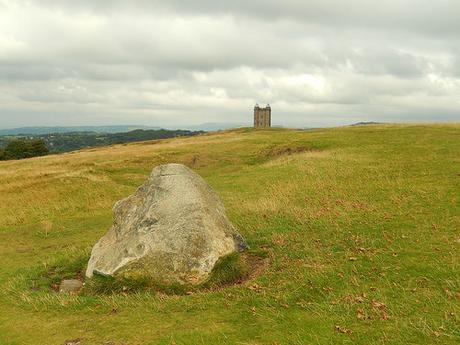 I marched onwards, up and over the hill, with a tower known as The Cage in my sights.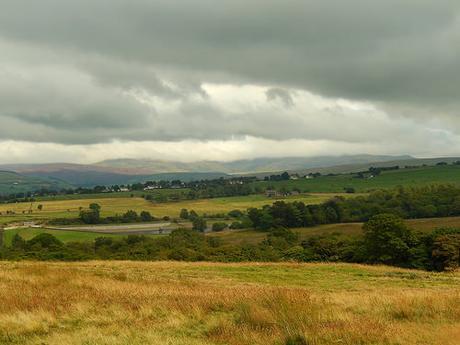 To me left, I think I could see Manchester. Over to my right, I could admire the Peak District beneath its veil of low-lying cloud.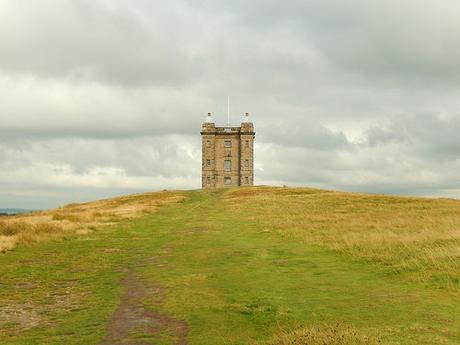 Historically, The Cage was a form of hunting lodge, with a red deer park existing today, just down the hill from its eastern edge.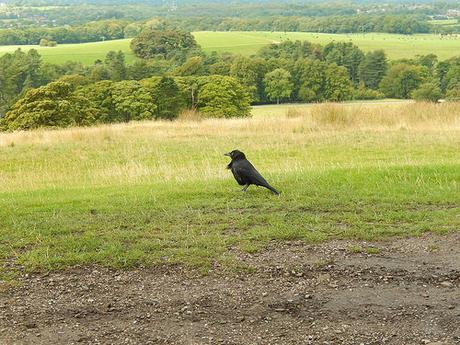 A rather ominous lone crow remained close to my side as I arrived at the tower. It was keen in my presence, without being obtrusive. I soon realised that both entrances had been chained up and padlocked from the outside… Which went no way towards explaining the thumps, thuds, dragging of wooden furniture and child-like cries that I occasionally heard from within, as I sat outside on a stone bench, eating some of my lunch!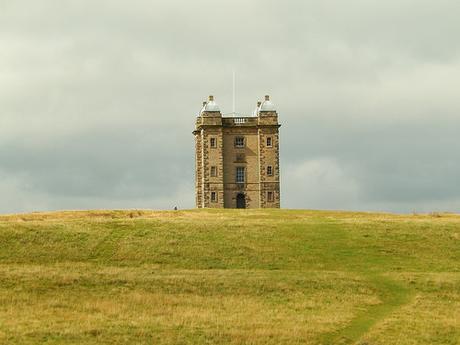 There was no-one else around for a good two-hundred metres, before I left in search of the deer park.
Sadly, the red deer park is off-limits to the public, with a footpath along skirting around its perimeter. It wasn't, for whatever reason, the best of days for spotting deer, either. In which case, I decided to continue my back in the southerly direction of the house, before which I would attempt to skirt around the boundary and meander my way in to the other deer park.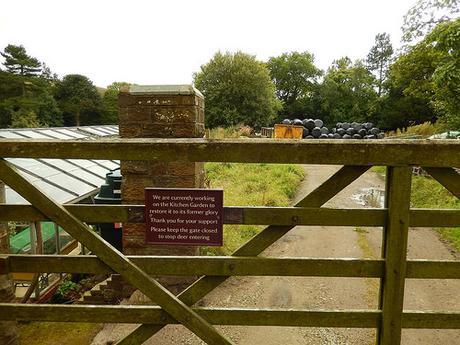 I passed a couple of dog walkers along the way, before arriving at the Kitchen Gardens, which are currently being restored. I like the idea of returning here one day. By which time, perhaps these gardens will be open.
I made my way through a series of gates, up and over a ladder-stile and then I was faced with a big hill…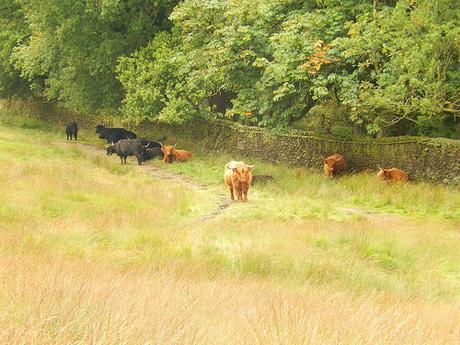 My plan was to turn right, along a path that was absolutely blocked by a herd of large cattle. Now, Highland cows, I'm quite comfortable with, as they're often timid and docile, in spite of those great horns. But those black cows… I've no idea what breed they were. Neither did I feel in a comfortable position to see how they may react to me passing right by!
Heading up the hill then, in hope that I would soon find another path detouring to the right, I passed a family of walkers (who each said hello) and soon found myself leaving almost everything behind… That alternative footpath? It didn't appear to exist, despite being marked on the visitor's map I was given. My OS map didn't stretch this far west of Derbyshire either.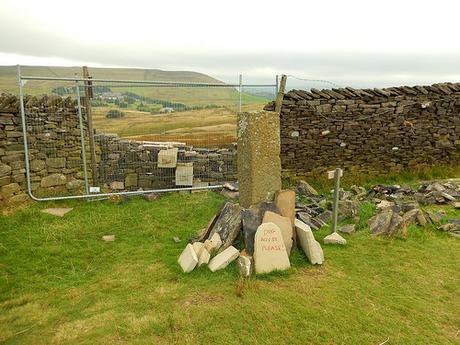 Reaching another stone wall at the far end and at the top of the hill, knees still sore after the previous day's walk around Dovedale; I felt a strong sense of solitude that I hadn't experienced for three months since visiting Exmoor.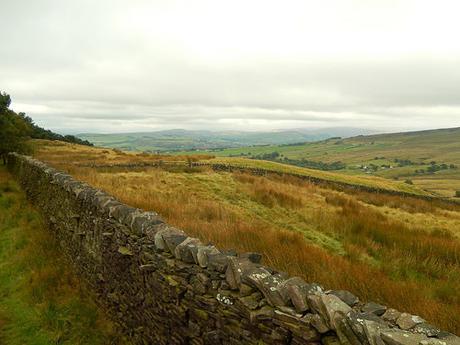 Aside from the odd farm house, there was nothing around for miles but the hills of the White Peak. Even the mansion had disappeared beyond a guise of woodland behind me.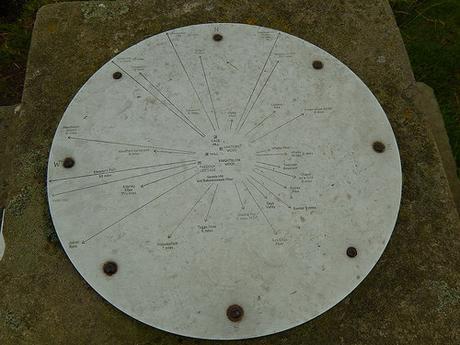 Following this southern stone wall in a westerly direction, I soon came across this 'topograph' (if that is what they're called) that revealed the many unfamiliar names of the high points in the surrounding landscape. Some of which I will aim to visit in a camping trip sometime next year.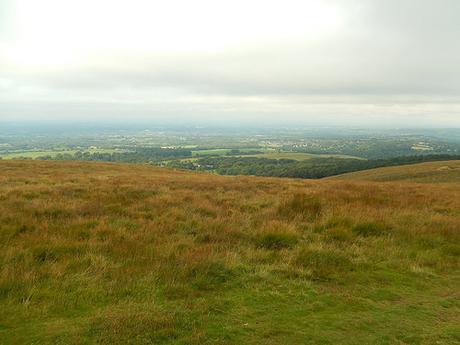 As I looked back, the Peaks appeared to be fading beneath a wave of dark cloud, compared to the county of Cheshire ahead of me, which was still largely visible by comparison. With the addition of the cold breeze, it gave me the impression that I shouldn't hang around outdoors for too much longer.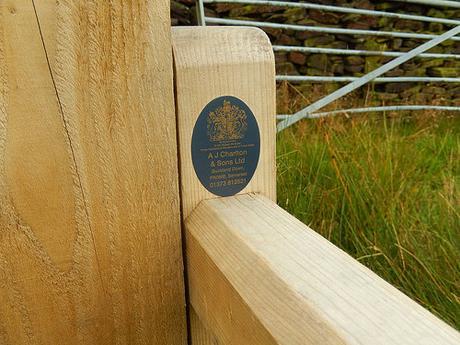 Then, I came to a gate with a very familiar name on one end – a company, based near Frome in Somerset, who are less than an hour's drive from my own home! It would've taken me over three-hours to drive up to Lyme Park from North Somerset… I mystifies me, why their gates have been fitted here? I mean, it cannot be likely there's an absence of skilled workers in the north… Surely not???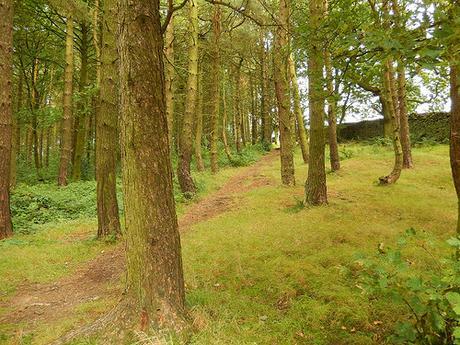 After following a stoney track back in the direction of the southern face of the house, I passed through a gate and in to woodland, feeling ever more confident that I was heading in the right direction.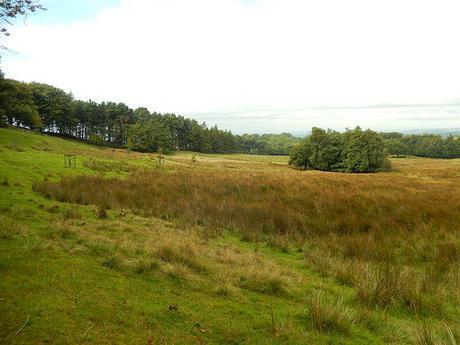 Emerging from the woods at the opposite side, I was entered the fallow deer park.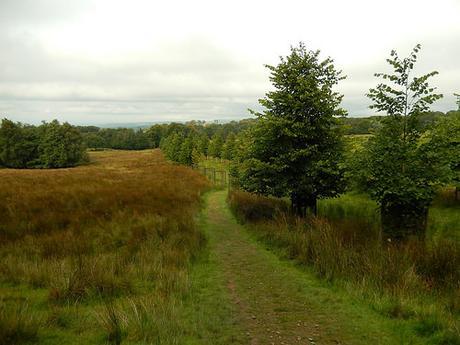 A corridor of trees guided me back in the direction of the house and garden.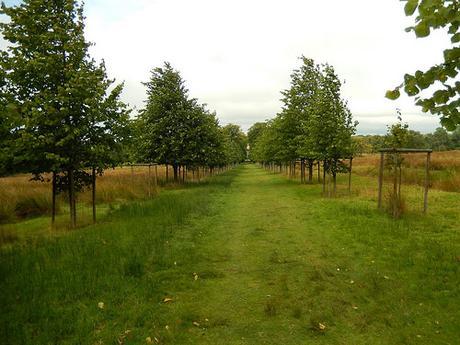 Along the way, I managed a clear capture of a squirrel – a feat I had failed at only two-days earlier.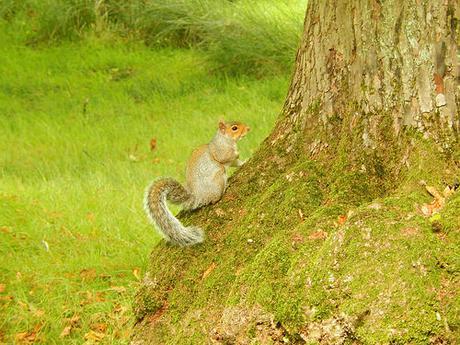 There was an absence of fallow deer from my visit and, as always is the case with deer parks, you are required to stick only to the designated footpaths and not to go off wandering.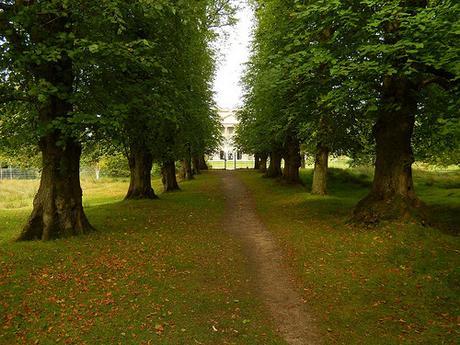 Reaching a fence, I had expected to be able to pass right through the metal gate but it was securely locked. As these paths otherwise connect with a network of public rights of way, this is probably the National Trust's method of ensuring nobody can trespass upon the grounds of the house or enter without paying the admission fee.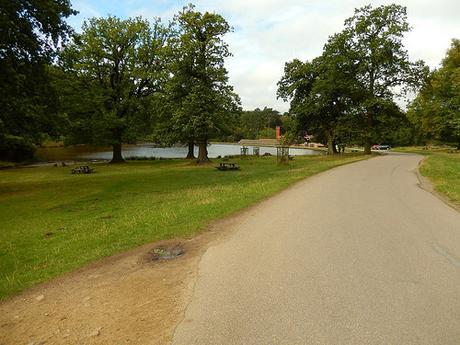 Returning to the car park from here was straightforward. But instead of heading for home (my tent, for the final night this year), I crossed the road to follow another one, looping around a lake and on to the timber yard café, which only offers parking for the disabled.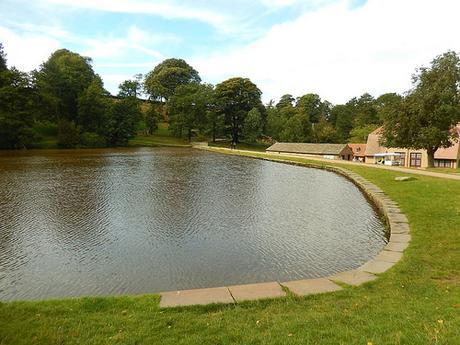 I could've easily stopped beside the lake to finish my lunch but then, I also had a hankering for a real cup of tea. There were no old machines or stacks of timber that I had hoped to find within the timber yard café courtyard, but the staff were incredibly friendly, welcoming and along with a slice of chocolate and vanilla cake, I was glad I had made the effort to sit inside, even if I was all alone.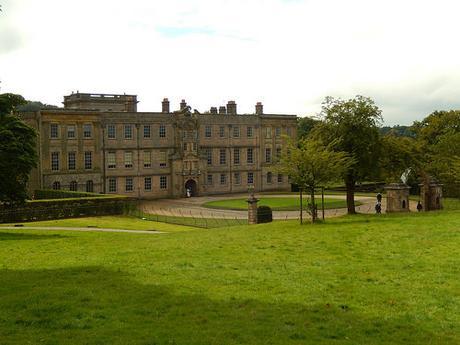 To put it simply; Lyme Park has a lot to offer beyond its attractive house and gardens.

Thank you for reading.