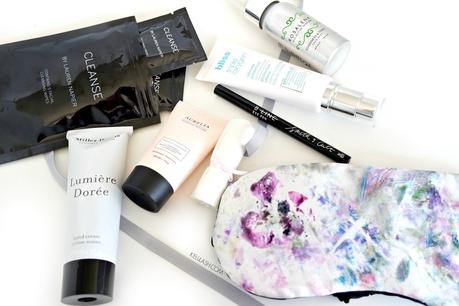 Holiday Prep. This can be time consuming, expensive and stressful. We have all been there and spending xxxxx amount on toiletries is a yearly holiday occurrence for most of us. I feel I won't be alone in saying that makeup and toiletries take up majority of my suitcase on any travel adventure and I would rather pack less clothes than sacrifice a cosmetic. Do you feel me? Thought so. 
Well once again (drumroll) Mintd Box have come to the rescue for us all this month with a luxury box of goodies that tick a lot of 'what we all need cosmetic wise' boxes. All luxurious of course, this is Mintd Box we are talking about and products and brands that I think you shall love just as much as I do. Mintd Box bring new products and brands into play every month to which I am always excited for because even individually, there could be one product that really stands out to you. 
You will all know about Mintd Box if you read my blog, but just in case you are new then head over to a previous post which explains it all here or search Mintd where you can see  all the previous boxes. The reason I review these boxes every month is for one, I adore Mintd Box as a company so I am so happy to support them and am very grateful that they provide me with a box to show you all and being that it is an investment, I would rather let you know every detail month after month so you are 100% sure that is for you or not. Plus I have discovered some amazing individual products through Mintd Box and brands that I personally have gone out and re-purchased myself.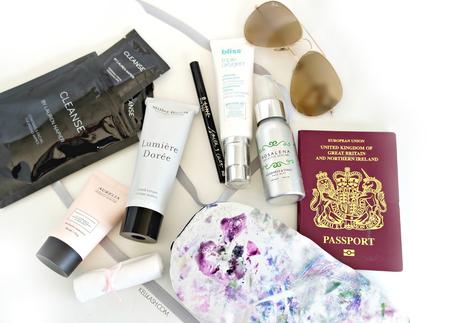 Mintd Box June, Travel Beauty Essentials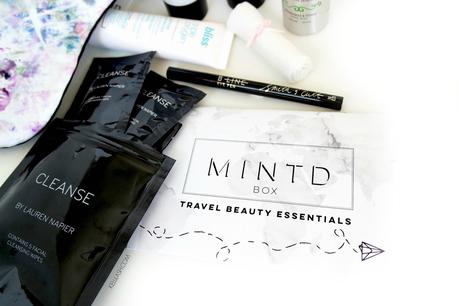 Mintd Box June, Travel Beauty Essentials 
The June, Travel Beauty Essentials, themed box contains 5 FULL SIZES plus 2 DELUXE SIZES ... yes you read that correctly, 5 full sizes!! All the brands are stocked in high end beauty stores such as Space NK, Harvey Nicols and Net a Porter.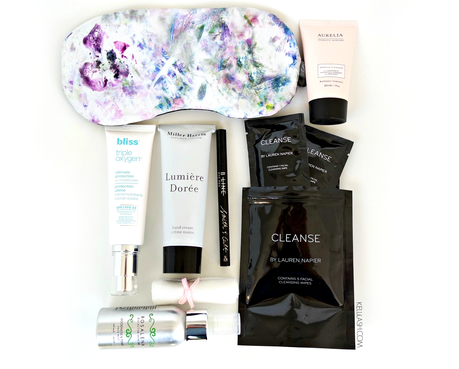 Mintd Box June, Travel Beauty Essentials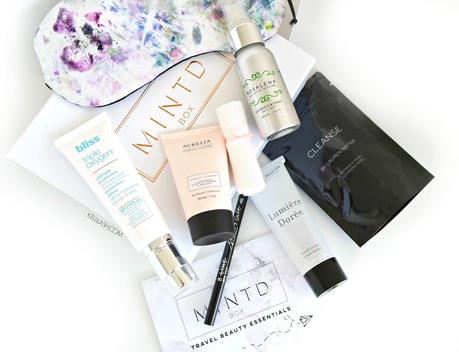 Mintd Box June, Travel Beauty Essentials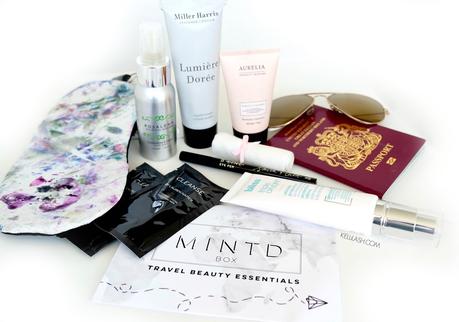 Mintd Box June, Travel Beauty Essentials 
The Luxury Contents:-
1. Bliss Triple Oxygen UV Protection Moisturiser (
Full Size
 £35) 

link!
2. Aurelia Miracle Cleanser with Cloth
(Super Deluxe 
Size
 £15) 
link!
3. Rosalena Goodness and Tonic Facial Mist (Full Size £22) 

link!
4. Lauren Napier 5 Facial Wipes (Super Deluxe at £8) 

link!
5. Miller Harris Lumiere Doree Hand Cream (Full Size £18) 

link!
6. Smith & Cult B-Line Waterproof Eyeliner (Full Size £21) 

link!
7. Stephie Ann Silk Eye Mask 
(Full Size £23) 

link!



PLUS - A BONUS GIFT PRODUCT!!!
For any new subscribers who purchase a 3 or 6 month plan, you shall receive the amazing newly launched Argentum Illuminating Bar worth a whopping £104 (from Net a Porter)! See last month's blog post for a full review of this product

here

. 
The contents of this box have a combined value of over £142/€162 for which you only pay £65/€77 per month or bi-monthlygiving you an enormous £77/€88 saving as opposed to buying all products individually. 
So after having opened up this box a few weeks ago and trialling all inside, let me share my thoughts in full and tell you whether they made the KELLiLASH cut ....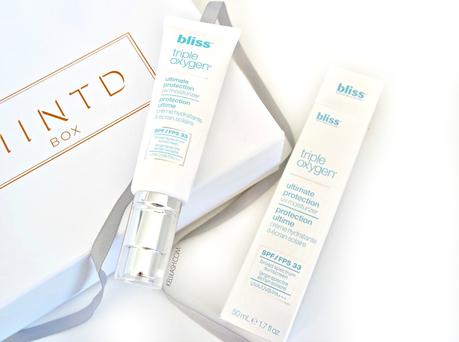 Bliss Triple Oxygen UV Protection Moisturiser
1. Bliss Triple Oxygen UV Protection Moisturiser (
Full Size
 £35)
here!
A NEW
 daily moisturiser with UV defence, CPR technology (Vitamin C, Cruciferous Extract, EUK-134, Fluid 02, and Soy Protein) 
and ingredients that our skins love to give the ultimate protection whilst repairing damage that may have already happened caused by the environment, resulting in a more radiant, healthier looking skin. 
Other ingredients include Green Tea to help protect skin from damage, Grapeseed Extract for help against collagen and elastin breakdown, Mulberry Root Extract to help soothe and protect against free radical and White Lily Extract to soother and hydrate. 
Sunscreen, an essential all year round. You may recognize this beauty as it is not the first time you have seen it on my blog as I did in fact post a full review about it as it launched as for me it's an essential (read here). I LOVE this product hence I am so happy that you can share my love for it too. It is a peachy looking cream that smells exactly like freshly squeezed oranges, it's divine! Thetextureis nice andlight yet rich enough to make your skin feel nourished and hydrated, leaving no dreaded white film on the skin. I cannot recommend this one enough for everyone as a daily moisturiser with it's good level of SPF33. Everyone shall love this one, especially as it does so much for the skin.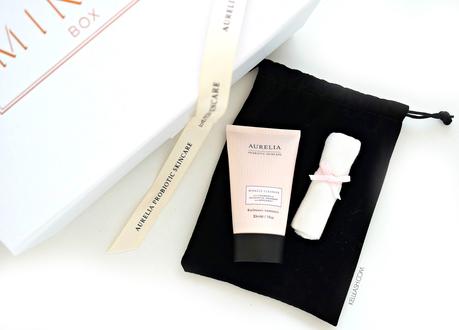 Aurelia Miracle Cleanser with Muslin Cloth
2. Aurelia Miracle Cleanser with Muslin Cloth 
(Super Deluxe Size £15)
he

r

e

!
Aurelia is a British, Cruelty free brand made without any nasties. This creamy aromatic, cleanser is designed to glide over skin to remove all makeup and impurities. It combines probiotic and pepide technologies with BioOrganic plant and flower essences to hydrate and soothe dull, dehydrated skins to give you a dewy glow whilst helping to fight premature ageing. It comes with a soft anti-bacterial bamboo muslin cloth that buffs away dead skin helping it's renewal process. 
This hands down wins on the presentation front because I don't think I have ever seen a cleanser come so prettily packaged, I mean is that not the cutest? The inside matches the outside as this smells divine. It has a powerful scent of Eucalyptus, Chamomile, Rosemary and Bergamot. You really smell the Eucalyptus which would be perfect if you had a cold as the scent combined with a mini pamper session would make you feel so much better. It is beautiful and takes me back to my facialist days being very pampering and spa like. The creamy consistency feels like butter and is so nourishing as my skin really did feel super soft and clean after having used it. The muslin cloths are fantastic and I highly recommend using them together to get the maximum benefits. I would say this is better designed for drier skins as sensitive or oily skins may find it to be a little to much. This is my first time trying Aurelia and I am impressed as this really is a beautiful cleanser and a lovely clean, kind brand. Also a very portable travel cleanser for any trip!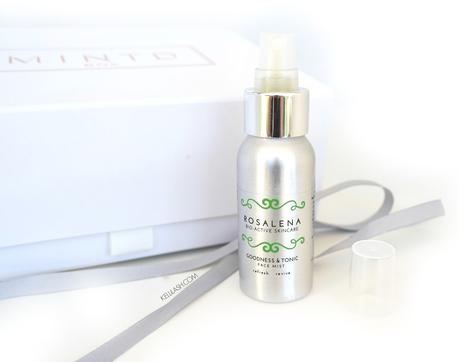 Rosalena Goodness and Tonic Facial Mist 
3. Rosalena Goodness and Tonic Facial Mist 
(Full Size £22)
here!
An uplifting Toning Mist to refresh and revive your skin and mind. Containing Melissa and Orange Blossom as well as Rosalena's natural Plant Preserve combined with Organic Bergamot, Sweet Organge and Grapefruit essential oils. Rosalena are all natural and non-toxic using no parabens, sulphates, synthetic colours, fragrances etc. 
Face mists are your own personal summer air-conditioning, hence essential. I was glad to see another familiar face in this box as Rosalena is one of my favorite skincare brands to date. I use this as a toner to brighten and refresh my skin, a post make-up setting spray or during the day when I need a pick me up. Trust me, this is what you need when flying long haul as it shall be a skin saviour! Just think Gin and Tonic for your skin, it hits the spot! Love, love, love this and you need to try Rosalena if you haven't as they make the most amazing facial oils that shall have you smitten from the moment you apply them to your skin
here
.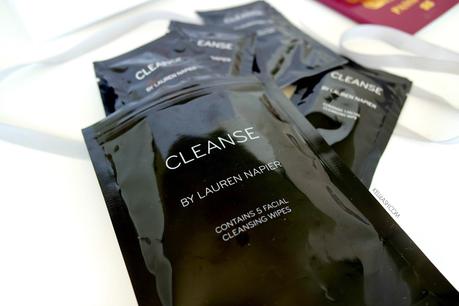 Lauren Napier 5 Facial Wipes
4. Lauren Napier 5 Facial Wipes 
(Super Deluxe at £8)
here!
This pack contains 5 individually wrapped facial cleansing wipes that are very compact to fit into your bag, clutch, gym bag or desk drawer! They are designed to remove make-up, pollution and impurities containing Aloe, Water, Camomilla and Cucumber extracts to hydrate and smooth the skins appearance to reduce reduce and inflammation. 
I am not usually a fan of any facial wipe and would only ever consider them to remove make-up and 
not to cleanse
. These are purely designed to be a convenience to refresh your skin and I love the fact they are so luxurious being individually wrapped as they definitely don't feel like a baby wipe. These are perfect for on the go to have in your makeup bag as you may want to refresh your skin at the beach, gym or on a long haul flight for instance. Very convenient and actually a very good idea especially for males as my husband always uses hot towels on his face and hands so this, he would love. I mean I love a pre-wrapped hand wipe so why not have one that is specially designed for your skin. These are in my travel bags ready and waiting
.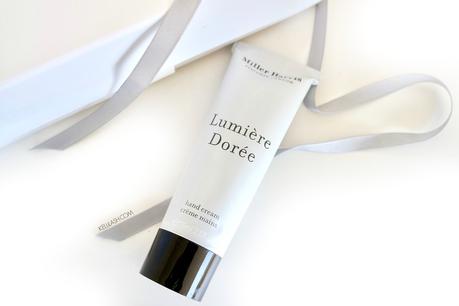 Miller Harris Lumiere Doree Hand Cream
5. Miller Harris Lumiere Doree Hand Cream (
Full Size
 £18)
here!
A very luxurious hand cream containing a blend of intense hydrating Shea butter and Argan Oil along with Aloe Vera to help the most sensitive of skins. 
We all need to keep our hands nice and hydrated as they dry out during travel and the climate changes. I was so happy to discover this one in the box as last month's box contained the Miller Harris shower wash in the same scent and I even mentioned I would love more products in the same fragrance. Well my prayers were answered (thank you Mintd Box!) as this is absolutely beautiful and may just be my

favourite hand cream of all time

. 
The luxurious cream
 sinks into your skin beautifully and is by means greasy or tacky. 
The scent, 
Lumiere Dorée
for me smells just like freshly washed laundry which is so comforting with that real home-like feel. I applied this before doing my make-up and the whole time my hand was at my face I could smell it! If you aren't a fan of fragranced hand creams then you may not like  it but Miller Harris are a fragrance house and for me they really have brought this to their whole line. 
Mintd Box were in fact responsible for introducing me to two other favourites, Haeckels (
here
)
and African Botanics hand creams (
here
) both of which again I fell massively in love. This scent and texture combined, is my total dream and I get excited to use it each and every time.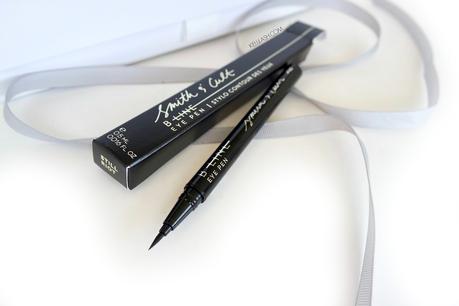 Smith & Cult Waterproof Eyeliner in Still Riot, Classic Black
6. Smith & Cult Waterproof B-Line Eye Pen (
Still Riot Classic Black) 
(Full Size £21)
here!
A very rich 
black liquid liner with a felt nib to give transfer resistant pigment making a feline flick easy. Quick drying and waterproof, Smith and Cult state that this wont smudge or flake.
One thing we do need for the holidays is makeup that is hassle free meaning waterproof, smudge proof, life proof etc etc. You cannot go wrong with a staple such as a waterproof liquid eyeliner which makes this product a great addition to the box. I wasn't a fan of the last Smith & Cult product that was in a previous box, the mascara but this liner, I really like.
I love a felt nib
on a liquid liner to make doing a 'flick' so much easier as it gives you
full control
and this one really does that very well, as well as staying put and is very nice and opaque. I am yet to test it 'on holiday' so I can keep you posted should you want to know but for me, you can never have enough good eyeliners!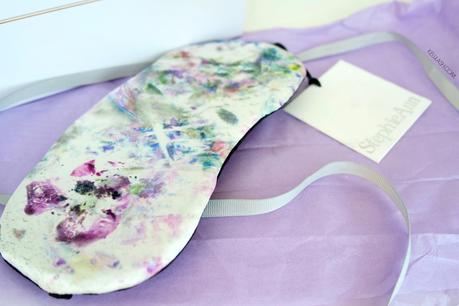 Stephie Ann Silk Eye Mask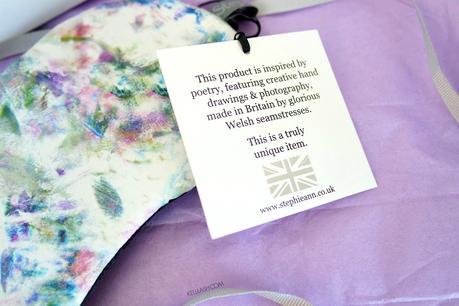 Stephie Ann Silk Eye Mask
7. Stephie Ann Silk Eye Mask 
(Full Size £23)
here!
Designed to boost sleep, this luxurious 95% silk eye mask is the ultimate sleep aid and travel accessory made for relaxation. Scented with Lavender, the mask is lined with black silk, fitted with an elastic strap at the back.
Sleeping when on a flight on when you are away from home can be difficult for some (like me) so whatever we can do to aid sleep is essential for a relaxing holiday. The bright purple, floral design of this sleep mask is so pretty and the relaxing lavender scent had me falling in love with this instantly. This is the kind of thing I always mean to buy, but never get round to splurging on a 'good one' which makes this a brilliant addition to Mintd Box. It's so comfortable to wear and just helps you to zone out. Most definitely one of the most luxurious sleep masks you shall come across. 
I love the ethos and care behind this British brand as it really feels nice and personal.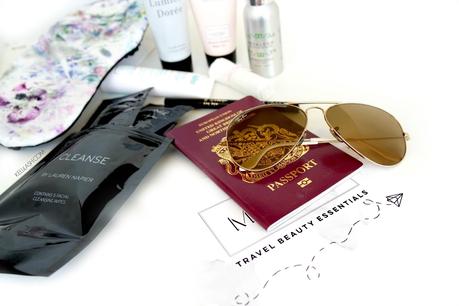 Mintd Box June, Travel Beauty Essentials 
Lots of boxes ticked I think you will agree when it comes to the essentials that you shall be needing for your holiday. For me the stars of this show are most definitely the BLISS UV Moisturiser, Rosalena Goodness & Tonic Facial Mist and Miller Harris Hand Cream. All products I would definitely encourage you all to try if you haven't already. 
Mintd Box really have done well once again to bring us products and give us all ideas for products that are extremely useful when it comes to summer and travel. 
You can s
ign up to Mintd Box 
here
with 
free delivery in the UK
 and 
free delivery on yo
ur first box
 using code 
WELCOME17
. Available Worldwide and ships to UK, W Europe, North America and Australia! 
Don't forget, 
any new subscribers who purchase a 3 or 6 month plan shall receive the amazing newly launched 
Argentum Illuminating Bar
 worth a whopping 
£104 
(from Net a Porter)!
What do you think to this month's product 
selection?