Shower gel is something which every girl has these days.
Body wash
, is the general term for a substance similar to
liquid
soap
, which is used for cleaning the body. Almost all commercial shower gels have a pleasing scent.
Well to start with Lux is the brand which every household in India is familiar with. It's like the lemonade of juices.
Anyways, Lux came with this series of body wash around a year ago. Well I have been using one of them dedicatedly for a while now and I happen to like it a lot. Fragrances pull me and this one doesn't fail at all on that front.
Its called the Lux Magical Spell.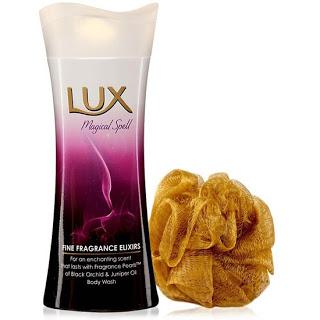 They have 3 more variants called :
Peaches and Cream
Strawberry and Cream
Sacred Blossom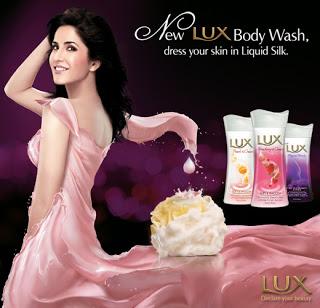 Have tried all of them…(reviews coming soon) but this one has hold on a long with me.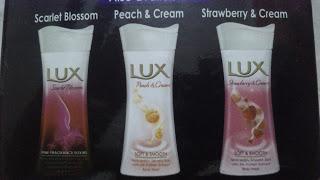 Price : 120 INR (240 ml + free loofah)
This one comes in a pretty good quantity and lasts long. A bottle goes for about 50-60 days for me. The loofah that comes free with it isn't that bad.
the list of ingredients is as below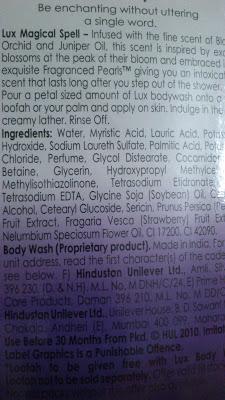 The ingredients contain a lot of chemicals, but they are the ones that gives it its signature fragrance. And for 120 Rs what do you expect. :P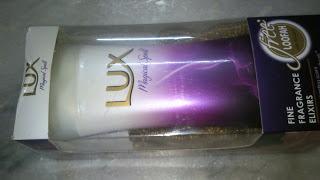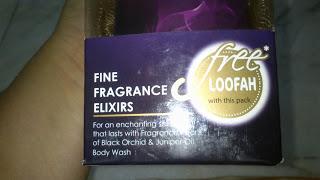 The consistency is neither too thick nor too thin. Its

 

apt for a bodywash. The color is purpleish with a tinge of magenta. I adore the color. I somehow cannot define the smell, but its really really pleasant.
Pros :
Good quantity
Doesn't dry out the skin, but a light moisturizer is needed after use.
Awesome fragrance, a lil bit artificial but who cares.
Less amount is needed to lather up
Free loofah
Cleanses really well
Feels fresh
Cons:
The fragrance doesn't last long. Maybe 30 mins after the wash and its gone.
L
Product settles at the mouth of the bottle.
Rating :

 

4/5
If you have tried it let me know how did you find the product.
Ciao..!!