After trying the Lux bodywash range I came across this deodorant from the same brand.
I tried out the one called Magical spell. There are also other variants available in this series, but this one grabbed my attention. If you follow my blog you must be aware that I am fond of the body wash in the same variant as well. So, moving towards the review :
This is what the bottle says:
Spray on to revitalize your senses with its fragrance and stay fresh all day long. Indulge yourself with irresistible scents of exotic black orchids and juniper oil. You can apply this rich fragrance all over your body and mesmerizing scents inspire people around you all day long.
Variants:
Lux Fragrance Deo Spray Peach Blossom.

Lux Fragrance Deo Spray Sweet Petals.

Lux Fragrance Deo Spray Loving Touch.

Lux Fragrance Deo Spray Magical Spell.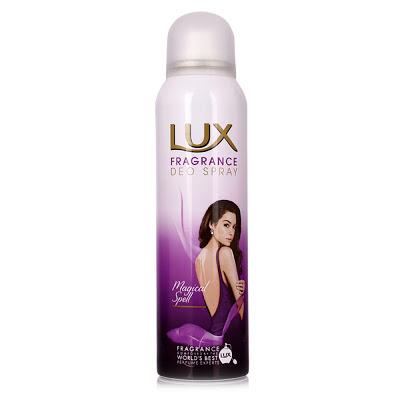 Price:
Rs. 150 for 150 ml. (Expiry 36 months).
The fragrance:
The fragrance is distinctly similar to that of the bodywash and I love it. It's a little bit woody only on the base note I guess. It lasts quite long, but the initial fragrance lasts only 2 hours and then starts fading off.
The smell is quite pleasing and feminine. It smells strongly of orchids and is very refreshing.
The spray isn't irritating or itchy on the skin. Sensitive skinned people can use it too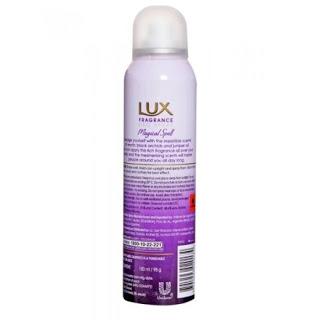 The design:
The bottle is quite sleek and handy. It should easily fit into a bag or purse.
Pros:
Fragrance

Lasting time

Price

Different smell
Cons:
Contains alcohol