Hi everyone,
Today I'll be giving you all a look at the May Lust Have It box which arrived today! The contents was packaged in a plain black box with the products enclosed in some tissue paper. I was really hoping to see another of the clear makeup bags which was the packaging of last month's box but there was lovely note from the LHI CEO, Greta, explaining that the makeup bags were still in transit and they didn't want to hold up the process and wait for them to arrive and instead, they've included a $20.00 voucher that can be use on their other subscription boxes such as the Chloe Morello Box, Bridal Box or Eco Box!
For those of you unfamiliar with Lust Have It, Lust Have It is a monthly beauty subscription box with the inclusion of 5-6 deluxe sized beauty items, priced at only $19.95 a month but if you use the code 'TRIED' you can receive $5 off your first box!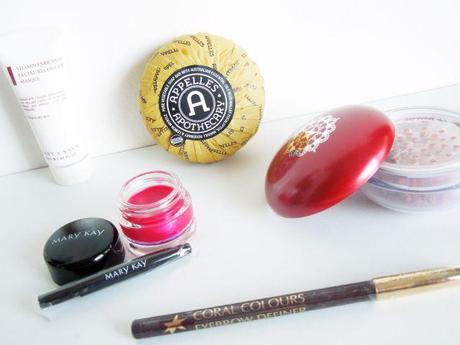 This month's box included:
Mary Kay Lip Lacquer. RRP: $22 for 4 grams. Received FULL SIZE.
This limited edition lip lacquer was offered to subscribers with a choice of 2 shades – Pink Pagoda or Chai Latte this month. The inclusion of a mini lip brush with the lip gloss is a really nice touch to allow for easy application. While Mary Kay products have been included in past boxes, I'm happy to see that the products included from the brand have all been different each month to ensure no double ups. As the brand is not easily accessible, it's a great way to experience different products form the brand.
Coral Colour Eyebrow Definer Pencil. RRP: $7.95. Received FULL SIZE.
Coral Colour is a brand that I haven't heard much of before so I look forward to seeing how this brow pencil performs. It was provided in a brown shade which is perfect for my dark brows!
Appelles Rosemary Body Bar. RRP: $4.95 for 100 grams. Received FULL SIZE.
I've seen the Appelles brand pop up quite a few times recently and I do believe some sort of Appelles soap was also included in this month's Bellabox, judging by the images I've seen. Formulated with a certified organic essential oil blend, the bar is said to gently clean without drying or stripping the skin, making it perfect to use in this colder weather.
The Cosmetic Kitchen Pure Mineral Blush. RRP: $34.95 for 6 grams. Received FULL SIZE.
This blush is also a limited edition product and comes in a strawberry shade. I really like the packaging of this product as well as its sturdiness as it ensures minimal mess when using this loose blush. The formula is of a mineral nature and is talc, nano, bismouth and cruelty free.
Sasy N Savy Vitamin Enriched Facial Recovery Masque. RRP: $50 for 100ml. Received a 20ml sample.
There were a range of 3 different Sasy n Savy products included in this month's box and each subscriber was given 1 of these. I received the Recovery Masque which is formulated with vitamins, aloe vera and jojoba oil and is said to 'deeply cleanse and draw out impurities to restore and enhance skins complexion.' Again, this is a brand I haven't heard of before so I look forward to giving it a go!
I have to say that I am impressed by this month's box. I do think that it was a step up from the April box and having the box arrive in May will be great news to subscribers as many were unhappy with their April boxes arriving in early May. The inclusion of 4 full sized products this month really speaks to the great value of the box which is only $19.95 a month. Having all the products be useful and useable for subscribers is something that this box provides (with the exception of the dark brow pencil for those with fair hair) and what I really love is that the included brands in this box aren't the usual brand we're able to easily purchase on a daily basis.
As Tried and Tested Blog is an affiliate, don't forget that you can receive $5 off your first months box! Simply enter the code 'TRIED' when you sign up!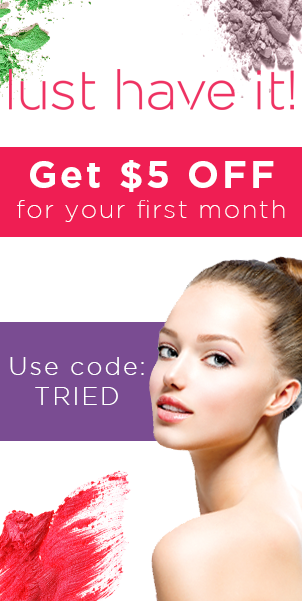 What do you think of this months contents? Leave a comment below!
Like this post?
Follow me on Bloglovin'!
Like my Facebook Page
Follow me on Twitter
Follow me on Instagram
That's all for now,
triedandtestedblogger XOXO
Dont forget to enter my 1st Blogiversary Joint Giveaway! Open Internationally!
*This item was kindly provided to me. As with all my posts, it is 100% honest and of my own personal opinion. For more information, visit my Disclosure Policy.