Tuesday also featured lunch. C emailed me a few weeks back with the subject line: "Be my valentine?" I obviously said yes. Because of the special occasion, we decided against our usual Lincoln Center lunch spots (Wichcraft, Le Pain Quotidien) and headed straight to AQ Kafé. It is such, such a fantastic find.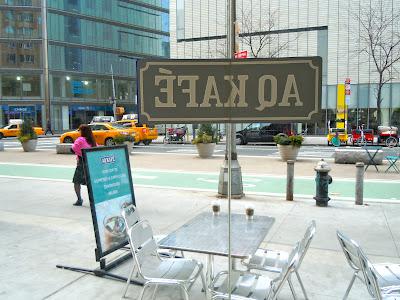 We've been there once before and absolutely loved it. AQ Kafé serves a variety of European dishes, baked goods, coffees and teas. From our last experience, I noted that the majority of their specialties seem to be Scandinavian. And, gosh, I've been fascinated with the region since reading The Palace of the Snow Queen.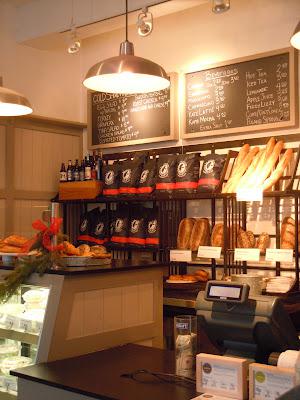 What are popular ingredients in Scandinavian cuisine? Oh, you know... smoked salmon, many other cold water fish, hearty whole grain bread, game such as reindeer and duck, dairy, coffee, and unique alcohols like honey wine, red beer, and akavit (a yellow-tinged liquor). And this is how travel is inspired by food...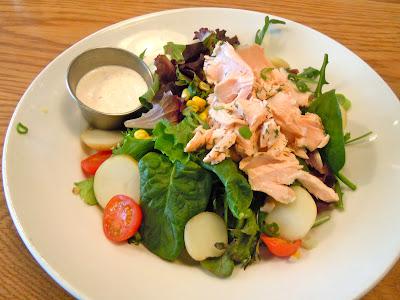 Anywho, back to Valentine's Day. I enjoyed the Flaked Salmon Salad--mixed greens tossed with fresh corn, fingerling potatoes, cherry tomatoes, and topped with creamy dill buttermilk dressing. So, so, so good, I'm already looking forward to our next lunch date. Thankfully, I have more Lincoln Center fun to hold me over. Tonight, my friend Elaine and I will be joining C at the 
Romeo & Juliet Masquerade Ball. Yes, there will ballet. Yes, there will be masks. Can't wait!