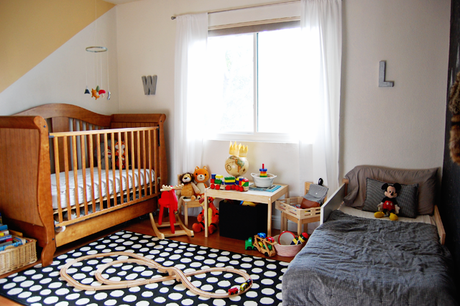 After what seems like almost an entire year of getting Luke and Wesley's nursery together, I finally completed the finishing touches last month. (And am just now getting around to photographing it!) The theme took on a mind of its own and somehow turned into a woodland one. Not really sure when or how it happened, but it did, and I like it. We love spending our days stacking blocks, reading piles of books, and running cars all over the place in their little shared bedroom.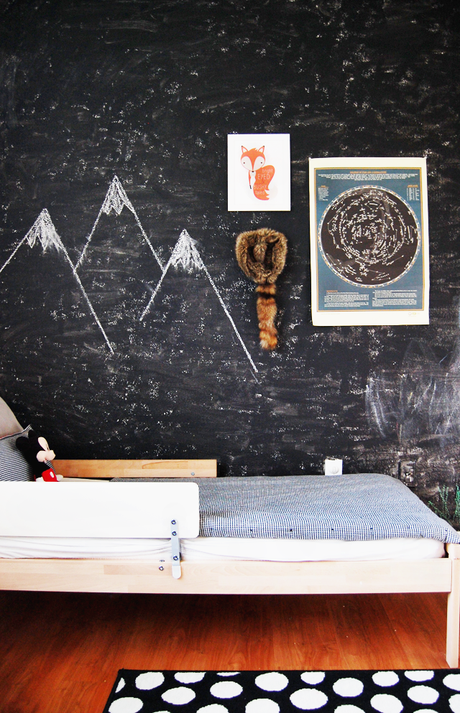 This is Luke's side of the room. You may have seen on Instagram that we recently painted a chalkboard wall on a whim, and it's a whim I'm glad I followed through on. Having a huge, black wall staring at you can seem a bit overwhelming for a small bedroom, but I actually like the contrast it brings to the room. We kept the wall decor simple with a fox print from The Printed Palette, constellation wrapping paper used as a poster from Paper Source, a coonskin cap from a mom and pop shop in Julian, and some hand drawn mountains in chalk. The toddler bed is from IKEA, and my dear mama made Luke's bedding. And we can't forget about Mickey! He gives Luke a pep talk every night before bed.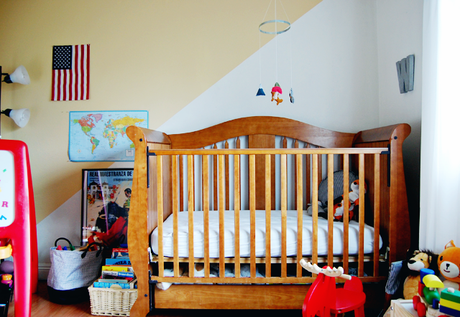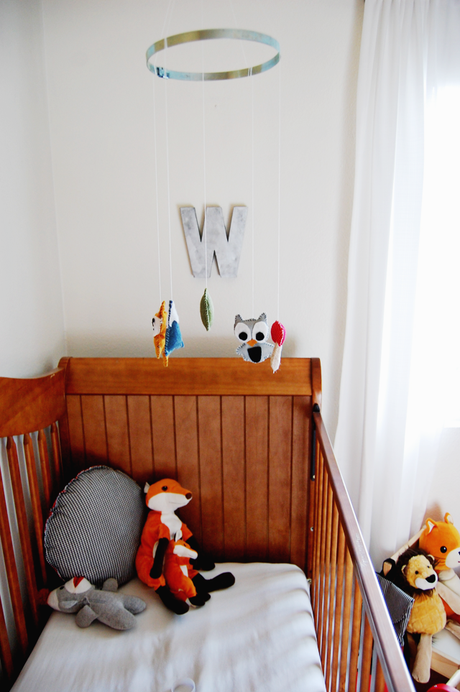 This half of the room belongs to Wes. I made this mobile — it was super simple! I used felt, stuffing, thread, and a plumbing ring we had on hand and stitched these little darlings up! I like the little imperfections. It keeps things cozy and loving. The stuffed foxes are from IKEA, and the zinc letter above his crib is from Anthropologie. The crib was a gift from my parents. I am thinking I am going to paint it white. Anyone else painted a crib before? Yay or nay? Tips and tricks?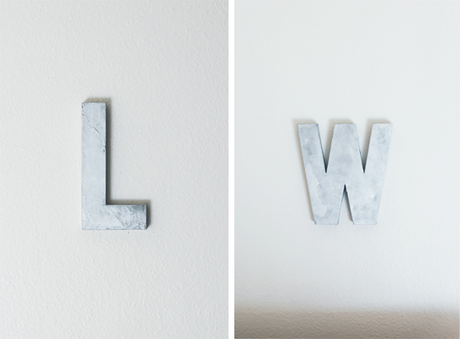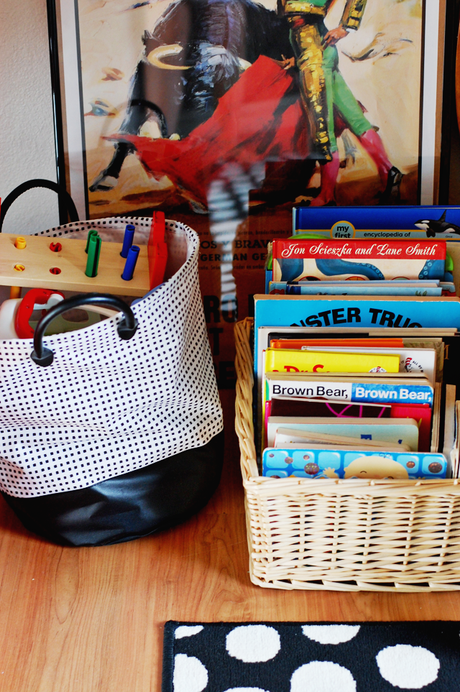 Both of the boys have their first name initial above each of their beds in these zinc letters, in case I forget who goes where ;) We keep a small reading nook and learning corner to the left of Wesley's crib. A framed poster from our trip to Spain serves as the backdrop, and adds a nice pop of color. All of our favorite books stay neat and easy to access in a rectangular wicker basket, and we keep their toys in an awesome printed basket from Target (similar one here). It makes cleaning up a cinch by just loading all the junk into it without worrying if it is neatly shelved and stacked (and it's pretty to look at!). I really recommend baskets for stowing toys. There is an art easel in the corner with the lamp, and it holds all of Luke's materials and art supplies for tot school. Underneath you will find blocks, and every car and truck a little boy could hope for in some sleek, metal utility bins. (Again, containers and baskets in a coordinating color work well for hiding toys in an aesthetically pleasing manner.)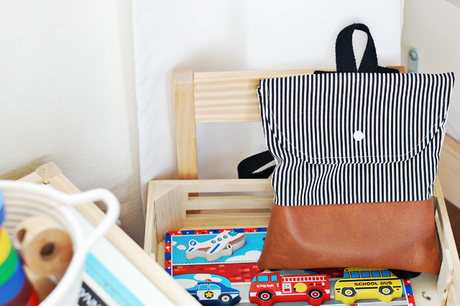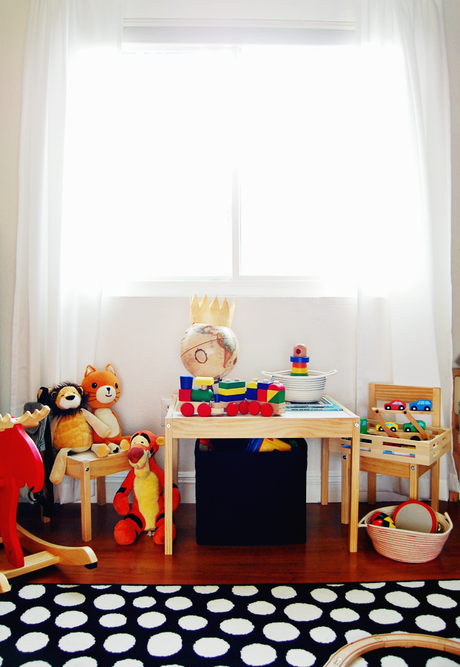 Luke's play table  hosts more books and toys! This is also where he eats lunch from time to time and creates artistic masterpieces. More toys are kept underneath in a basic black basket. The stuffed animals were gifts, the globe is a vintage find (and the paper crown atop it is from Luke's Where The Wild Things Are costume as seen here), the rocking moose and stacking rings are from IKEA (as is pretty much the entire room if you haven't already noticed since I can't justify paying a lot of money for things that will be of no use in a handful of years . . . also, I think it's safe to say we own every toy IKEA sells), and the stacking train, carrier truck and band toys are Melissa & Doug. The rod and curtains are from Target. And that darling backpack we snagged from Swankaroo — Luke hauls around his snacks and doodads in it all the livelong day! You need to check out their shop and get a backpack for your little one if you don't already own one. It keeps my mama bag a little less cluttered and easy for accessing the random stuff toddlers insist they need to tote around.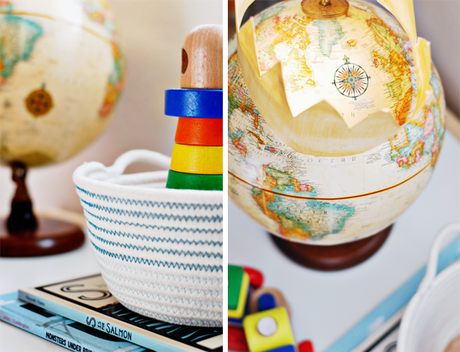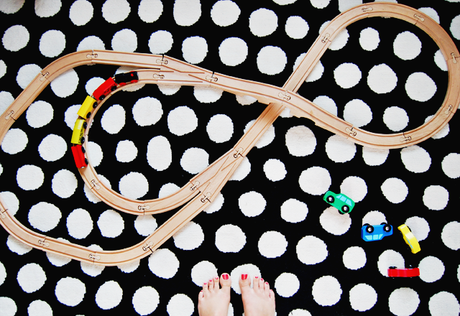 Trains are Luke's love language, I swear. This wooden set from IKEA (where else?) is his reigning favorite toy. That little train does approximately 576 rounds on the track per day. And the room wouldn't be complete without this dotted rug for a fun mix of print!
Thanks for coming along on Wes and Luke's nursery room tour!