Format.com makes it easy to build a professional portfolio website - without learning how to code. Tens of thousands of photographers, illustrators, designers, stylists, models and artists across 140 countries worldwide use the platform to beautifully showcase their work online, attract clients and grow their career.
Founded in 2010 by CEO Lukas Dryja and COO Tyler Rooney, Format is a proudly self-funded company. Each of the team's offerings are formed around three guiding principles: make it simple, make it flexible, make it beautiful.
Q: Please tell us a little bit about your company - what is Format all about?
Format.com is an online portfolio platform used by tens of thousands of photographers, illustrators, designers, artists, models and stylists in over 140 countries.
We provide an online platform that enables creative professionals to easily create and manage their online portfolio websites. Each day, our product helps these creative professionals showcase their work in the best light possible and attract more clients. We're completely motivated by our role in growing their careers and improving their lives.
Q: Please tell us a little bit about your background and how you started your company?
I'm a designer with a passion for building solution-oriented products. Prior to launching Format, I gained experience on Toronto's design and advertising circuit, and went on to co-found both a branding collective and web and mobile app consulting shop.
Dating back to high school, I've always had a flair for entrepreneurship. My twin brother (now Format's Marketing Director) and I, knowing little English, embraced computers upon arriving in Canada in 1993. We created and ran an editorial website and community focused on computer animation from 16 years old, keeping our age and identity concealed to maintain credibility. It's hilarious to look back on!
The idea of an online portfolio platform designed specifically for creative professionals had been brewing since my 2004 graduation from OCAD University. I was shocked at how few of my classmates were showcasing their talented work online. Amazon.com alum Tyler Rooney and I teamed up after his return to Canada to bring the concept to life: an elegant, easy-to-use portfolio website builder that takes minutes to set-up. Together with our partners, we've bootstrapped the company and grown our team to 30 staff. We're humbled, to say the very least.
Q: What are some of the projects you are working on right now?
At Format, we take pride in listening to our users. Our team is busy considering their feedback and using those insights to improve our platform. Most notably, we're launching a series of updates this month that will help our community better manage their online presence from the Format application. Improvements to our blogging platform and SEO tools will help to streamline their workflow, allowing them to focus on what really matters: their artform.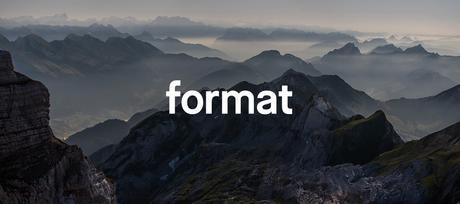 Q: What are your plans for the future, how do you plan to grow this company?
We plan to focus on our mission: propelling the careers of creative professionals by building tools essential to their success.
In January, for example, we launched Kredo, a premier portfolio presentation app and social network for the iPad. A modern replacement to the traditional portfolio, it enables creative professionals to showcase their work in-person and share it with an international community of peers and prospective clients. In just two months, a promising 60,000 images have been uploaded, so we're really excited about it's potential.
We never sit idle at Format, so rest assured there's more exciting news coming down the pipeline.
Q: How do you bring ideas to life?
The connection between our community and our customer support team is magical. We do our best to hear their concerns and suggestions, to work to find solutions and to share the limitations of our platform. This transparency establishes trust early on and enables a flow of information from our customers - something that we value deeply. This, combined with our team's commitment to innovation, helps us stay ahead of the curve.

Q: What's one trend that really excites you?
I'm generally an opponent of focusing on trends, but I can tell you that I'm excited by the growing focus on design in business. With the explosion in popularity of brands like Apple and IDEO, companies have turned to design thinking to innovate and grow. Simultaneously, with more choice available, consumers are beginning to demand better designed products. It's a win-win.
Q: How do you go about marketing your business, and what has been the most successful form of marketing for you?
Word-of-mouth remains our largest source of referrals. Provide a valuable solution, really listen to your clients, and people will naturally become ambassadors for your brand.
Q: What are the top 3 online tools and resources you're currently using to grow your company?
We use a selection of online tools to help our team work more efficiently. Simple design and ease of use are key in our selection process. Each of these three are a big help:
Asana: Asana, a web and mobile collaboration software, helps streamline our internal conversations and emails. It allows us to plan projects, track decisions and manage projects in one place, across divisional teams.
HipChat: For more immediate conversations (including the arrival of lunch!), we use HipChat, an internal instant messaging application. You can have one-on-one conversations or group chats centered around teams and topics, share files and video call. It's really become a part of the company culture here at Format.
Github: is essential to how our developers build our product, share best practices, and collaborate on each other's contributions.
Q: Please share some tips or advice for new startups on how to attract the press and get media attention.
In the beginning, it's easy to focus heavily on your product and to forget about how you're going to gain traction with it. We've learned how important it is to take the necessary time to plan for PR and marketing activity. Crafting an eye-catching message and quality content doesn't happen overnight.
Prioritization is also key: it's important to understand that not every happening at your company is newsworthy. You need to carefully select what's a priority for coverage and figure out ways to make it interesting. Ask yourself: What are you doing differently than other companies in the industry? Can you tie your news to a trend or current event? Can you share consumer insights? What are your spokespeople experts on?
Q: What are some books you recommend entrepreneurs to read?
I've always found it hard to fit entrepreneurship or business books into my schedule... I just can't seem to find the time and web research does the trick. I would recommend reaching out to others in your field. Being able to sit down face to face with someone and dive deeper into specific topics of interest is invaluable.
Q: What is your favorite entrepreneurship quote?
I can't remember, for the life of me, who said this but the statement resonated deeply: "Making an exceptional product takes an extreme amount of time and patience." Shoot me a tweet if you know the author!
Q: How can our community get in touch with you?
You can find me on Twitter @Nizm But don't miss the latest behind-the-scenes action from our team here: https://instagram.com/teamformat/
And more regular updates on our community here: https://twitter.com/useformat & https://www.facebook.com/useformat
Crunchbase:
https://www.crunchbase.com/organization/4ormat
The following two tabs change content below.