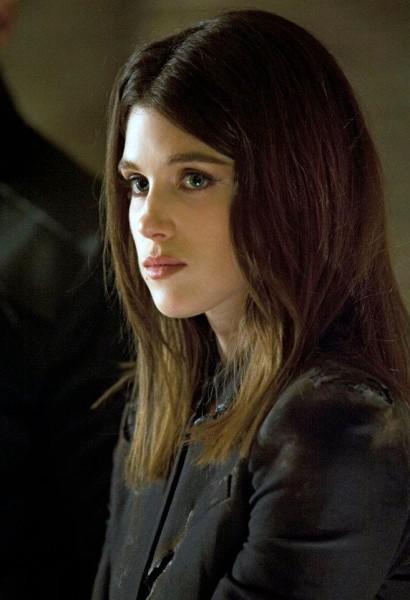 Lucy Griffiths, who plays Nora Gainsborough on True Blood, was interviewed by Collider.com. You know who she is…she's a Chancellor of the Vampire Authority. She's fiery, fierce and loyal to Eric Northman (Alexander Skarsgard), with whom she shares a vampire maker (Godric). During the first episode of the season, she made quite an introduction when Nora and Eric shared a couple of hot scenes together. (I'm still having mixed emotions about them.)
She talked about auditioning for the show, catching up on episodes once she'd been cast, how she typically doesn't watch much television because she doesn't have a TV. How she found talking with the fangs relatively easy, how she views her character and the relationship she has with her "brother", Eric. How she had to forget her inhibitions to work on a show like this, what she's most enjoyed about playing this character, and what she looks for in a project.
Whew! That's a lot in one interview!
We thought you might find it interesting too, so we figured we'd share it with you.
We aren't going to post the whole interview on here, but these are the highlights, in relation to Eric and Sookie.
When you auditioned, how secretive were they with you? Did they tell you anything about the character at all?

GRIFFITHS: The first I knew of the character was in the auditioning sides that I had. I knew that she was Eric's sister and that she was a Chancellor in the Vampire Authority. Further than that, I didn't know anything. She'd not been featured in previous seasons which I'd watched, so I had no idea what to expect. But really, you don't have any idea what to expect, script to script. You don't get told before the series starts what your character arc is going to be, so it's always a surprise. I guess it's good to start off not knowing anything 'cause that's how it continues.

Had you been a fan of the show, or did you have to catch up before filming?

GRIFFITHS: I had to catch up, but I was very glad I had to because I really love it. I really enjoyed catching up. I wasn't a fan before my audition, no, but I am now.

Since you can't be a very menacing vampire, if you have a lisp, how challenging is it to learn to talk properly with the teeth?

GRIFFITHS: I know this sounds funny, but I think it depends on how your mouth is shaped. I don't know whether mine was built for fangs or what, but I didn't have too much of a problem. I did get the giggles the first day I put them in, but they're okay.

How do you see Nora, as a character? Do you think she's loyal to Eric?

GRIFFITHS: She certainly has loyalty to Eric. I think she's actually a very loyal character, but some of her loyalties and trusts are misplaced. She's selfish in the way that beings are selfish, but she's not in it for what she can get, to the detriment of people around her. There are characters like that this season, but she's not one of them. She is excited by the prospect of the power that her faith will bring her. She's actually not a very selfish character. She's very loyal to her brother, and she's loyal to her friend and colleague, Salome.

How would you describe the relationship between Nora and Eric?

GRIFFITHS: They're very excited to see each other. He didn't know she was coming, so he's very surprised. They're just overjoyed to be in each other's company again. I think they have a sibling rivalry, certainly, but they basically love each other.

Will viewers get to learn more about the friendship between Nora and Salome (Valentina Cervi)?

GRIFFITHS: Yeah, you do learn more about that. I think there's definitely something sisterly about it, but I think it's slightly toxic. I don't think it's as a pure and genuine loyalty and connection, as the one that Nora has with Eric.

How has it been to work with Alexander Skarsgard?

GRIFFITHS: It's definitely been fun. All of the actors have been very warm and welcoming, from very early on. I felt very comfortable in his presence on set, which makes it easier to do scenes like that and to feel confident that that person is going to respond to you and receive you, and not think that you're doing something strange.

Is there anything you've enjoyed most about playing Nora?

GRIFFITHS: I've enjoyed the fact that I've been lucky enough to have been given material which is quite dramatic and not naturalistic. I lot of the work that I've done has been. I think I've played this character in a very naturalistic way. I have to be tortured and I have to cry, at one point, and it's a real treat to get to play those extreme scenes on a television series, as opposed to in the theater, for example. Obviously, in the theater, you've got an hour and a half performance and you've got lots of drama packed in. Whereas, when I'm shooting a television series, there will be moments of drama, but on the whole, it plays for the reality, with the stuff I've previously done. This is much more extreme.

Are you typically the type of actor who likes to do a lot of research and backstory work, and what sort of research do you to do play an older vampire?

GRIFFITHS: Well, not hugely. I think what is so great about this show is that Alan Ball has a very original take on vampires. Of course, there's the garlic thing and the coming out at night thing, and the things that seem to be common between vampires, across the board, but this is original. I would never try to find inspiration from other people's vampires because I think his are the best ones. In terms of backstory, I haven't been told exactly what my backstory is. It's easier for me to decide on a dynamic for her and her relationship with Eric and let those things lead the way, as opposed to having a backstory.

Having caught up on the episodes before you started the show, is there a character that you would love to do a scene with?

GRIFFITHS: I like Andy Bellefleur (Chris Bauer). I've got so many favorites, which are so good, that it would be impossible to pick one, and they're all so different as well. But, I'd love to do a scene with him. I think it would be great fun. I think I get to do a scene with Sookie at the end of the season, but I'm not entire sure.
If you would like to read the entire interview, please click here.
Hmmm…that's a lot to take in!
I hope Nora meets Sookie by the end of the season, like she mentioned. But she's wrong in the fact that Alan Ball is original in his ideas about vampires, because this show is based off Charlaine Harris' book series. SHE'S the creator and maker.
I guess we'll have to wait and see how her character progresses this season…I'm placing bets that Nora will be one of the characters to be killed off by the end of the season, but that's JMHO.
What are your thoughts? Please share 'em below!