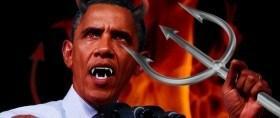 I'm sorry , but I need to kick you in the teeth again today.
Are you aware Lucifer has plans to Enact Climate change crapola  thru
Executive Order? Please tell me why we have a Congress or a Senate?  OK, so this is going to be a twofer. First part is Story on speech Lucy  gave Tuesday on his "Save the Planet and kiss my butt" Policy 
Second part is a story from NewsBusters where they point out that since
1-1-13 the Networks have done 92 stories on this crap and not one has pointed out "The warming plateau" What's that? Click link or read Newsbuster part of story.
OH, little poll first if you don't mind. Please and thank you.      ~Steve~
<a href="http://polldaddy.com/poll/7209862">Take Our Poll</a>
——————————————————————————————–
Obama Climate Change 2013 Policy Speech Outlines Executive Orders
[email protected]        Posted: 06/25/2013 4:42 pm EDT  |  Updated: 06/26/2013 10:05 am EDT
WASHINGTON — President Barack Obama on Tuesday invoked his executive authority to undertake a slew of measures aimed at curbing climate change and preparing America for its costly impacts. The speech was hailed by environmentalists who've seen their policy priorities largely ignored since the president promised to address climate change in his State of the Union address earlier this year.
"The question is not whether we need to act," Obama said in a speech at Georgetown University. "The question is whether we will have the courage to act before it's too late."
Environmental activists were particularly pleased with the president's comments on the controversial Keystone XL pipeline, which the president was not expected to discuss. In the speech Obama asked the State Department not to approve the construction of the pipeline unless it can first determine that the pipeline will not lead to a net increase in greenhouse gas emissions.
"Allowing the Keystone pipeline to be built requires a finding that doing so would be in our nation's interest," the president said. "And our national interest will be served only if this project does not significantly exacerbate the problem of carbon pollution. The net effects of the pipeline's impact on our climate will be absolutely critical to determining whether this project is allowed to go forward."
While it's unclear what precisely that means for the future of Keystone, it was an encouraging declaration for environmental advocates who've fought for years to stop the pipeline's construction. Jamie Henn of 350.org, the group that's helped to put the pipeline at the center of the national debate, could scarcely believe it.
Rest of story HERE                      OK Part Deux
Networks Fail to Mention 'Lull' in Warming in All 92 Climate Change Stories
By Julia A. Seymour | June 25, 2013 | 09:57
President Barack Obama's new climate change initiative will purportedly share "a national plan to reduce carbon pollution, prepare our country for the impacts of climate change and lead global efforts to fight it." Although he intends to demand action, most Americans do not see climate change as a "major threat," according to Pew Research.
The Washington Post reported Obama will include "a plan to limit carbon-dioxide emissions from existing power plants." That's an agenda item the media will love. It was just a month ago when CBS "This Morning" interviewed Time magazine senior writer Jeffrey Kluger on May 11 who said "we have to curb the use of fossil fuels."
No doubt the broadcast networks will cheer the president's efforts, since they've spent years warning of the threat of climate change, even in the face of science that challenges their view. This year they've worried about many things including "raging infernos, surging seas, howling winds," reported alarmist claims that weren't accurate and connected weather to climate when scientists disagree. The networks have also completely ignored the "lull" in warming in recent years, in all 92 stories about climate change they reported in 2013.
One ABC report was typical, warning: "Many cities had record warmth, including Washington, D.C. where a lack of action on manmade climate change is likely to mean 2012 is just a glimpse into an unpleasant future, according to many scientists."
Just since Jan. 1, 2013, ABC, CBS and NBC morning and evening news programs have aired 92 stories about "climate change" or "global warming." Not a single one of those stories mentioned the "warming plateau" reported even by The New York Times on June 10. The Times wrote, "The rise in the surface temperature of earth has been markedly slower over the last 15 years than in the 20 years before that. And that lull in warming has occurred even as greenhouse gases have accumulated in the atmosphere at a record pace."
The problems with climate forecasting models weren't mentioned either, even though a researcher at Sweden's University of Gothenburg found that many climate models couldn't correctly model known temperatures in China. Investor's Business Daily reported on March 28 that "Only half of the 21 analyzed climate models were able to reproduce the changes in some regions of China," he said. "Few models can well reproduce the nationwide change."
In an interview with Der Spiegel on June 20, German climate scientist Hans von Storch of the Meteorological Institute of the University of Hamburg pointed to the major problems of climate modeling. "So far, no one has been able to provide a compelling answer to why climate change seems to be taking a break. We're facing a puzzle. Recent CO2 emissions have actually risen even more steeply than we feared. As a result, according to most climate models, we should have seen temperatures rise by around 0.25 degrees Celsius (0.45 degrees Fahrenheit) over the past 10 years. That hasn't happened.In fact, the increase over the last 15 years was just 0.06 degrees Celsius (0.11 degrees Fahrenheit) — a value very close to zero. This is a serious scientific problem that the Intergovernmental Panel on Climate Change (IPCC) will have to confront when it presents its next Assessment Report late next year," he explained.
The Media Research Center's Business and Media Institute looked at all the "climate change" or "global warming" stories from Jan. 1, 2013, through June 15, 2013, aired on ABC, CBS and NBC morning and evening news programs. BMI found that out there were more than 8 times as many stories that cited a study or included a scientist promoting global warming alarmism than cited a study or included a scientist challenging alarmism (25 stories to 3 stories). Nearly one-fourth  of the stories this year (22 of 92) also connected (or at least asked if there was a connection) weather events like hurricanes, tornadoes, snow or flooding to climate change, in spite of the many scientific critics of those claims.
Of course in 2010, when the weather seemed to contradict the message of global warming alarmism Jane Lubchenco, head of the National Oceanic and Atmospheric Administration, said, "It is important that people recognize that weather is not the same thing as climate"
8 Times the Alarmism
New reports, studies or scientists that warned of the threat of climate change from concern over penguin populations, to predictions of sea level rise continued to be promoted by the networks in 2013. There were stories or news briefs warning that flying would become more turbulent because of climate change, connecting allergies to global warming, and others worrying about glacial melt and sea level rise.
There were 25 networks reports that mentioned a new report or analysis or that cited a scientist who promoted the climate alarmist viewpoint. That was 8 times as many as the other side; there were only three stories that cited a report or included such a scientist challenging alarmism.
The networks consulted scientists from NASA and NOAA as well as activists like Michael Oppenheimer from Princeton, who has gotten climate predictions wrong in the past. "Nightly News" interviewed Kenneth Kunkel from NOAA's National Climatic Data Center on May 25 who continued the hype, saying "If we continue to increase atmospheric concentrations of greenhouse gases in the atmosphere, we will warm the globe and that will bring certain risks into play or increase the risks of certain types of extremes."
Read more: http://newsbusters.org/blogs/julia-seymour/2013/06/25/networks-fail-mention-lull-warming-all-92-climate-change-stories#ixzz2XQ6VcsLK