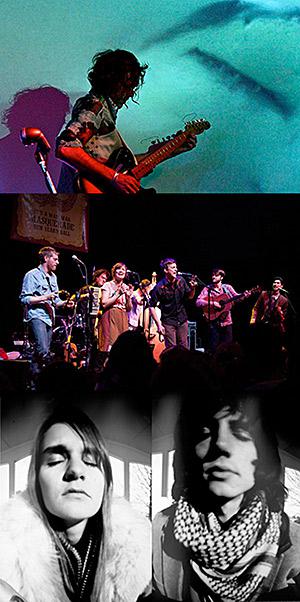 Shark Week, Second String Band by Jon Brack, and Birdlips by Jill Palumbo
Nowadays there are lots of riffs on the traditional wine pairing--beer pairings, pickle pairings (perhaps this is only me), and the list could go on. The American Art Museum has been serving its own special pairing since November 2010. Called Luce Unplugged, we pair art with music. Each month the museum asks local musicians to perform on a Sunday afternoon after an art-talk on a piece chosen by the performing group. Everything from portrait miniatures to contemporary sculpture has been paired with performances of jazz, folk, and hip-hop music, amongst others.
This month we've teamed up with local music outlet D.C. Setlist to present a special Community Showcase on Friday, May 11. Starting at 6 p.m., you can enjoy three art and music pairings. The bands and artworks are diverse, and we're sure you will be able to find something you enjoy. We decided to feature the art portion of the pairings on Eye Level and asked each band, and our partner DC Setlist, to answer this question: What artwork on view in the Luce Center most resonates with your music and why?
Ryan from Shark Week: "'Le Voyeur' is scribbled above the eye hole of Man Ray's piece by the same name and if you look inside there's nothing to see except inside of the cigar box. Works like this really flipped the idea of art up on its head. I think Man Ray's sculptural works often get overlooked due to his significant works in film and photography, which tend to be "surrealist" when described . . .
"I suppose any musical influence or similarities between Man Ray's Le Voyeur and Shark Week would be strictly conceptual. The idea that there are unconventional ways to make a statement can be seen in a lot of music, including ours. More importantly, like May Ray, I think we aren't afraid to make a mockery of anything."
Sam from Second String Band: "Ben Shahn's After Titian speaks to how artists love to play modern themes against old genres, or modern genres against old themes. That's something I think we've played with in interesting ways as the Second String Band."
Lindsey from Birdlips: "Our music deals with borders and boundaries, traversing the shadow worlds where dreams and reality overlap. In Will Barnet's Positano, the dark shapes have a heaviness to them that is almost oppressive, yet the bright spaces in the canvas seem to hint at the transcendence possible beyond."
Jennifer Vinson from D.C. Setlist: "I was immediately drawn to Henry Leach's Black Hawk, when I saw it. The majesty and grace of horses has always captivated me since I was a little girl. I think horses are universally loved. Traveling anywhere in the world you see horses represented in the art, architecture, storytelling and in this case, even a weather vane."
You can enjoy more art and music pairings on the museum's recently launched Mix Tape. And if this art and music pairing isn't convincing enough, you can create your own at the program's cash bar.