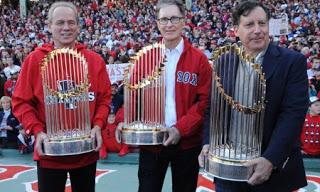 Love him or hate him, Larry Lucchino left his mark on the Red Sox.
Lucchino is stepping away from his role as president and CEO of the Red Sox when this season ends. He'll be replaced by current vice-president and COO Sam Kennedy, who was brought to the Red Sox as a intern by Lucchino in 2002.
Lucchino leaves a mixed legacy in Boston, but far more on the positive side. After stints in Baltimore and San Diego, where he helped develop both Oriole Park at Camden Yards and Petco Park, he joined the Red Sox with John Henry and Tom Werner when the club was sold in 2001.
When I hear his name, I'll always think of the way he turned up the rivalry with the Yankees by calling them "The Evil Empire" in 2003. He was instrumental in bringing in Theo Epstein as GM for the Red Sox in 2002, and was also responsible for Theo leaving Fenway in a gorilla suit and his temporary resignation in 2005. Lucchino could rub people the wrong way, and come off as meddlesome and a bit of a tyrant at times.
And also don't forget, he was the one who wanted Bobby Valentine as manager in 2012.
But the shining stars on his Red Sox resume are the three championships the Sox won in 2004, 2007 and 2013. And the renovation of Fenway Park was also on his watch, making the park a far more livable and watchable place to watch a game.
Larry also showed up many years ago at a BLOHARDS meeting at the Yale Club, and actually came off as a rather friendly individual.
I can remember years ago Red Sox fans who were totally disgusted with Lucchino's meddling and wondering when he'd be gone as team president. Conspiracy theorists are already speculating as to whether Lucchino is taking the fall for the Red Sox' awful last couple of seasons. According to Gordon Edes at ESPN, it sounds like Lucchino was phasing his role down for the last couple of seasons, and the team did not want to lose Sam Kennedy to another organization. (He had been wooed by the Toronto Raptors and Maple Leafs about a president position.)
Changes within the Red Sox continue, and I didn't see this one coming. I wish Larry Lucchino well.