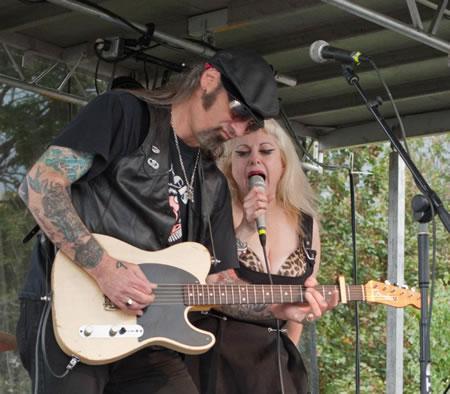 Low Society live @ Festival In the Borough, Washington, NJ - 2011/10/02
photo: Raymond McConnell
One of the best things in life is watching a loud blues band firing on all cylinders. One of the hardest thing to do is capturing the excitement on tape in the studio. NYC band Low Society pulled it off. Fronted by the happily married couple Mandy Lemons and Sturgis Nikides their album High Time transport the listener to a crowded bar where they are playing loud and raucous songs.
Most of the bands in this niche stick to playing covers, and sure enough there a couple of them in the setlist, but nine out of the ten tracks are originals (the sole cover si a rendition of J. Miller's Sugar Coated Love). Twelve bar blues as a genre can be depressing or upbeat and Low Sociteyt go for the latter. Lemons loud and angry vocals take center stage with Nikides playing nearly as much of different guitars as he has tattoos on his arms. Switching from dobro to steel guitar to banjo to acoustic to electric (and some junkyard percussion) he tackles old school tunings as a 101 for vintage R&B lovers.
With Charlie Walker IV on drums, and C.P. Roth and Rowdy Bodine sharing bass duties, High Time is hell of a ride, driving Long Black Limousine and wearing Dead Mans Shoes. Thankfully there a few slower tracks - Three Times Loser< Down Texas Way> and Black Pelican to allow the listener to catch his breath.

High Time is released on Rezonate Records. Buy it from the band's website.
Tracks:
Given Up On Love
Dead Mans Shoes
Three Time Loser
Long Black Limousine
Texas Goodnight
When I'm Done
Crazy Love
Down Texas Way
Black Pelican
Sugar Coated Love

(Long Black Limousine by Low Society)
Live dates:
01/25 Trash Bar, Brooklyn, NY
02/03 Full Cup, Staten Island, NY
Video: Low Society - Dead Mans Shoes
(live@t Tom Clark's Treehouse - Upstairs @ 2A, NY 2011/12/11)