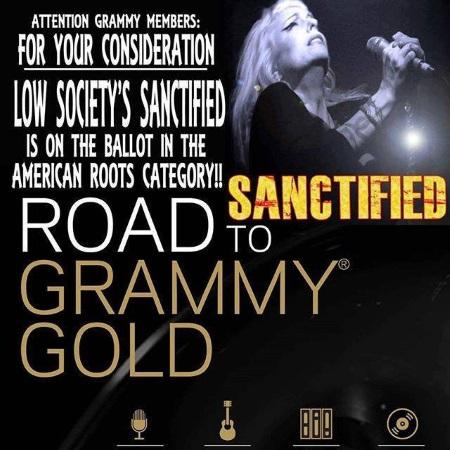 Screaming blues band Low Society have a long way to go to actually win it, but their latest album Sanctified has been entered for consideration for a Grammy nomination for Best Contemporary Blues Album.
The Memphis based band's music may be way too sexy for the Academy Members, but stranger things have happened in American elections recently. First Round Voting is now open to them and since this is 2017 they are finally able to vote online. Caveat: the instruction video contains terrible background music.
The album is now available in full for streaming on Soundcloud.
Their European tour kicks off on November 12 in Goor, Belgium, Husband and wife Sturgis Nikides (guitar) and Mandy Lemons Nikides (vocals) will be joined by their Belgian rhythm section Jacky Verstraeten (bass) and Bart De Bruecker (drums), who also feature prominently on Sanctified.
Live dates:
11/12 Goor, Belgium @ Goor Blues
11/18 Roeselaere, Belgium @ De Mooie Molen
11/19 Wageningen, The Netherlands @ Bluesclub XXL
11/23 Verviers, Belgium @ Spirit Of 66
11/24 Luxembourg City, Luxembourg @ Sang A Klang Concert Hall
11/25 Aalst, Belgium @ Blues @ Cimorné
11/28 Kaiserslautern, Germany @ Kulturzentrum Kammgarn
12/02 Kortrijk, Belgium @ Café Den Trap
» screaminblues.com
» Low Society on Facebook
HCTF review of Sanctified.