Low Fat Gajar Ka Halwa/Carrot Halwa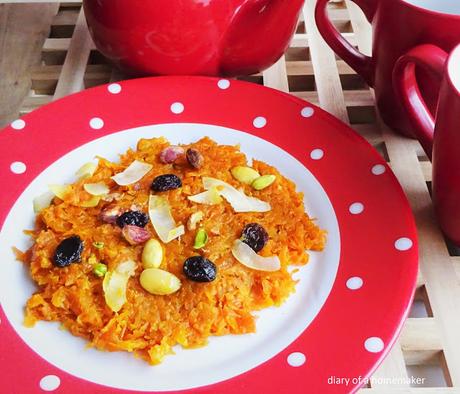 I like the month of December because it is the Holiday Season! In my house it is also the time for food extravaganza. The whole family likes to indulge in all sorts of comforting food that the winter season entails. Evening teas are always accompanied by some sort of Halwa and my favorite is carrot Halwa.
I love Carrot Halwa also known as Gajar Ka Halwa. It is rich delicious and creamy, with all the goodness of carrots and dried fruit, I could go on and on praising this decadent dessert! The winter season sparks my craving for sweets and that is when Carrot Halwa comes to the rescue.
Every winter I eat tons of gajar ka halwa and gain at least 2-3 kilos or may be more of weight as my metabolism is not the same as it was a few years back. This season I will be making my favorite halwa dessert but with lesser calories.  For achieving the low calorie version I have used only 2 tbsps of dried milk powder instead of double cream or condensed milk. I have used ghee again in lesser quantity which is also healthier than butter. You can omit the ghee altogether if you like but I think some fat is good for you.  Again I am not a dietitian or an health expert just sharing some second hand knowledge.
IngredientsQuantity
medium carrots8 grated
sugar1/2 cup
cardamom powder1 tsp
ricotta cheese1 tbsp
dried milk powder3 tbsp
ghee2 1/4 tbsp
raisinsas needed
coconut flakesas needed
pistachiosas needed
almondsas needed
Preparation: 10 mins☻    Cooking: 30 mins☻    Serves: 5-6☻    Cuisine: Pakistani/ Indian
Grate the carrots with the help of a grater.Set aside.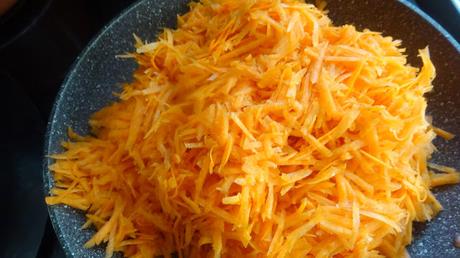 Place the grated carrots in a pan along with the sugar and cardamoms.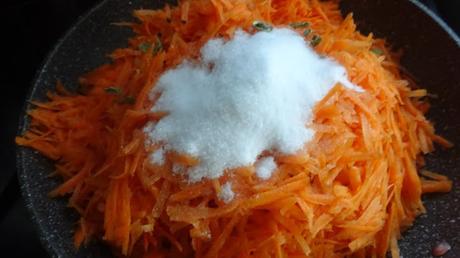 Cook on medium heat until the water evaporates.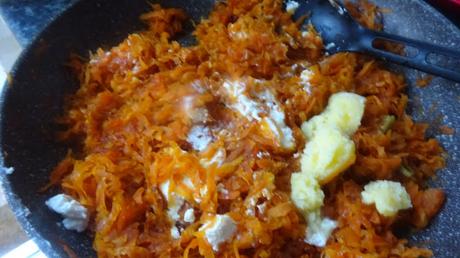 Mix in the ghee,ricotta and dried milk powder. Cook until all the ingredients have permeated into the carrot mixture. The powdered milk and ricotta will start to form solid clumps at this point. Scrap them off the sides as you keep stirring. The carrots will have more of a deeper color now.
That's it! Low fat carrot Halwa is ready to be served. Garnish with raisins, pistachios or coconut flakes.