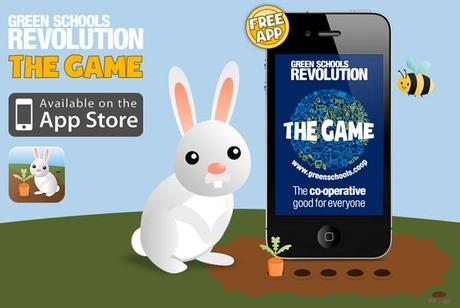 I've come across another fab app from The Co-operative I had to share with you in case you hadn't seen it yet!
The Green Schools Revolution Game is supposed to be 'a fun way to turn the kids green'! The FREE game for iPhone, iPod touch and iPad is filled with fun games and quizzes to get the green message home.
They reckon that 'Chances are, the big kids will love it too' (I would if I had an iPhone – perhaps they'll launch it for Android one day too – please let me know if the do!).
It features:
Fun quizzes about energy, water and healthy living unlock 4 levels of green games
Energy saving game – turn off the lightbulbs to save energy and gain points!
Be a water watcher – can you turn off the taps to save water and keep the ducky afloat?
Harvest carrots on the farm, but be quick before the rabbit beats you to it!
Unlock the busy bee bonus round to boost your green points even further
For more info and to download the Green Schools Revolution Game visit the website: http://www.co-operative.coop/green-schools-revolution/whats-going-on/the-app/