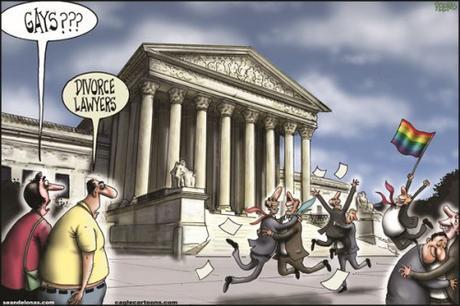 Houston Chronicle: Houston-area couples are taking quick advantage of their newly granted access to same-sex divorce. Two couples filed Monday at the Harris County District Clerk's office, a spokesman said, and a La  Marque same-sex couple filed the same day at the Galveston County District Clerk's office, according to the Galveston County Daily News.
The filings came in the wake of Friday's historic ruling by the U.S. Supreme Court making it legal for same-sex couples to marry anywhere in the United States. The La Marque couple had been awaiting the ruling since their separation in February 2014, The Daily News reported.
Houston attorney Debra Hunt, whose firm of Moore and Hunt specializes in same-sex family law, said her associate Joshua Myers has been working on several divorce cases and is expected to file them by the end of the week.
While same-sex couples face essentially the same issues as straight couples who divorce, some things are more complicated, such as community property for couples who were together for a long time before their marriage was recognized in Texas, Hunt said.
"It's too simplistic to say, 'When is the date of marriage?' " she said. "There will be some that are fairly straightforward with little property accumulation, but I suspect that as we start dealing with cases, the complexities will start jumping out immediately."
Another issue is the concept of common-law marriage. Same-sex couples who have been together for years can consider themselves married under common law, but only if they present themselves as married to the wider community, said Houston lawyer Mitchell Katine.
"I'm getting calls from people saying, 'Look, my partner and have been together for 20 years. Are we common-law married?' My question is, 'Have you ever told anybody you were married?' " Katine said. If they say, "No, because we weren't allowed to," then common-law marriage doesn't apply, he said.
"Gay couples who have been together a very long time might think they were considered to be married, but they're not because they never represented themselves that way," said Katine, who represented two men in a case that led to the U.S. Supreme Court's 2003 decision striking down sodomy laws.
A week prior to the national ruling on same-sex marriage, the Texas Supreme Court upheld a 2009 same-sex divorce in Travis County.  In a 5-3 ruling, the state's high court sided against then-Attorney General Greg Abbott, saying the state had no standing to intervene and had waited t0o long in any case.
DCG