Kelly Prescott's got a new EP, she's been on the road with Alan Doyle, she's doing what she loves and continuing a family legacy. And none of it would've happened without a big reset, a new direction, and a lot of hard work.
Love Wins was released on February 21, 2020, as a six-song EP that gets heavy and personal, and ends with hope. For about half an hour I talked on the phone with Kelly about the EP, touring, music, people she worked with, and more. And we played a round of 5 Quick Questions that you can find a little later in this post.
When we starting talking about the EP, I told her that my very first thought when I got through the first two songs ( Church & Running Out Of Road) was "Holy shit, she went for it" and that it felt like she had decided that it was time for her to tell these stories and sing these songs. She laughed and replied "Ya screw it, I'm saying it." and while we started with a laugh, we were also serious. She talked about the period of the last four years and dealing with going through a divorce, her management and music deal in Nashville coming to an end, and feeling like she had hit rock bottom. Not great things to go through, but sometimes very inspirational for great art. She told me that she wasn't sure if she wanted to continue making music. But she did, and after hearing the result, I'm glad she did.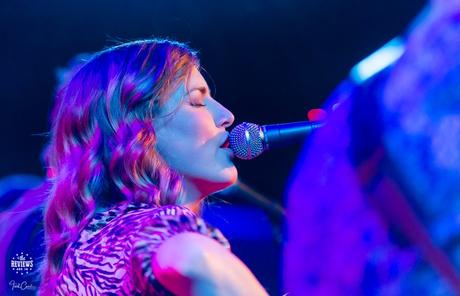 Kelly also talked about this being a more personal project because of the work that went into it after all of the changes that went on in her career behind the scenes. She worked to fund it. She worked to record a few pieces at a time. She worked with new faces and talent that she hadn't worked with before. And she made an EP that she's proud of.
She told me that there were a lot of mixed emotions about sharing the stories and songs form the last four years of her life. That she went through some shit. In her own words too, it was also "a little bit scary to put it into the world." creating and releasing a project that she gave so much of herself in and was so open and personal with the stories in the songs.
That all starts on track one with Church. It's a big start. A heavy start. A sombre and sad heartbreaker and I like it a lot. It's open and honest and vulnerable and beautiful in all of those things.
Note: As we talked about Kelly's music, and the sad songs on Love Wins, she told me that she and Jessica Mitchell and Andrew Hyatt , "being the sad song enthusiasts of the country world" have joked about hitting the road on a Sad Song Enthusiasts Tour. She says they're joking. I hope they're not.
Yes, this is a song and it's art and it's a story. But it's real. And it's hard. And sometimes that's the music we need to connect with just as much as the ones that make us dance.
After our call, as I was going through some of the times we've seen and talked to Kelly over the last few years, I realized that I first heard her sing Church at Four Chords and the Truth at The Dakota Tavern in June 2018. At the time I called the song heartbreaking. I stand by it.
If you haven't heard it yet, hit play now.
Another thing we talked about was making Love Wins and while it was Kelly's project and very much so - she went out of her way to give out a lot of credit to the people that helped her on the project.
"It's a lot a people, it takes a village to make something like this." she said, adding that because people aren't buying physical copies the way they used to, the credits often go unseen. In a Facebook post, she wrote, "I really don't like it when you can't find album credits online these days. Here are some of the talented & generous people who helped make this EP happen. Thank you to each and every one of you. 💖" and then posted an image that serves as the back cover of the EP with a tracklist and credits and thank yous. You can see it at the bottom of the post.
On our call, she gave credit to her brother Kaylen, who produced and did engineering work on the album. She shouted out Jessica Mitchell, Jason Nix ( 25/8) who sang background and Shawn Austin who is featured on Running Out Of Road. She showed love to her co-writer, Rachel Thibodeau on Love Wins. And we talked for more than a minute about Dallas Smith and SteelHead Music and the role he's playing the career of Kelly and other artists in a behind the scenes way that a lot of fans may not know about.
Make no mistake, these are stories and songs that lived inside of Kelly Prescott and are now in the world for all of us to listen to and share in and connect with. But as she says, without the help of those people and more, they don't exist in the way they do now.
In talking about the EP and the sad songs, we also had to get to Love Wins at the end of the tracklist. It is the rainbow at the end of the storm and the hope when all seems lost. It's the turnaround and feeling that keeps us from being stuck in the sadness or at rock bottom. In her personal life, she thought the idea of love was lost for her, that you only get one shot, and she'd had hers. And then she got another one.
Kelly told me that she always knew she wanted it to be the last song on the EP and that it was the song that she wanted people to hear last when they listened to the album. It was the right call.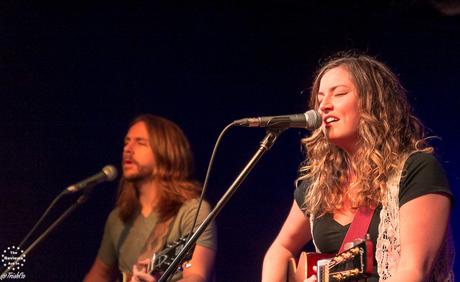 Before the end of our call we also talked about touring with . And while we don't know what's going to happen with the upcoming tour dates due to the COVID-19 pandemic and related postponements, we were able to talk about the dates that she's already played.
"Getting to watch one of the best in the business every night, it's like going back to school... but for fun," she said. And she talked about Winnipeg and Calgary and Edmonton and Vancouver as amazing stops and chances to play on the first leg of the tour. Kelly also told me that Alan is just as fantastic off stage as he is when he's performing. From being just a generally great guy to stopping in her dressing room pre-show to hang out and tell jokes and then give a little pep talk before she hits the stage.
Kelly told us that she's very much looking forward to playing The Danforth Music Hall in Toronto (scheduled April 3 and 4, 2020) and has never played the historic venue before. And while we don't know yet if those shows will go on as planned (a Facebook post by Alan Doyle on March 13 says "All hands are working with provinces, cities, & venues, to comply with public safety regulations which are varied at this point from place to place. Will post any news here in the coming days.") or be postponed - we're looking forward to Kelly being able to hit the stage in Toronto on the Rough Side Out Tour.
While we had Kelly, we played our first ever round of 5 Quick Questions with her. Hit play on the video to find out which album she's reaching for on a long drive, which three legends she'd love to duet with (including one that her mom sang with) and more!
5 Quick Questions with Kelly Prescott
Thanks again to Kelly Prescott for taking the time to talk about Love Wins, playing 5 Quick Questions, and everything else we got to on our call. We look forward to seeing her again soon.
Check out the stream of Love Wins below. And if you only have time for one more song right now, end things like Kelly intended with the song, Love Wins as the title track.
Kelly Prescott, Love Wins Tracklist
1. Church
2. Running Out Of Road ft. Shawn Austin
3. 25/8
4. Paint In The Sky
5. Still Drinkin'
6. Love Wins