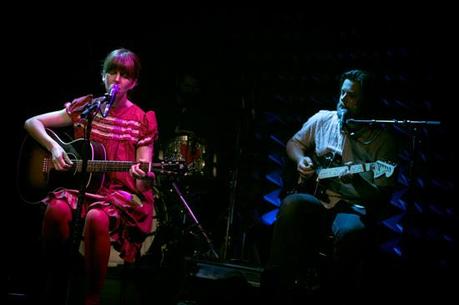 Rosie Thomas (@onerosiecheek) is something else, I'll tell ya. When she opens her mouth to sing, an incredibly rich, honeyed voice pours out of her, but when she opens her mouth to speak, well, I heard someone once told her she sounded like a bug. Her voice is high-pitched and squeezed with the nasal tinge associated with Midwest accents. While this dichotomy is slightly jarring, her talent is undeniable, and her performance at Joe's Pub on Saturday night held the full room in rapt attention.
She first stepped out onto the stage disguised as a character wearing inch-thick round glasses, neon blue warm-up pants, a bright green fanny pack, a neck brace and an arm sling. She launched into a rambling, nonsensical monologue, with some mention of a one-woman show she's working on. She then turned to an easel holding a pad of drafting paper on which she had turned the word LOVE into an acronym. Ripping away one sheet at a time, she revealed the meaning of each letter (such as L is for 'Lying About Your Age' and E is for 'Eating Disorder'). Then, as suddenly as she had entered, she left the stage announcing that "Rosie T. is up next and she's wonderful."
Did I miss something? Was this the beginning of a one-woman show full of eccentric characters?  The four men in her band (one of which is her brother, another is her husband) gradually took their places on stage as the audience chattered to themselves. Rosie re-entered, this time in a red mu-mu dress and bright red tights, squealing "Yay! Hi! Yes Sir! Yes, Ma'am!" There was no mention of the scene that came before — she simply sat down and suddenly the room was filled with tender folk music.
Her songs are imbued with nostalgia. They're simple, unfussy and mostly about love, which was clearly the theme of the show (harking back to the drafting paper and the acronym). The love she sings about, though, is grounded, introspective and touching, as opposed to the love she speaks about (she cried "I love you all!" to the audience almost incessantly), which is impulsive, playful and amusing.
She carried an element of theatricality throughout the show, breaking into monologues twice between songs. The first was a series of ironic stories ("I was on the subway the other day and a man walked through saying 'You know, it only takes one person to make a difference'. He said it right to me. And I said 'Sir, that's a lot of pressure to put on one person. It's been a hard day, all right? Shame on you. Shame on your house.'") Later, sitting alone onstage, her patter turned into a motivational speech as she stressed how special each person in the audience was, reminding us that we are not alone and encouraging us to hold onto hope.
The encore came (in her excitement, she barely even left the stage), leading to a version of Bette Midler's "The Glory of Love" that was slowed down to its most vulnerable and pensive. The song was beautiful and inspiring, but she left no time for it to settle. Letting the applause bring her jumping to her feet, she waved her arms enthusiastically, crying out "Thank you!" and blowing kisses into the audience. Oh and she threw in a couple more "I love you!" squeals for good measure.