Go star gazing! Like right now, if you're reading this post at night.
Spot the brightest star of the day, and the stars near it.
Do you find a pattern?
If you look more intently, you will soon connect the dots and be amazed how spectacular they look, up the heavens so high.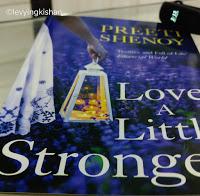 Did it happen over night? Or did it take billions of years to shine?
Do they still shine or have they stopped shining?
We can say the stars are time travellers, as something that happened a billions of years ago, took exactly a billion years to reach us. So, what now, do we know what has happened to it in those billion years. Maybe in some billion years we might find out what happened.
But the stars still look amazing and we love them.
Life is just like the stars, and we the time travellers. In some remote part of our neurological system, resides our memories, some memorable and some mundane, but safe in its vaults.
There are life lessons, fear, rejection, frustration, smiles, anxeity, adrenalin rush, the first day at school, hide and seeks, learning to swim in the rivers and what not. Thanks for keeping it safe "BRAIN."
Preeti Shenoy has just opened her vault sharing her wonderful memories with the readers. I just loved each and every part of it.
One of the many things I loved in the book are
when kids have nothing to complain, they can say "Mom, he is breathing my air." I had a great laugh and "Real spies don't wash their babies' underwear." Seriously dude!
These light hearted moments, just reminds us that life can always take a detour and present you with something that will startle you, but in a good way. Life is these moments woven, together like a fabric where each thread depends on the other.
Some serious conversations converted into a light hearted one, just because someone said something and still didn't understand what went wrong.
Kids, work, learning to ride a bike, silly mistakes and what not the author has shared will just keep you engrossed in the book and the subtle remarks by the author, will make you chuckle. Like you can related it to your own life and how some similar moments unfolded for you.
What were you doing when it happened?
Where were you then?
Such precious moments, I believe have to be documented. These are like gem stones, one very different from the other but still sparkles like a diamond. My life can be different from Preeti's, even your too will be different from that of me and your friend.
Get those moments documented! May be someday your life can inspire and motivate us.
Wow! This is what, the effect of Preeti's book can have on you once you have read it.
Grab a copy of yours from the nearest book store and share your thoughts!