The 2013 Super Bowl will kick off today at the Mercedes-Benz Superdome in New Orleans, LA.
Responding to a satanic commercial that Mercedes-Benz made for the SuperBowl, A longtime reader of FOTM alerted us to a disaster in the making in the Louisiana bayou — a humongous sinkhole in Napoleonville called the Corme sinkhole that, if the salt dome collapses, will be as big as 30 football fields! The reader wrote: "In the Dark Knight, there's a huge explosion – which begins underground – at a football game. I don't look for prophetic events in movies, but things are really strange lately."
As you can see in the Google map image below, Napoleonville is 75 miles west of New Orleans.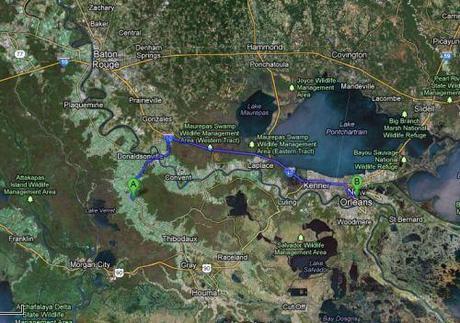 I pray and hope that nothing untoward happens at the Super Bowl today (other than the usual trash at half-time like that satanic performance by Madonna last year).
Here are some pictures of the Corme Sinkhole, followed by a news account.
~Eowyn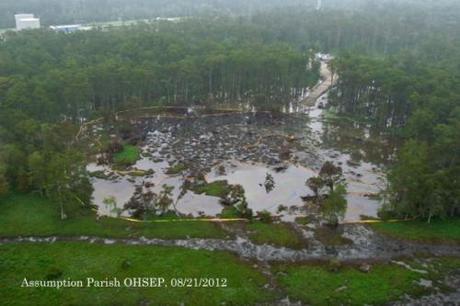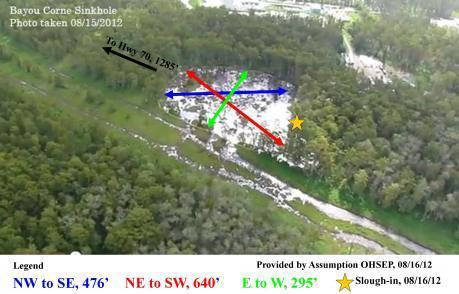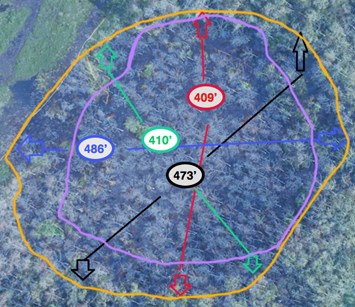 La. salt dome collapse 'sinkhole' lake might be 30 football fields large
By Deborah Dupre – Examiner.com – Dec. 17, 2012
Louisiana Office of Conservation and Shaw Environmental and Infrastructure scientists have estimated that the Napoleonville Dome Collapse, the Bayou Corne "sinkhole," could ultimately cover the equivalent of more than 30 football fields, or about 40 acres.
"If Highway 70 is shut down, we are shut down from the rest of the parish," said Jamie Ponville, owner of Pierre Part-based Jamie Ponville Trucking LLC. Ponville was expressing one of many issues worrying Cajuns in the area of the collapsing 1-mile by 3-mile Napoleonville Salt Dome. Their Acadian homes balance above the dome and its ongoing leaking gas and earthquakes.
Scientists believe the "border of the maximum expansion of the sinkhole is anticipated to be well short of reaching Highway 70 and the Bayou Corne community," says Louisiana Department of Natural Resources spokesman Patrick Courreges.
The collapsing area, filled with salt water and hydrocarbons with traces of hydrogen sulfide and radioactivity, once hidden by swamp oaks and other sub-tropical flora, can now be viewed from Hwy. 70, as this author observed and reported from the area in November.
The center of the Napoleonville Salt Dome is south of La. 70 and east of Grand Bayou, the collapsing slurry area, the "sinkhole," and Bayou Corne.
Grand Bayou and Bayou Corne communities are both on top of the dome that stores pressurized oil- and gas-related chemicals.
From this historic event's onset, when the collapsed area called a "sinkhole" was less than an acre, scientists and officials warned that the collapsing area consuming part of Assumption Parish was destined to continue growing.
The giant collapsing area in the swampland between Bayou Corne and Grand Bayou was reportedly found on Aug. 3 on property Texas Brine leases from Los Angeles-based Occidental Petroleum Corp., rarely in the news regarding this disaster.
Since this event's onset, the collapsing Napoleonville Salt Dome "slurry area" has been swallowing trees, some over 100-years-old, on the western edge of the now 40-acre disaster site.
The discovery of the collapsed area followed two months of locals' alarming reports to officials that earthquakes and gas bubbles were occurring. It was the "sinkhole," however that prompted Gov. Bobby Jindal to declare a mandatory evacuation of approximately 150 homes.
Although the salt dome slurry area has increased four fold, the mandatory evacuation area has not, despite public outcry for the governor to expand the evacuation zone. The Louisiana governor has yet to make a public appearance at the 6-month disaster area. Such an appearance would provide national news attention that locals want, but not necessarily what the oil and gas industry want.
"Every day, the fossil fuel industry spends $167,000 on lobbying , and millions yearly on campaign contributions," writes Adam Greenberg in partnership with GlobalPossibilities.org. "They spent $367 million on TV ads this past election alone. These lavish political expenditures ensure that politicians are more beholden to the fossil fuel industries than they are to We the People. Against the direct interest of America, they have set up a government largely of the fossil fuel industry, by the fossil fuel industry, and for the fossil fuel industry."
In August, that industry caused a four-mile stretch of La. 70 between Bayou Corne and Pierre Part to temporarily close. The cause was attributed to "powerful forces" from an "unknown source," as local officials had said. Those forces bent a gas pipeline up and to a right angle the day after the collapsed area in the swampland 50 miles from Baton Rouge was reported.
"You know that's the main corridor for four parishes," said Police Juror Henry Dupré.
Since 2003, the troubled swamp area has had three road closures due to oil and gas industry events. Those closures were noted when the Assumption Parish Police Jury adopted a an Aug. 22 resolution calling for the Louisiana Department of Transportation (DOT) to research a new "bypass" north of La. 70 to link it at the intersection of La. 69 and La. 996.
The DOT is seemingly moving at geological pace, only now announcing it will start preliminary plans for a new highway in case the new lake covers Hwy. 70.
Closures between La. 1 and La. 69 occurred in 2003 near Grand Bayou due to a gas leak at a well that pushed remaining residents, some who had been there for generations, off of their treasured land. Another closure occurred in 2010 when an oil well near Paincourtville, several miles down the road from Grand Bayou and Bayou Corne, had a blow-out.
The collapsing dome area, the so-called sinkhole, is west of La. 69 and south of Hwy. 70.
Subsidence on the perimeter of the dome has averaged about a quarter-inch annually, according to an August report, according to the Advocate. That concurs with an earlier report of a local fisherman, Harry Boudreaux, who said months ago that the dome has been sinking for a long time.
Bourdreaux used to crawfish in the 1960s near the area where the collapsed dome slurry now is. He'd have to climb a fence near Hwy. 70 and then, hike 500 feet through the woods to get to the once pristine bayou filled with critter edibles. "Now the fence is underwater and water's right up against the road," Boudreaux had said. "I think the whole dome is sinking."
(See: Louisiana sinkhole engulfing entire 1-mile by 3-mile salt dome, Sept. 30, 2012)
Stephen Bauer, a geologist with Sandia National Laboratories in Albuquerque, N.M. with extensive salt dome research under his belt, said that the official August report shows typical subsidence for a salt dome containing oil and gas industry-related storage caverns.
Subsidence happens due to man-made environmental modification (ENMOD), removing material from underground and the salt creeping and closing in the hollowed out caverns.
If the new lake covers and closes Hwy. 70, it would cut off Bayou Corne and Pierre Part from nearby highways north and south that provide a direct route toward La. 1 and Napoleonville. Drivers would otherwise need to drive all the way through Morgan City or White Castle.
At the current rate of expansion, the collapsing salt dome area will engulf Hwy. 70 before the state's transportation department's "preliminary study" is due for completion, unless the sinkhole grows only in one direction – away from the highway, which has not been the case thus far. That is why it is now observable from the highway and was not before November.
If the collapsed area reaches the anticipated size, fears of it being a human and environmental sacrifice zone, as Dr. Wilma Subra discussed last week, will be realized.
The collapse will join Bayou Corne and Grand Bayou, as this reporter has suggested earlier. This man-made oil and gas industry disaster is destined to destroy life in those two vital streams.
Of equal consequence, it will also destroy one of the nation's most precious and unique cultures, South Louisiana Acadians, Cajuns who have been squarely centered on those bayous for centuries.
_____________
To help protect human rights of Assumption Parish residents, sign the petition telling Governor Jindal to do the right thing and expand the mandatory evacuation zone. See: http://www.examiner.com/article/nation-tells-jindal-to-expand-la-sinkhole-evacuation-area
Deborah Dupré is author of "Vampire of Macondo," 450 pages of censored stories about Corexit and the BP-wrecked Macondo Prospect in the Gulf of Mexico, continuing to cause catastrophic human devastation, that also continues to be covered up.
Suggested by the author:
Sinkhole: H-Bomb explosion equivalent in Bayou Corne possible

Entire salt dome collapse under La. sinkhole possible
Louisiana sinkhole radiation abuse and cover up continue
Louisiana sinkhole sacrifice zone
Sinkhole residents demand Gov. Bobby Jindal meeting
La. sinkhole Big Hum 1000s feet deep might be leaking, new precautions