HOLLYWOOD—Celebrities who love designer Louis Vuitton know that the flagship store is in Paris, France. Celebrities like Rihanna and Paris Hilton have shopped at the Champs-Elysees store, according to the LV employee. The flagship store has long lines to enter, some to purchase and others just to browse the four-level store. Other celebrities who love the products of Louis Vuitton are also Madonna, Angelina Jolie, Jessica Simpson, Miley Cyrus, Beyonce, Cameron Diaz and Hilary Duff.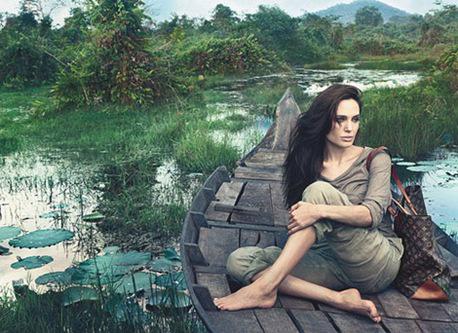 Photo courtesy of Louis Vuitton

 

The Louis Vuitton fashion show at Paris Fashion Week, which was over a few weeks ago was full of celebrity fashionistas. Some of the A-listers in attendance were Camilla Velle, Leighton Meester, Portuguese singer Nelly Furtado and Dita Von Teese. There are many stores at the Champs-Elysees from Hugo Boss to Cartier to Sephora, but none with the waiting line that Louis Vuitton has even in the rain with a standard line divider with ropes and poles. The top-floor gallery displays changing art exhibits.

An interesting art exhibit taking place in Paris until October 22, is entitled "Boxing with the Stars." The godfather of paparazzo, Ron Galella, has about 35 of his iconic photographs on display at the A. Galerie in Paris. His photographs not only capture the beauty and charisma of the countless stars despite the often-difficult conditions that Ron Galella had to endure. You'll see photos of Elvis Presley, Jacqueline Kennedy, Onassis, Bardot, Richard Burton, Robert Redford, Mick Jagger, Robert De Niro, Andy Warhol, Al Pacino and Marlon Brando just to name a few. Ron Galella is considered the world's best-known paparazzo.

If you have ever wondered where that name came from, it was the nickname of the photographer in Federico Fellini's landmark film titled, "La Dolce Vita," that was released in 1960, an era when celebrity and photography had a certain glamour and aura. If you study Ron Galella's photographs you'll notice he would love to capture celebrities when they least expected him to shoot. I believe that's what made his photographs so extraordinary and controversial. Mr.Galella has also launched a book titled "Viva l'Italia!" a book containing over 225 photographs of Italian and Italian-American celebrities, from Sophia Loren to Frank Sinatra.

Speaking of books, we bumped into actress Hilary Duff, 24, on October 11, who is currently on a book tour promoting her latest novel titled "Devoted." Hilary is so down-to-earth that it was a pleasure speaking to her. She was glowing, perhaps due to the fact that she is expecting some time next spring. The mom-to-be wore a black outfit and black heels and actually took a break from her book signing to step outside and take pictures with her fans. Canyon-News had the opportunity to ask Hil a few questions: "Of all the movies you were in, what was your favorite?" "My favorite was 'According to Greta,' she said." "Do you know if it's a boy or a girl?" "No, I don't." "It doesn't matter Hilary, as long as it's healthy, that's all that's important." The singer-actress is expecting her first child with hubby Mike Comrie, 31.

Rose's Scoop: George Clooney is everywhere, he is gracing the cover of Aeroports De Paris Lifestyle, the October issue in Paris. He is holding what seems to be a paper airplane in his right hand. In reality though, everyone seems to be more interested in his love life, since he has those famous velvety eyes that women love.