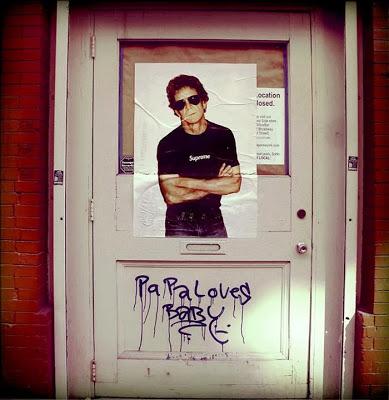 It's always sad and something of a shock when any great musician passes away, but living in a world without Lou Reed is sure going to take a lot of getting used to. Last night, my reaction at the breaking news of his death at the age of 71 was sheer disbelief, followed by sadness and then an evaluation of what this man's work has meant to me since hearing him when I must have been about 10.

Like with many others, 'Walk On The Wild Side' was my first taste of Lou Reed. I heard it on a white cassette (with no cover or case) that my Dad owned called 'Rock Anthems'. Coming to think of it, I now remember my Dad often referring to the man as "Louie Reed". There was something about his lyrical approach that intrigued me, as well as his very casual vocals, an effortlessly cool style that seemed to not give the slightest hint of a fuck about anything. But I was also confused about the line "she never lost her head, even when she was giving head." What did it mean? Obviously I know now, but back then it seemed like a puzzling phrase. The stunning 'Perfect Day' was something that couldn't fail to move and amaze me upon hearing it for the first time. 
My first encounter with The Velvet Underground was an unexpected one, an otherwise very MOR compilation entitled 'Top Gear' included the overwhelmingly dark 'Venus In Furs' alongside the very unlikely company of ZZ Top, Queen, Fleetwood Mac and other groups that seemed to be on a far more basic level than this extraordinary blacker than black monster emerging from the speakers. Of course, what I also didn't know was that this song was about bondage. In the late 90's I got myself a copy of 'The Velvet Underground And Nico', mainly because I'd read many of my favorite bands raving about their influence. And what an album it was. The pounding 'Waiting For The Man', the gorgeous 'Sunday Morning' and the raw, uncomfortable intensity of 'Heroin' made me aware of what all the fuss was about. Since then I have added a number of Reed's other records to my collection, however somewhat unbelievably I have yet to acquire the classic 'Transformer'. Now would be a fitting time for me to correct that.
He kept himself busy in recent years. As well as contributing vocals to the Gorillaz track 'Some Kind Of Nature', in 2009 he began touring with the Metal Machine Trio, which was widely viewed as a return to his exploration of noise and sound. In 2011 he teamed up with Metallica for the bizarre, hugely divisive collaborative LP 'Lulu', and claimed that fans of the band were "threatening to shoot me", but remained as true to himself as ever adding: "I don't have any fans left. After 'Metal Machine Music', they all fled. Who cares? I'm essentially in this for the fun of it." In March of this year Reed surprised fans in New York when he made an appearance at a playback of his seminal album 'Transformer', later discussing with them the album's best moments and wider cultural significance. But later that month his wife Laurie Anderson revealed that he had undergone a life saving liver transplant, Reed posting a message to fans reading: "I am a triumph of modern medicine, physics and chemistry. I am bigger and stronger than stronger than ever... I look forward to being on stage performing, and writing more songs to connect with your hearts and spirits and the universe well into the future."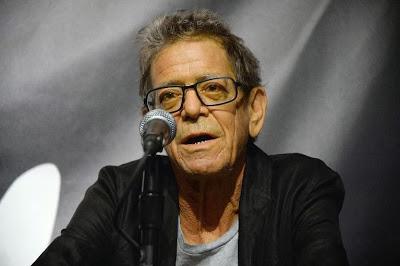 At his first public appearance since the operation, hespoke out against music downloading, stating that MP3s were reducing music "to the lowest common denominator" and were "a really miserable sounding thing... people don't understand what they are missing", comparing the "horrifying" sound of MP3s to the "beautiful warm sound you get on vinyl". His last public appearance was at the GQ Men Of The Year Awards last month (September 2013) where he won the Inspiration Award. But last week he returned to a clinic to undergo surgery, but decided to return home after doctors could no longer treat his end-stage liver disease. "We all agreed that we did everything we could," his physician Charles Miller said. Reed died at his home in Southampton, New York, on Long Island. Miller noted that Reed "was fighting right up to the very end. He was doing his Tai Chi exercises within an hour of his death, trying to keep strong and keep fighting."
Former bandmate John Cale paid tribute: "The world has lost a fine songwriter and poet …I've lost my 'school-yard buddy'". Velvet Underground drummer Mo Tucker responded by saying that Reed was "generous, encouraging and thoughtful. Working with him sometimes could be trying to some people, but never to me. I guess we learned from each other. We all learned from each other."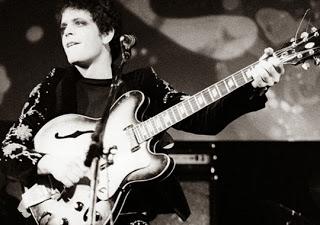 He left this world having spent decades exploring new sounds and ideas, creating a legacy of his own. He didn't waste his years compromising or treating commercial success as a priority over his art, and for that reason alone, the countless musicians that he has influenced in one way or another have a lot to thank him for. Always challenging himself and others, right up until the end he continued to rage against the dying of the light. The world is now short of one more genuinely unusual, maverick mind but is all the richer for him having been here in the first place. His influence on subsequent generations was utterly profound and to say that we will never see anyone like him again is no overstatement. 
So now the final curtain has come down on the lifetime of this true legend, a round of applause is in order.