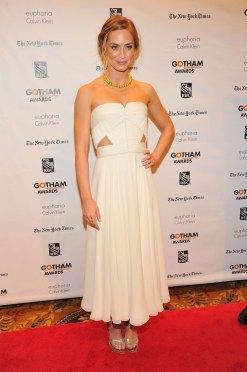 source: hawtcelebs.com
Hey ladies!
I saw a gorgeous image of Emily Blunt's makeup look during the 2012 Gotham Awards. She was sporting a bronze eye makeup, a subtle color on the cheeks and nude lips. She looks like a goddess with that golden hair, classy modern dress and simple accessories. Isn't she lovely? I simply love her!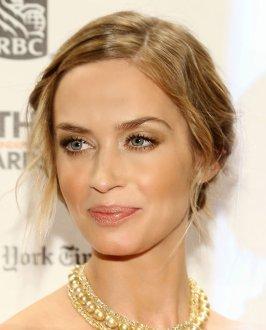 source: makeupforlife.net
I attempted to create my own version of the eye makeup inspired by Emily Blunt's.

Snapshot of my eye makeup look, nothing too complicated cause I'm still learning how to do my own makeup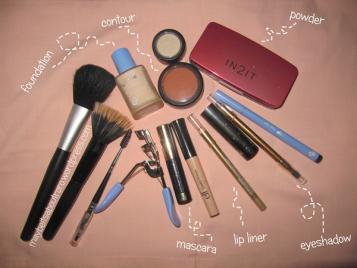 makeup products used
First, I applied primer onto my lids. Then after applying primer, I took a bronze eye pencil, spreading it gently all over my lids. I like this eye pencil because it's creamy and doesn't fade for a long time. Using an ivory colored eyeshadow, I dabbed it on the center of my lids also at the inner corner of my eyes, near my bottom water line and the brow bone for a brightening effect. Then I lined my eyes and added two coats of mascara. For the face, I just put on my usual everyday makeup products and swapped blush for contour. Finally, instead of Emily's pretty nude lips, I opted a fancy red lippie.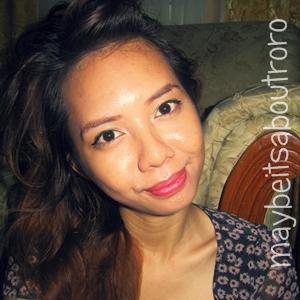 Well, the finished look is nowhere near what Emily Blunt was wearing. I still have a lot of makeup learning to do! But then again, this was a 'makeup inspired' anyway. Plus, I had fun with playing around with makeup!!!
Practice, practice, practice!
Products used:
On my face: San San Matte Finish Liquid Foundation in 02, IN2IT 2-way cake Foundation, Nichido Powder Blush in Cool Rum
Eyes: ELF Eyelid Primer, Nichido Eye Pencil in Bronze Glow, Nichido single eyeshadow in Sea Shell, San San Waterproof Eyeliner Pen, Estee Lauder Sumptuous Bold Volume Lifting Mascara
Brows: Nichido Eye Pencil in Bronze Glow, Nichido clear mascara
Lips: Lip balm, Estee Lauder Artist's Lip Pencil in 08 Spice Writer, IN2IT Moisture Release Lipstick in 08 Flamingo
What do you think about Emily Blunt's bronze goddess makeup look? Shout out to those who dare try this look!
kisses,