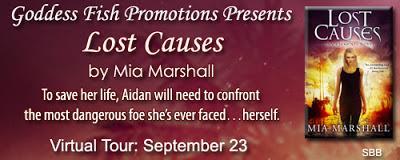 LOST CAUSES
by Mia Marshall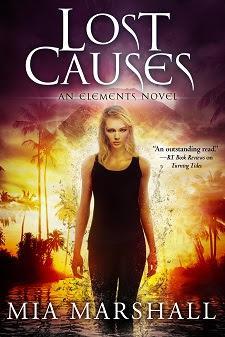 BLURB:
Aidan Brook has spent months living with the horror of what happened when she lost control of her magic. Now she is searching for a way to manage her immense power, but she only hits one dead end after another.
On the run from a council intent on her death, Aidan, the bear shifter Mac, and the rest of her friends find themselves on a desperate chase across deserts and oceans in search of answers. Along the way, they encounter a living myth and a dual magic with secrets of his own—and they learn that the cure may be more deadly than the disease.
To save her own life, Aidan will need to confront the most dangerous foe she's ever faced…herself.
LOST CAUSES is the fourth book in the award-winning Elements urban fantasy series.
EXCERPT
Mac did what he'd done every day since we started running. He walked to me with fear in his eyes.
"You okay?" He wasn't scared of me, though I sometimes thought he should be. He was scared we wouldn't find a cure in time. They all were.
"I'm good." I forced a smile I knew he wouldn't believe.
It was crazy to think Mac could fear anything. He was somewhere between huge and freaking enormous, and that was in his human form. When he was a bear, he got to add claws and teeth to the whole intimidation package. The fact that he also had thick dark hair and melting brown eyes and a wide, handsome face—and was honest and loyal to a fault—just meant I'd never really had a chance. I'd started falling for him the first day we'd met.
We'd never put a name to what was between us. If we'd been humans, we'd have been dating for months now, maybe talked about moving in together.
Instead, we'd spent our days trying to solve murders or find kidnapped children while I slid toward madness. It hadn't made for a conventional courtship.
Even so, the cord that tied us together was stronger than it had ever been. I was his, whatever that was worth, and I was pretty sure he felt the same about me. Most days, that was enough.
AUTHOR Bio and Links: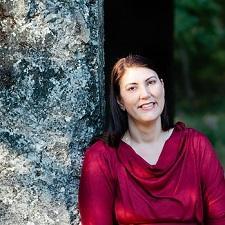 Mia Marshall is the award-winning author of the Elements urban fantasy series. Before she started writing about imaginary worlds, she worked as a high school teacher, script supervisor, story editor, legal secretary, and day care worker. She has lived all along the US west coast and throughout the UK, where she collected an unnecessary number of degrees in literature, education, and film.




These days, she lives in a small house in the Sierra Nevadas, where she is surrounded by a small but deadly feline army.




Twitter: http://twitter.com/thismiamarshall




Facebook: http://facebook.com/miamarshallwrites




Goodreads: http://www.goodreads.com/Mia_Marshall




Instagram: http://www.instagram.com/thismiamarshall




BUY Links:




Amazon:

http://www.amazon.com/Mia-Marshall/e/B00DJWDGXE/




B&N:

http://www.barnesandnoble.com/s/%22Mia%20Marshall%22




Apple:

https://itunes.apple.com/us/artist/mia-marshall/id541399965




Kobo:

https://store.kobobooks.com/en-US/search?query=Mia%20Marshall




NOTE:  The first book of the series, BROKEN ELEMENTS,  is now FREE!!!


Amazon:

http://miamarshall.com/broken-elements-amazon

Apple:

http://miamarshall.com/broken-elements-apple

Kobo:

http://miamarshall.com/broken-elements-kobo




GIVEAWAY




Mia Marshall will award a $50 Amazon/BN GC to a randomly drawn winner via Rafflecopter.


a Rafflecopter giveaway