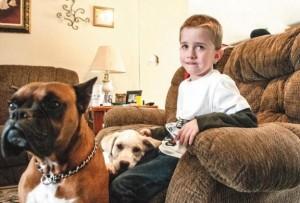 Here's a lost boy story with a happy ending, which might have been written starred Lassie – or two Lassies.
As temperatures plunged into the low 20s, Ryle Smith 6-years-old, of Joplin, MO was discovered about a mile from the family house with Baxter, a Boxer, and also with Bella, a Labrador Retriever-mix lying on top of the boy keeping him warm.
Smith said that according to paramedics, the dogs were lying on top of the boy; they could tell because his upper extremities were warm.
Ryle disappeared at about 4:30 Tuesday afternoon, following his puppy Bella away from the family property while playing outside. His parents called 911. Between 150 and 200 people responded to the alert to assist with the search.This is the second generally similar story within the past few month, when a little boy was kept warm and safe in a barn by the family dog.
Complete strangers drove from surrounding cities to assist in the search.
"We were real concerned about the weather," Newtown County Sheriff Ken Copeland told ABC News. "It was calling for sleet and snow later that night so we were really concerned."
Copeland said responders from the Newtown County Sheriff's Office as well as the Joplin, Seneca and Redings Mill fire departments, and the Newtown County Rescue and Recovery team, joined in the search, in addition to concerned local citizens.
~ Courtesy of Chicago Now
Tags: dogs find child, dogs find lost boy