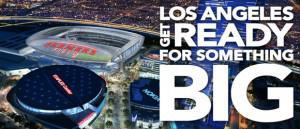 Several past posts have dealt with the idea of sports stadiums and arenas. Some of these have highlighted the advancements in green building techniques that have been incorporated into the design and construction, including LEED certification for numerous facilities throughout the country. In hopes of luring a football team back to Los Angeles, the Anschutz Entertainment Group (AEG) has been in the process of getting approval for a stadium in downtown Los Angeles, near their own Staples Center, which has a vast solar array on its roof.
In order to expedite the permits for building the new stadium, California Governor Jerry Brown, signed legislation that will fast track any legal challenges in exchange for a carbon neutral stadium. According to ESPN's website, "In exchange for an expedited legal review, AEG has pledged to build a carbon-neutral stadium with more public transit users than any other stadium in the country and has committed to making Farmers Field one of the only stadiums in the country to have a net-zero carbon footprint." Lincoln Financial Field, home of the Philadelphia Eagles, announced last fall that they plan to generate all of their own energy on site.
With only 8 regular season and 2 preseason games per year, making use of the space in other ways is a must. The current site contains a section of the city's convention center. In order to ensure the best use of the facility, numerous events are planned to be held at the stadium.
[Image source]