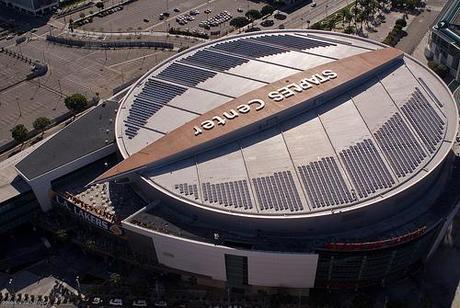 While watching the National Basketball Association's All-Star weekend recently, I was distracted by the aerial shots of the Staples Center's roof. Having grown up in Los Angeles (admittedly a Clippers fan in an era of Lakers Showtime dominance), I was interested in watching what seemed like the first Clipper All-Star in my lifetime. However, the small rectangles on top of the Staples Center and neighboring Nokia Theater kept coming into view. As it turns out, they were solar panels, hundreds upon hundreds of them.
According to the Staples Center's website, the arena "currently has 1,727 solar panels installed on its rooftop. This 364 kW photovoltaic (PV) solar system installed by Solar Panel Inc. in 2008 is connected to an additional 166 kW system on top of the roof of Nokia Theatre L.A. LIVE." The installation is not the first foray into green building for the structure. "In 2007, STAPLES Center removed 178 one-gallon per flush urinals and installed 178 zero-gallons per use urinals created by Falcon Waterfree Technologies." In addition, one of the co-tenants, the Los Angeles Kings of the National Hockey League, "offer ticket discounts to metro riders as well as offering secure bike racks for guest use."
The inclusion of green features is not new for sporting venues. There are now two LEED certified baseball stadiums, as well as a college football field, and an NBA arena. However, Business Week reports that solar has been a hard sell for arena owners. "Besides the slow payback, solar panels compete for space with revenue-generating corporate logos that are often splayed across arena roofs and reduce their load-bearing capacities—a prized commodity for concert engineers seeking to hang hundreds of thousands of pounds of sound and lighting gear from trusses." Staples Center has managed to balance the logo and solar panel equation (see the post's image). The article goes on to state that the Staples Center is the only venue in the U.S. where the solar installation supplies more than 2 percent of the building's power. They state the cost of the installation was $2.3 million dollars. The
"panels supply 456,000 kwh of electricity per year out of the arena's demand for 21 million kwh. At 12 cents per kwh, AEG saves about $55,000 a year. At that rate, the array would take more than 40 years to pay for itself. AEG says that with the help of utility rebates and federal tax credits it expects to recoup the investment in 8 to 10 years."
While many structures include less visible, but highly profitable features like low-flow water fixtures and efficient lighting, solar panels provide an eye catching component that can draw interest and make a statement that other projects fail to match.
Oh, by the way, in case you hadn't noticed, Clipper rookie Blake Griffin easily won the dunk contest.
[Image source]