It is often said that buying a house is the biggest purchase that you will ever make. Bearing this in mind it's critical that you know that you are making the right purchase! It is easy to get swept away with the excitement of buying your first house and buying the very first house that you see, or if you have been looking for a house for a long time, to just choose any house so that you can stop looking.
While a lot of the house can be customised once you move in, there are a few things that you will want to make sure you are happy with as they either cannot be changed or would cost you more money to change. Here is a list of the most important things to look at when you are looking around a potential new house: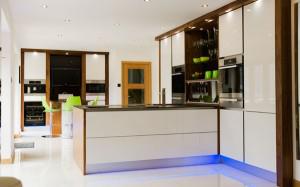 Floor Layouts
This is the most important thing to make sure you are happy with. Once you have bought the house, the last thing that you want to do is start having to have walls knocked down and rebuilt in order to change the layout of the house. As a rule, if you are not happy with the layout of the house, cross it off and start looking for another.
Before you even go into the house, you should decide on the minimum size of the rooms that you are happy with. For example, you may not be too bothered about the size of your kitchen, but you may want to have a large living room. You should also decide how each of the rooms will be used as this may dictate whether or not the house is suitable. For example, if you want to rent out one of the bedrooms, you need to make sure that all of the communal areas can be accessed without going through another bedroom.
Kitchen
The kitchen is a really important part of any house and is often seen as being one of the most important rooms in the house. It is also the most expensive room to change. It is not uncommon for the cost of a replacement kitchen to cost in excess of 20% of the house value, with bespoke kitchens costing even more! With his in mind, you obviously don't want to be ripping out the existing kitchen and paying to have a new kitchen put in straight away.
You need to not only look at the style and design of the kitchen, but also the layout and storage of the kitchen. The last thing that you want to do is move into the house and realize that you do not have anywhere near enough storage space available.
The author has been designing bespoke kitchens, bathrooms and bedrooms for over 15 years. With experience in all styles of kitchen, from gothic kitchens through to modern luxury kitchens.