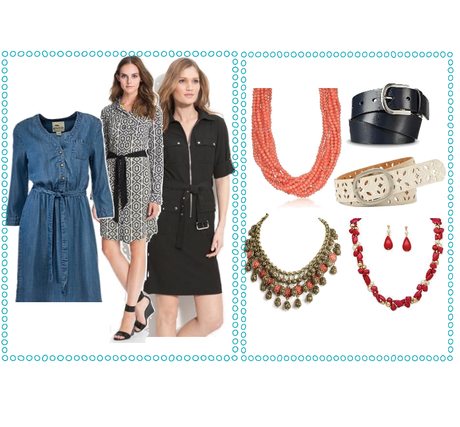 Zippers
$120.00
Bonton.com Prints
$128.00
Amazon.com Smooth Belt
$9.99
Target.com Perforated Leather Belt
$34.00 (20% off)
Nordstrom Multi-Strand Coral Bead Necklace
$112.50
Ross-Simons Bronze Pewter Coral And Filigree Bib Necklace
$67.49
Overstock.com Pearl Beaded Necklace And Earrings Set
$12.99
Haband Denim
$49.97
Bass Pro Shops If you're looking for comfort and versatility, you'll want to add a light and breezy shirt dress to your wardrobe. These dresses feel so light and airy as they brush against your skin plus look flattering on just about everyone. Confused about how to wear the adaptable little shirt dress? Here are some tips:
Choose a veratile color
The beauty of a shirt dress is it can be interchanged with so many other pieces in your wardrobe. To make it more versatile, choose a neutral shade such as black, gray, or white so you can team it up with almost everything else in your closet. Once you see how good a shirtdress feels and how flattering it looks, you'll probably want several of these springtime dresses.
Layer
Try wearing a shirt dress over a pretty shell or camisole. Layering can add a whole new dimension to your wardrobe and give you a chance to wear tops that may not have looked appropriate on their own. While a tank top may look too casual for the office, put it under an airy shirt dress along with an eye catching belt and you have a light, yet professional look for school or office. For a more casual affair, try wearing a shirtdress layered over leggings, a pair of Capri pants, or a slim pair or trousers.
Belts, Shoes and Jewelry
Shirtdresses were made to show off unusual belts. Try an extra thick belt to make your waist look smaller and add definition to the line of your outfit. The right belt has the power to transform the look of a shirtdress and you can create an infinite number of looks simply by changing your choice of belts. Wear a belt in a shade similar to the dress or go all out and pick a bright, contrasting belt. Try pairing a black shirtdress and black leggings with a thick belt in a vibrant yellow shade for a great springtime look.
For a casual occasion, combine a shirtdress with a pair of comfortable ballet flats. Team it up with a pair of open toe sandals to go anywhere from the shopping center to the beach. For cooler days, a pair of tights and boots ranging in length from ankle to below the knee can really play up the casual flair of a shirtdress. For a dressier occasion, enhance it with sheer hose, some moderately high heels and pretty gold jewelry. As you can see, this style of dress goes almost anywhere.
The shirtdress looks best with simple, polished jewelry. Try wearing it with moderate sized polished hoops in silver or gold along with several bangle bracelets in gold or silver. A long flowing scarf can also add a unique fashion twist to the versatile shirt dress.
Denim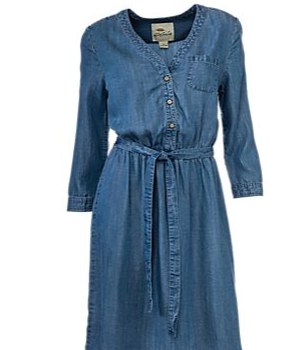 Bob Timberlake - Denim Shirt Dress for Ladies Skirts & Dresse - $49.97, 7.95 shipping - Available at Bass Pro Shops
Zippers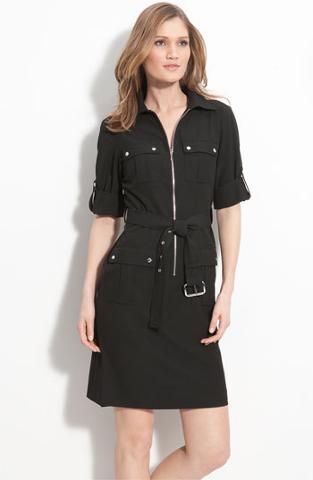 Michael Kors - MICHAEL Michael Kors Roll Sleeve Belted Shirtdress (Regular & Petite) - $120.00, 9.95 shipping - Available at Bonton.com

(32 reviews)
Prints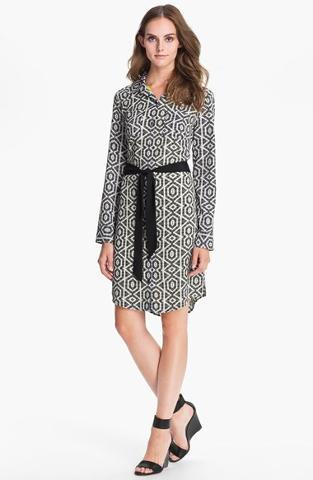 Vince Camuto - Print Shirtdress - $128.00, Free shipping - Available at Amazon.com

(2 reviews)
Smooth Belt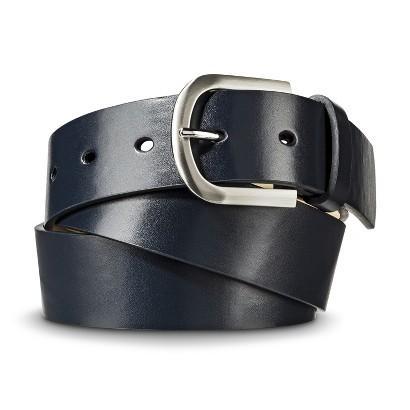 Merona - Solid Smooth Belt - Navy - $9.99, See Site shipping - Available at Target.com
Perforated Leather Belt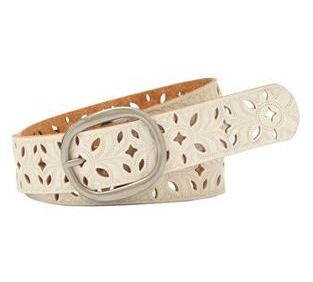 Fossil - Women's Fossil Perforated Leather Belt - $34.00 (20% off), Free shipping - Available at Nordstrom

(20 reviews)
Multi-Strand Coral Bead Necklace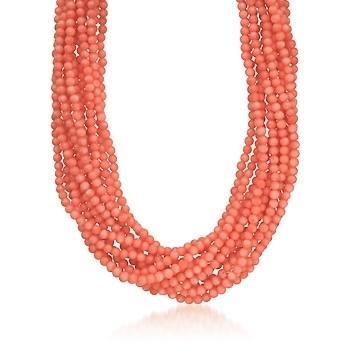 Ross-Simons - Multi-Strand Coral Bead Necklace in 18kt Gold Over Silver. 17" - $112.50, Free shipping - Available at Ross-Simons

(4 reviews)
Pearl Beaded Necklace And Earrings Set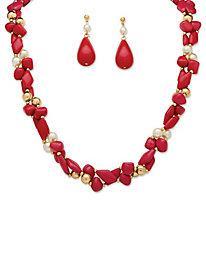 Haband - 2-piece Coral Colored And Simulated Pearl Beaded Necklace And Earrings Set; Color: No Color - $12.99, 6.00 shipping - Available at Haband
Bronze Pewter Coral And Filigree Bib Necklace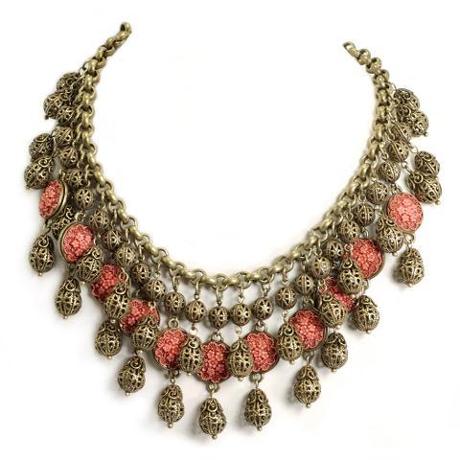 Sweet Romance - Bronze Pewter Coral And Filigree 1940s Bib Necklace - $67.49, See Site shipping - Available at Overstock.com
Disclosure: This post contains affiliate links provided by Postpresso.