Evening all,
With a name like that, I was tempted to use a title like "reason to cheer?" Anyways, this is Longcheer, L28.SI, a China-based company that deals with mobile phones.
Longcheer experienced quite a drastic decline in share price at the start of 2011. Whatever the reasons may were, Loncheer languished at the $0.10 region for quite a while. However, fortunes turned and Longcheer gathered steam throughout 2013 and into this year. The rally was somewhat steady and progressive, which meant that the 200-day MA could almost keep pace with price. Recently, Longcheer made highs at around $0.34 before retracing down to below $0.28. A quick recovery put Longcheer up at $0.30. I like the resilience of this long uptrend that Longcheer is in. Nothing indicates to me why Longcheer's trend should stop, so I expect to look for set-ups towards the upside.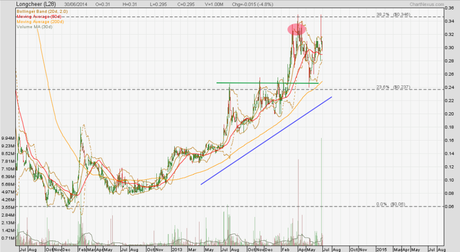 For those who believe in Fibonacci, I took the highs in 2010 and the lows in 2011 – high and low of post-2008 crash – and found an interesting picture. At the 23.6% and 38.2% retracement levels, Longcheer found resistance. The recent breather is expected because of the 38.2% level – but nothing more than that. I think now is a good time to take advantage of the dip for a long set-up to ride the trend if it continues upwards. Let us see how this goes.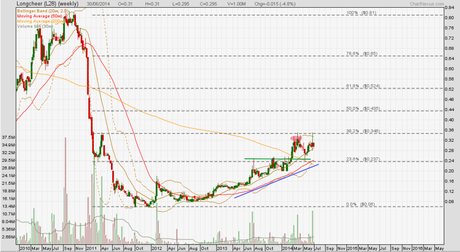 All analyses, recommendations, discussions and other information herein are published for general information. Readers should not rely solely on the information published on this blog and should seek independent financial advice prior to making any investment decision. The publisher accepts no liability for any loss whatsoever arising from any use of the information published herein.