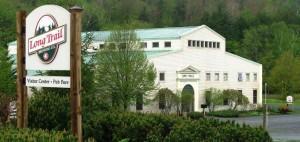 Company
Long Trail Brewing Co. might not be the first name you think of when it comes to Vermont craft breweries, as others have more widespread distribution (Magic Hat) or craft cache (Hill Farmstead). However, the brewery is one of the State's oldest craft breweries, designing microbrews since 1989. After outgrowing their initial space and moving into their new one in 1995, Long Trail has attracted close to 72,000 visitors each year, enough to be considered one of Vermont's top attractions. Like many breweries nestled in a precious ecosystem, Long Trail understands its role as an environmental steward, and adopts its business practices accordingly. Using a number of eco-friendly brewing processes over the years ultimately culminated in Long Trail being selected as the recipient of the 2009 Vermont Governor's Award for Environmental Excellence in Resource Conservation.
The brewery sits atop an artesian well, which has been called Vermont's Best Drinking Water by the Green Mountain Water Environment Association, so, understandably, the main primary focus of Long Trail is reducing water waste. To that end, Long Trail conserves the water they extract from the well, using only 2.37 gallons of water to make a gallon of beer. Traditional methods use about 6 gallons of water to make one gallon of beer. Additionally, they have implemented a state of the art on-site water treatment plant that removes impurities before injecting it back into the ground.
Like many breweries we've featured on Revolutionary Spirits, Long Trail is also involved with local farmers, providing its spent mash, rich in protein and vitamins, for animal consumption. Unlike many of the other breweries, however, some of the farms Long Trail works with are Cow Power Plants. Cow Power Plants are like something out of Mad Max Beyond Thunderdome, as they take refuse from cows (up to 30 gallons from each cow per day), and convert the methane to energy. Some of these plants can produce electricity for up to 400 homes. Long Trail not only provides feed for these farms, but, in 2008, signed up as one of the largest companies participating in the program.
Additional Cow Power Info: Green Mountain Power | Cowpower video
Beer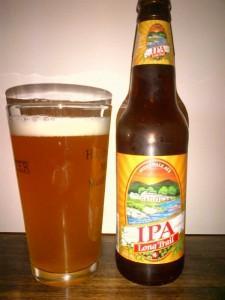 Long Trail produces a wide variety of regular and seasonal ales, including the well-reviewed Double Bag amber ale, and the perennial favorite Long Trail Ale, which was recently awarded first place in the German Altbier category at the 2012 Great International Beer Festival. As the weather is getting warmer in my neck of the woods, I decided to pick up Long Trail's Traditional English style unfiltered IPA. It pours relatively light, like a dark golden straw, topped by a solid head. It has a hoppy nose that is not antiseptic, but warm and earthy, kind of like cut grass after one day. It has a light mouthfeel, medium carbonation. Up front, the IPA is certainly hoppy, but again, similar to its scent, it is a soft hops, and it finishes kind of citrusy sweet. True to the British style, and its unfiltered nature, this is not as biting as an Ameircan West Cost IPA, but for me and my propensity for English style ales, that is a good thing.  This is interesting because the beer contains the Nugget and Cascade hop varietals, which are more associated with American IPAs, as opposed to Goldings and Fuggles hops, two hops traditionally used in British ales.  At 5.9%, it is not quite the sessionable ale you might want to drink all day, but its well-rounded flavor means you can drink more than one. Although primarily on the East Coast of the US, it is recommended if you can find it.
BeerAdvocate: 3.62/5
Ratebber: 3.1/5