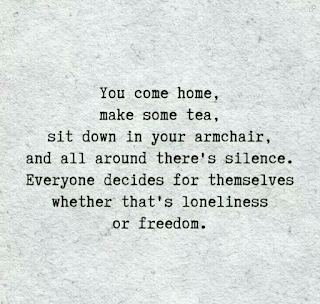 I couldn't figure out what my late aunt really meant when, in her later years, she warned me that loneliness was a terrible thing. She had been a lively young woman. She had run pubs with her husband and continued to do so for another decade after his sudden death, thriving on the social scene of her work. In retirement, life was quieter. Too quiet.She bought a house for herself and my widowed grandfather. Her social life was reduced to occasional bingo nights with a couple of ladies she had kept in touch with, and our rare family gatherings.I visited her often, increasingly so after my grandfather passed away. She lived an hour's drive away and sometimes I would go straight from work, have tea with her then go to her local social club for a while. I thought she was happy but as time went on, she seemed to have less company and she couldn't be bothered to make an effort. Towards the end of her life she had fallen out with most of her friends and she'd been unkind to me and my sister. We were both busy with our young children, but continued to do what we could for her.Our much loved aunt had turned into a cantankerous old soul, pushing our patience to the limit. I like to remember the many happy times I shared with her. Auntie used to be a 'people' person, generous with time, money, belongings, whatever she had to spare for whoever might need it. I don't remember her ever having a hobby or even reading a book. It is clear to me now that in the last couple of years of her life, not only was her health failing, she was also suffering from loneliness and possibly depression and with regret, I didn't realize until it was too late.
  I know how lucky I am to have family, friends and lots of interests to occupy myself with. I feel great sympathy for those who long for companionship yet remain alone to the point of loneliness.
I understand that evenings and nights are worse than the daytime for those with loneliness. I've chosen this poem by Charlotte Bronte, 
Evening Solace
The human heart has hidden treasures,
In secret kept, in silence sealed;­
The thoughts, the hopes, the dreams, the pleasures,
Whose charms were broken if revealed.
And days may pass in gay confusion,
And nights in rosy riot fly,
While, lost in Fame's or Wealth's illusion,
The memory of the Past may die.
But, there are hours of lonely musing,
Such as in evening silence come,
When, soft as birds their pinions closing,
The heart's best feelings gather home.
Then in our souls there seems to languish
A tender grief that is not woe;
And thoughts that once wrung groans of anguish,
Now cause but some mild tears to flow.
And feelings, once as strong as passions,
Float softly back - ­a faded dream;
Our own sharp griefs and wild sensations,
The tale of others' sufferings seem.
Oh ! when the heart is freshly bleeding,
How longs it for that time to be,
When, through the mist of years receding,
Its woes but live in reverie !
And it can dwell on moonlight glimmer,
On evening shade and loneliness;
And, while the sky grows dim and dimmer,
Feel no untold and strange distress­
Only a deeper impulse given
By lonely hour and darkened room,
To solemn thoughts that soar to heaven,
Seeking a life and world to come.
Charlotte Bronte  1816 - 1855
Thanks for reading, Pam x
Email This
BlogThis!
Share to Twitter
Share to Facebook
Reactions: