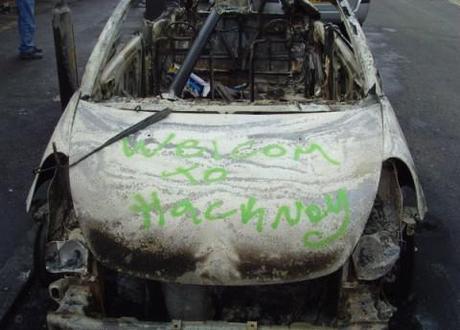 Welcome to Hackney. Photo credit: Johnny McDevitt (via TwitPic)
In recent days, the police have come in for stinging criticism from for their seeming inability to cope with the riots, which spread quickly across the capital last night. In a speech this morning, Prime Minister David Cameron moved to calm fears by saying there will be 16,000 police out on the London streets tonight, as opposed to last night's reported number of 6000.
Despite the beefed-up policing plans, few predict a quiet night. Intercepted warnings suggest riot meet-ups are being pre-arranged via BlackBerry's encrypted messenger service and other such channels.
Rioters speak. For obvious reasons, few rioters have agreed to be interviewed by news organisations. But BBC Worldwide did bag a few minutes with two female rioters in riot-hit Croydon. In the clip, which you can listen to here, the participants explain that it is all about "showing the police we can do what we want" and say the rioting is "the government's fault."
Johnson: End this madness. Writing in The Evening Standard, London Major Boris Johnson, who returned from holiday today, acknowledged there will be "questions about police numbers and tactics … And yet it would be an utter travesty to blame these events on the police. The police did not riot. The police did not loot or recklessly set fire to property." Johnson accepted that "times have been tough" but he reminded that "you don't boost London's job-generating prospects by smashing London's shops." Hoping that we will all, in time, look back on this period as a "bad dream," Johnson insisted that "this madness must stop."
Economics not racism riles the Nando's generation. Writing at The Financial Times, Violent London: 2000 years of riots, rebels and revolts author Clive Bloom argued that "the spread of riots into other areas of London is exclusively a function of economics, not racial tension." Bloom insisted that "these are events devoid of political intent" which "have little in common with the student violence earlier this year, except their use of social media as an organisational tool." Bloom said these riots are driven chiefly by economic hardship: "These are riots marked out by the looting of Foot Locker and Nando's – the shopping places of Britain's new underclass. Those who have grown in a world where social identity comes from consumption find themselves barred in times of economic hardship, except by theft."
"Only in the UK could rioters in £100 trainers organising things on their £300 smartphones claim to be in poverty!" tweeted Paul S. Armstrong, co-director, the Association of British Muslims.
Opportunistic materialism driving riots. "Far from representing a political act it was nothing more than a mixture of mindless criminality and opportunistic materialism," adjudged volunteer mentor Lindsay Johns at The Daily Mail, who reacted the "narrative of victimhood" and insisted there "was no 'legitimate grievance' behind the mass thuggery, only feral mob rule which should have no place in a civilised society." Johns insisted that this "vicious materialism" is not "by any means solely the preserve of black youth culture" and that "thuggery knows no colour." Johns suggested the riots are a manifestation of the "nasty, self-centred mentality all round us" which is reflected "in the greed of bankers over their bonuses or MPs over their expenses." "The pernicious spirit of instant gratification and ruthless entitlement transcends race and class, undermining the codes of morality that once built our civilisation," lamented the writer.