Today has been an amazing day "working" at one of the Samsung Mobile Pins at Westfield Whitecity.
People from all over the world are visiting London's biggest Mall to do their shopping and get pretty excited with all the activity going on at the Samsung Mobile Pin placed right in the heart of Westfield which is the biggest and probably the most "interactive" one in London.

As I have already told you everybody is 'hunting' for the Samsung Pins and they are having fun playing games on the Galaxy SIII using the application Take Part and drawing Olympic Themed pictures on the Galaxy Note.  The "Pin Master" seems to be the one everyone wants to see to get the special pins he is only allowed to give away.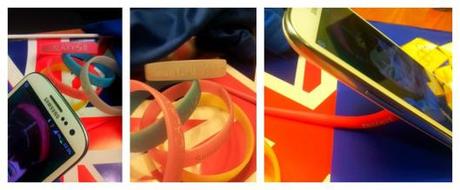 A lot of action takes place at all the tables in the Pin as people are trying to win through very easy tasks Galaxy SIII bracelets and piggy tails (support stands that can hold a smartphone horizontally or vertically, and can be used during the viewing of movies).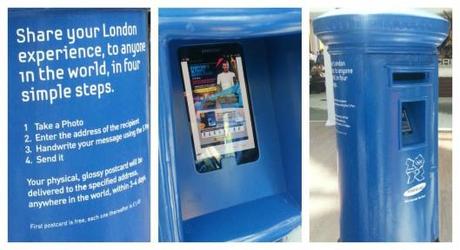 There is a tall 'Samsung Blue' post box with a Galaxy Note installed on it on which visitors can write a message and then have it delivered as a postcard to a person of their choice.
In the beautifully designed Glass Pins, they cannot only see the latest smartphones and tabs but also buy accessories for them.  Samsung has also released some Olympic themed flip covers for its flagship products which seem to be attracting lots of attention.
In the middle of the Pin there is a stage on which presentations take place every 30 minutes.  Among the professional presenters there are also people like me who talk on stage about the Galaxy SIII and it's really awesome to see the visitors taking part and coming on stage to showcase features such as the Best photo and Burst Shot.


But surprises don't stop here!  There is also a Galaxy Note Studio where people can have their photo taken and then printed on a t-shirt, framed or even a badge with the flag of their country printed on it!
If you are in London for the Olympics do visit one of the Samsung Pins, I can tell you, you are going to love it because when Samsung says Take Part, it really means it!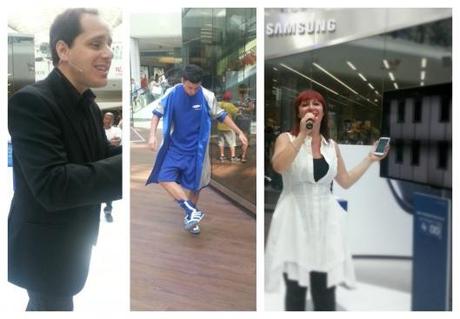 Special tip:  At the weekends you can also see performances of a magician doing tricks using his Galaxy SIII, a duet of a singer and a keyboardist playing music on a Galaxy Note smartphone and dancing "athletes" doing their routine on stage!