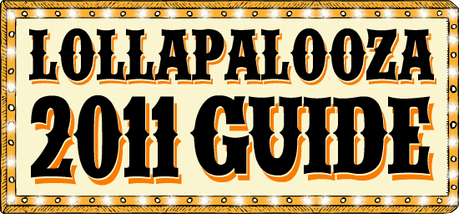 It's Lollapalooza time again in the fine city of Chicago.  We'll be there checking out the following bands and think you should too.  As you'll see, you won't be able to see every ask you want, so we've added the "OR" when there's two acts going on at once that we want to see.

Young the Giant – 1:00PM – Bud Light Stage
With stadium-sized, anthemic songs like "My Body", Young the Giant are sure to bring the rock early at this year's Lolla. If that's not your kind of thing, though, their softer edge is equally impressive with more melancholic tunes fit for swaying.

Tennis – 1:00PM – Google+ Stage
If you're looking for a show to remind you of the joy and fun that summer brings, Tennis will be sure to satisfy your craving with beachy songs and upbeat tempos.
The Naked and Famous – 1:30 PM – Sony Stage
If their music videos are any evidence, The Naked and Famous will put on a high-energy show. Though perhaps appealing to Lolla's younger crowd, their songs still feature enough 80's synth to satisfy the more seasoned festival goers.
Foster the People – 3:00 – Sony Stage
Foster the People's set is destined to draw a crowd, and for good reason. Their live show is brimming with songs designed for dancing, so avoid this stage if moving and shaking doesn't appeal to you. It's impossible to be still in front of this trio.
Cults – 4:45PM – Google+ Stage
Passing by the Cults stage, you're sure to stop and pause as Madeline Follin's angelic voice wafts over you, accompanied with bright beats and steady drums.

Two Door Cinema Club – 5:00PM – Sony Stage
With their fast-paced, guitar-soaked tunes, Two Door Cinema Club puts on a great live show, though you may get a little roughened up in the audience. Their songs translate incredibly well live, if not better than on record, so they're a can't miss set for any fan of their music.
Crystal Castles – 7:15PM – Sony Stage
Add the pulsing dance club hits of Crsytal Castles to their spectacular light show, and you have a performance that's worth dealing with topless men offering you ecstasy.
Coldplay – 8:30PM – Bud Light Stage
Though I've grown weary of Coldplay, I refuse to let that get in the way of seeing them live. Boasted as some of the best performers around, they're sure to satisfy, even for those tired of Chris Martin's falsetto vocals warbling over the speakers.

Muse – 8:15PM – Music Unlimited Stage
I'm not sure whose bright idea it was to put two of the festival's biggest acts on at the same time, but I'm not terribly happy about it. Supplying pulsing stadium rock sure to be heard throughout the grounds, Muse may force you to make a tough decision come Friday night.

Grouplove – 12:00PM – Sony Stage
If "Colours" has been stuck in your head this summer, which I'm sure it has, Grouplove should be first on your Saturday schedule. Their gritty alt-rock is primed to wake you up after a hard night of aftershows.
An Horse – 1:00PM – Google + Stage
Groups with rocking frontwomen appear to be a pattern at this year's Lolla, and An Horse are no exception. With rock-soaked tunes and a hardened sound, take advantage of this set to get some head-banging in.
Dom – 3:30PM – Google+ Stage
Dom are sure to be the answer to the question "where's the party at?" While they may be more familiar with small indie-clubs, their live set should translate well to the Lolla stage, and their summer-soaked hit is sure to be the anthem for this year's festival.
The Drums – 4:45PM – Google+ Stage
Many people aren't aware of this, but Jonathan Pierce may be the most charismatic front man touring right now. With a sneer, pout, and funky dance moves reminiscent of the late Ian Curtis, it's hard not to lose yourself in the 60's infused pop and attitude of The Drums.
Ween – 6:00PM – Bud Light Stage
Ween may be the perfect band to wind down your second day at the festival. With their chill-vibed jams and funky sound, they're made for lying on blankets and relaxing. Even if you think they're not your sort of thing, I'm sure you wouldn't regret seeing the epic Ween over, let's say, The Pretty Reckless?
Lykke Li – 7:15PM – Google + Stage
Lykke Li, if you haven't already fallen in love with her, boasts numerous hits, packing her songs with angry/romantic girl lyrics that even the manliest of men find themselves singing along to.
Beirut – 8:45PM – Google+ Stage
I'm still kicking myself for skipping Beirut at this year's Bonnaroo. Finally, though, the Balkan stomp will reach me through a sweaty crowd of fellow festival goers. Given the smorgasbord of rich sounds, varying from ukulele to brass, there is no doubt Beirut will have a huge live presence.

The Joy Formidable – 1:00PM – Bud Light Stage
For those of you who haven't tired of the widely used "Austere", The Joy Formidable are a well oiled performance band to start off your Sunday. With a live sound that's even bigger than their recorded material, this group won't disappoint with their epic set and incredible energy on stage.
Young Man – 3:45PM – BMI Stage
I'm not sure how to go about describing Young Man. A more innocent and laid back Beirut, perhaps? Scheduled during The Cars set, they may have a little trouble drawing a crowd, but those bold enough to show up will be rewarded with other-worldly chill jams.

The Cars – 4:00PM – Music Unlimited Stage
Though I can't be sure how much of their set will be older songs and how much will be the ever-dreaded new material, The Cars are bound to put on an excellent performance regardless. Fueled by the hits we all know and love, I'm looking forward to a full on nostalgia trip.
Boy & Bear – 5:00PM – BMI Stage
Though I only found out about Boy & Bear a few weeks ago, I can't imagine missing their Lolla set. With sublime vocals and an intense yet quiet sound, this melancholic outfit are sure to generate a lot of buzz on the festival's final day.
Arctic Monkeys – 6:00PM – Music Unlimited Stage
Arctic Monkeys are very close to perfect. Each album under their belt reveals a new sound to fall in love with, including the most recent which packs a harder punch vocally and incorporates heavier rock guitar. The newly single Alex Turner is sure to have all the ladies falling in love as well, so keep a firm grip on your girl as you listen to the Brit-pop-rock sounds of Arctic Monkeys.
Manchester Orchestra – 7:00PM – Google+ Stage
Manchester Orchestra, with melancholic lyrics and sound, may not seem like a fit for everyone, but the grunge-edged vocals and pulsing beats will entrance you regardless as the night dies down.
Cold War Kids – 8:30PM – Google+ Stage
Staying in line with the rock-theme of Sunday evening, Cold War Kids are sure to knock you out with their blues-styled jams and unwavering bass. Songs like "Hang Me Up To Dry" are always crowd favorites, so prepare yourself for a screaming match as to who can sing the chorus loudest.

KiD CuDi – 9:00PM – Perry's Stage
Given my love for Kid Cudi's collaboration with MGMT, this performance may be the best way to fill the void of the latter band's absence at this year's Lolla. Cudi alone, however, should be reason enough to stop by Perry's Stage — the talented rapper can sing you a lullaby as Lolla draws to a close for the weekend.