Locks -- no not curly ones, nor ones that turn with the aid of a key but ones on canals. I used to live outside Oxford and we went boating on the Thames. Many parts of the river are not navigable therefore a "cut" is provided often with a lock to change the level. These locks were manned by obliging lock-keepers who lived close by in neat, colourful cottages. Since we went out regularly our craft became well known - as with many others and boat users were friendly and helpful ....kind of like caravanning on the water !! My first experience of a lock absolutely terrified me. Our first craft was so small and the lock walls reached up towards the heavens ! There were ropes to catch and hold, instructions given - safety of the essence . As a non swimmer it was all rather daunting. Over the few years I became fairly proficient at steering, but never berthing - no , my job was always to jump ashore, rope in hand and find a suitable tying up point.
    My walks often take me along tow paths, especially on the Preston/ Lancaster canal - - which incidentally has no locks along it's entire length. Using instead the contours to raise/lower the fall . It is this fact that makes it a popular canal for trippers since there are no concerns over the workings of locks. The short canal to Glasson dock however boasts four locks on it's short stretch. to go from sea level. It is interesting to watch people winding " keys" and pushing timber spars .. all very energetic. So at Glasson marina there are vessels of all sorts - especially long boats that we don't normally associate with  the sea.
    I apologize for not having a poem today - but I've been away for the Bank holiday weekend. I do have a photo of the Preston / Lancaster canal ( minus locks ! )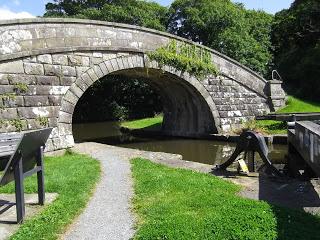 Email This
BlogThis!
Share to Twitter
Share to Facebook
Reactions: