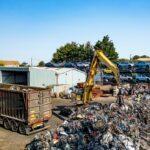 Scrap Metal Recycling in Thanet, Kent
Metal is a precious material that can be easily recycled and put back into use. At Reclamet we never send waste to landfill sites; instead, we provide metal recycling at our dedicated facility in Birchington, Thanet, to promote a cleaner environmental future.
Recycling helps to avoid using raw virgin materials, and we process your waste metal to be given a new lease of life after its recycled. Whether it's scrap metal from office clearance, construction sites, civic amenity sites or old cabling, Reclamet can recycle and collect unwanted metal and arrange payments based on the value of the material.
Some of the metals we accept are:
Copper
Steel
Aluminium
Iron
Ferrous Metals
Non-Ferrous Metals
We recycle a wide range of metals visit: Types of scrap metal.
Local scrap yard in Thanet, Kent
As the leading metal recycler for Thanet, we know how important it is for you to have your waste recycled and promote your environmental credentials. We have years of experience in the industry and can advise you on how best to manage your metal waste for ease of processing – we can also provide the required documentation you may need.
Local scrap metal collection
Contact our friendly team today to discuss your scrap metal & metal recycling requirements or find out if we accept your metal waste. We operate across Thanet and surrounding areas and offer a local scrap metal collection service.
Environmentally Conscious Scrap Metal Merchant
With responsible waste disposal and recycling more crucial than ever, people choose their scrap metal merchants carefully. At Reclamet, we prioritise best recycling practices, ensuring environmental care remains paramount in our services at all times.
We have invested in reclamation equipment for our depot, allowing us to recycle as much metal and vehicles as possible.
Fully licensed metal merchants
We reuse and recycle the majority of the materials returned to our recycling facility. What's more, we are fully licensed waste carriers and an authorised treatment facility for end-of-life vehicles, so from the initial recovery to the recycling, we follow strict industry guidelines for the safe transportation and handling of ferrous or non-ferrous metals.
Choose local for peace of mind.
When you choose Reclamet as your scrap metal dealer, rest assured we take every possible step to preserve our local Kent environment while lowering the impact of our carbon footprint.
Call Reclamet, local Thanet, Kent scrap yard on:
Call: 01843 823554 / 01843 823224
Email: [email protected]
Reclamet – The Recycling Centre
Woodchurch Road,
Woodchurch, Birchington,
Thanet, Kent,
England. CT7 0HL