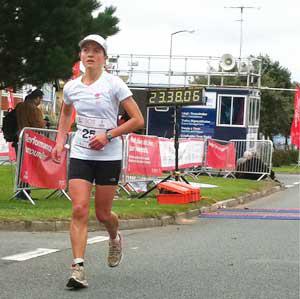 Lizzy Hawker sets new 24 hour record. Photo courtesy: CMUDC
England's Lizzy Hawker sets a new Women's 24 hour record at the 2011 Commonwealth Mountain and Ultra Distance Running Championships 24 hour race in Llandudno in North Wales today.
Lizzy Hawker ran 246 km at the Commonwealth Games 24 hour race in Llandudno setting a new British Womens 100 mile record on the way. The previous record was 243.657 km. Second place was Wales Emily Gelder.
Lizzy has proved herself at the Mont Blanc Ultra trail race this year finishing in13th place overall and close to three hours faster than the second placed woman.
Welshman John Pares was the overall winner.
Results to follow.