Ultra-Runner Lizzy Hawker Cuts Short Great Himalayan Trail But
Participates in 2011 Everest Sky Race
Loss of Vital Communications & Local Visas Creates Setback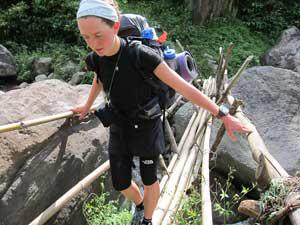 UK Ultrarunner Lizzy Hawker Photo: Richard Bull
For immediate release. Lugano, Switzerland, October 31, 2011:  The North Face®,  announces British ultra-runner Lizzy Hawker has had to cut short her goal to run the 1000 mile Great Himalaya Trail due to loss of communications, but accepts an invitation to run the gruelling 2011 Everest Sky Race.
The North Face athlete, Lizzy Hawker, renowned globally for her ultra-race career and recent world-record run of 247km in 24 hours at the Commonwealth Ultra Championship in Llandudno, UK, aimed to follow the Great Himalayan Trail across the breadth of Nepal from Kanchenjunga Base Camp in the east, to Hilsa on the western border with Tibet. Hawker's expedition, named 'Sky Dance', was to cross Tibet country keeping close to trails through the high mountains, moving fast and light, with minimal support.
Having left Kathmandu on October 10th to fly to Biratnagar in the east of Nepal and a jeep journey north to Taplejung, Hawker walked to Kanchenjunga reaching base camp (5144m) on 13th of October where 'Sky Dance' started in earnest. Whilst making good progress across the Nango La (4776m) and the Lumbha Sambha La (5100m), Hawker temporarily lost the path between Thudam and Chyamtang, critically losing a small bag carrying her communications and permits. Reaching Chyamtang on 21st October, Hawker walked out via Num to Khandbari, taking a short jeep ride to Tumlingtar and return flight to Kathmandu arriving back on Tuesday 25th October.
"Things had started so well, I was making good progress and loving it. Then in a remote region between the Kanchenjunga and Makalu areas, I temporarily lost the path between two villages and got in a bit of a tangle in a big dark forest of Himalayan proportions. I needed to take my time to find the safe way down to the only bridge across the torrent below. Progressing through the jungle thicket is slow and painful work. But what mattered was losing my small sack with all the important things – satellite phone, permits for my entire journey, solar panel, camera, money, compass, maps for that section etc.
On a journey like this communication is vital and without my hard won permits for the breadth of Nepal there was no option but to stop. The worst part was losing communication and knowing that I'd be causing so much concern and anguish at not being able to let people know that I was safe. That is my deep regret. I felt very strongly the love and support from my family, friends and so many who were following my journey. This gave me strength in ways that I have never ever needed to draw on before." reflected Hawker.
Hawker, undeterred by the setback and making the most of her time in the Himalayas, has accepted an invitation to take part in the gruelling 2011 Everest Sky Race beginning 30th October, a 200km journey (with 110km ascent and 70km descent) during a 9-day staged race from Dolakha through the Rolwaling Valley, crossing the Tashi Lapsa (5755m), Renjo La (5340m), Gokyo La / Ri (5350m), Cho La (5420m), ascending Kala Pattar (5540m) and finally arriving at the base camp of Ama Dablam (4700m).
Forging an additional challenge, Hawker will also attempt to run from Everest Base Camp back to Kathmandu, repeating the 2007 record run, which she holds with Stephen Pyke and Mark Hartell. Supported by the Nepal Athletics Association and joined by both international and Nepali runners at various sections, the goal is to encourage trail running in Nepal to inspire the wider population of the incredible value of sport in challenging mentally and physically.
The North Face® athlete Elizabeth 'Lizzy' Hawker (GBR) has an illustrious ultra-running career including being the first athlete ever to win the coveted 166km The North Face® Ultra-Trail du Mont-Blanc® title four times in 2005, 2008, 2010 & 2011.
Follow Lizzy Hawker through her Napalese journey through intermittent tweets:
twitter – www.twitter.com/thenorthfaceeu / www.twitter.com/lizzihawker
facebook – http://www.facebook.com/thenorthface
web – www.thenorthfacejournal.com/category/sky_dance/
Fundraising Community Action Nepal – www.justgiving.com/skydance