Now that autumn is in the air, my thoughts turn to zombies. I've read a few monster books lately, and as I pondered the attraction of zombies to the post-modern psyche, I began to wonder if they weren't becoming, in their own secular way, a religion. Think about it. Zombies, first and foremost, are about resurrection. In a world ruled by rationality and science, we know that resurrection is impossible. What isn't possible in science may indeed emerge in the world of monsters. The zombie, often not speaking, proclaims a distorted kind of gospel that the end is not really the end. Resurrection is not all that it seems. Zombies are spattered with gore, reminding us that the visceral existence we know as quotidian experience is temporary. Resurrection comes at the loss of a soul. The zombie is the monster of science: the animating principle is no longer spiritual. It's just physical.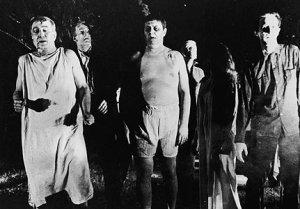 Not only do zombies proclaim resurrection, they are the ultimate proselytizers. Their zealous hunger leads them to bite and their biting infects and creates new zombies. Their brainless goal—as they are unthinking consumers—is to convert the entire human world to their point of view. Once the zombies take over completely, there will be nowhere left to go. The way of the undead flesh may be a dead end, but rationality doesn't always play a role in zealotry. The zombie is all about making more zombies. They are unbelievable, and unbelieving, but they have the making of a mega-religion nonetheless.
As a student of religion, I wonder how belief systems get started. We hold irrational beliefs on any number of things, including our religions. The difference that zombies make is, in real life, nil. And yet we can't help tuning into the Walking Dead, or watching World War Z. The zombie is the most recognized symbol of the proletariate among the workers of the world—the brainless, soulless drone in the machine. Mega-churches draw in thousands every week for a religion that doesn't require much intellectual engagement. Keep doing what you're doing. Think of others once in a while. God really does want you to be rich. And the minions go out and make disciples of all nations. It is a world full of zombies. We see them in our dreams and in our mirrors. And although we think they're only entertainment, they are oh so much more.