Last year, I was telling you guys about the amazing Restore Haircare Collection from Living Proof and how it made my hair healthier with more vitality and made it appear thicker, shinier (actually glossier), my color brighter etc. Living Proof is basically a salvation for dry damaged hair. Check it out here - Living Proof's Restore Haircare Collection. Well, its my pleasure to let you know that Living Proof has expanded on the collection and added three more products which join the line's  Restore Shampoo, Restore Conditioner and Restore Mask Treatment.



Restore Targeted Repair Cream $28.00 - I have been waiting for this product since the whole collection launched. I love leave-in conditioners and with the awesome results I got just from the shampoo, conditioner and mask, I knew I'd fall head over heels with a leave-in. My apt is mostly dry heat and my hair is parched almost every day so the Restore Targeted Repair Cream is a must for me (I've used about half so far). This awesome product also fights breakage and seals split ends while restructuring and reinforcing weakened hair strands.





Restore Revitalizing Spray with Heat and UV Defense

$26.00 - a must if you blow-dry and flatiron your hair like I do. It instantly polishes and perfects dry or damaged hair, while defending against heat and UV damage, this spray works on wet or dry hair and is the perfect product to take to the beach to protect your hair from the sun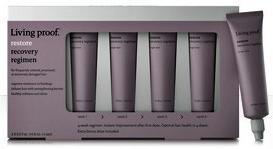 Restore Recovery Regimen

$38.00 - for intensive hair repair and superior strengthening of extremely damaged, over-processed hair.  This recovery regimen makes hair over 20x stronger and leaves hair feeling silky and smooth. This is what I would recommend should be your first step in the entire Restore Collection regime if you have dry, damaged, fried, over-processed hair. You will be wowed by how much damage it reverses.
Ladies, you should get your hands on these products if you want to reverse the damaged you've done and bring your hair back to its most healthy state. To get these and the other products from the Restore Collection, get thee to a Sephora or shop Living Proof's online shop at http://www.livingproof.com/products/.