When you have an endless supply of money, you're free to fulfill your wildest decorating ideas. Take a peek at some of the most expensive interiors in the world. From subtle to over-the-top, these spaces are pure luxury.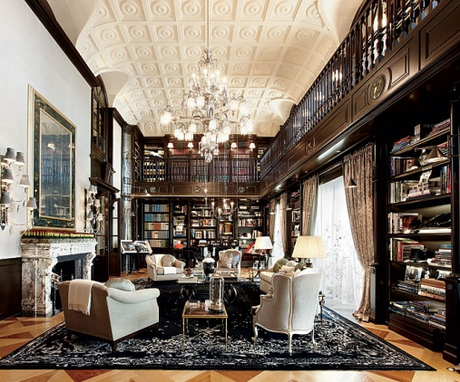 Photo via Candy & Candy.
Developers Candy & Candy created this opulent double height library in the world's most expensive penthouse. The previous owner of the 17,500 square foot Monaco home was mysteriously murdered in the reception area, yet it still sold for approximately $308 million. The intricate ceiling is adorned with a stunning chandelier. The muted color scheme, marble floors, traditional furniture, classic artwork, and state-of-the-art security are features seen throughout the two-story Mediterranean abode.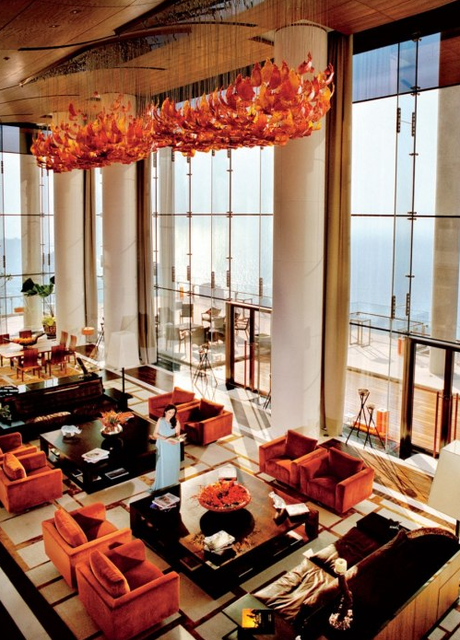 Photo via Vanity Fair.
This isn't a photo of a swanky hotel lobby. It's actually one room in what the BBC reports to be the world's most expensive home, priced at over $1 billion. The residence of India's wealthiest man, Mukesh Ambani, is named Antilia after a mythical island in the Atlantic Ocean. The recently built, 27-story, 400,000-square-foot house is located in Mumbai, India. Ambani's wife, Nita, describes it as a, "modern home with Indian heart." She says the interior design scheme is centered around the lotus and the sun and the house is decorated with rare wood, mother-of-pearl, marble, and crystal from Indian artisans. Could you imagine entertaining in this enormous space?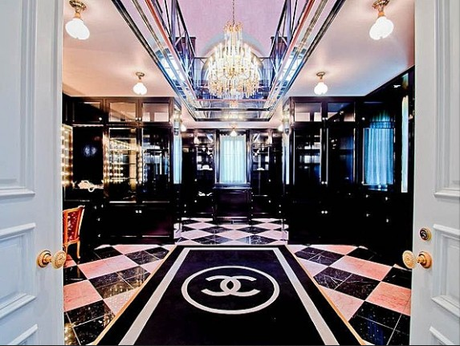 Photo via Zillow Blog.
Have you ever wondered what a $5 million closet looks like? See above! The Dallas Champ d'Or Estate's former owner, Shirley Goldfield, had this two-story, walk-in closet built into an entire wing of the mansion. No detail was overlooked in this Coco Chanel-inspired space. It contains French antiques, 18 karat gold door knobs, a $30,000 chandelier custom made in Florence, an iron railing designed to look like the famous mirrored railing found in the Chanel store on Paris's Rue de Cambon, and a $10,000 area rug sporting the brand's logo.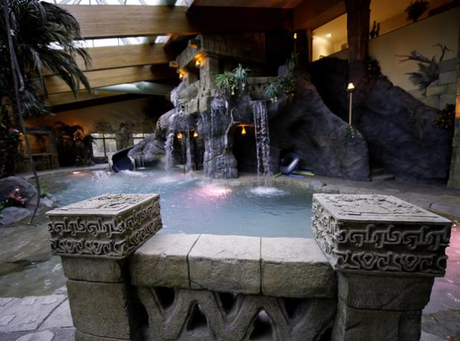 Photo via HGTV.
As seen on HGTV's Million Dollar Rooms, this indoor swimming pool features replicas of Mayan ruins, waterfalls, and a glass ceiling supported by wood beams to allow for natural sunlight. The oasis is part of a 50,000 square foot home in Cortland, Ohio. For another view of the space, see below: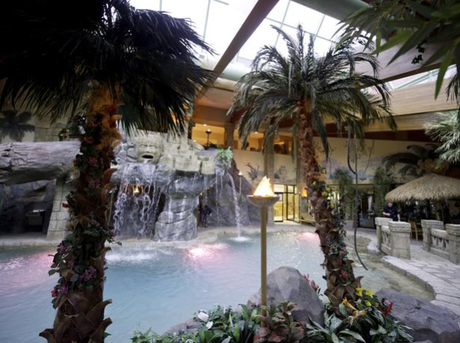 Photo via HGTV.com.
Inspired by the homeowner's trip to Atlantis Resort in the Bahamas, the room housing this indoor pool is the most expensive one in the multimillion dollar palatial mansion.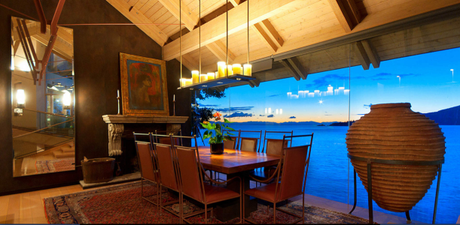 Photo via Jason Soprovich.
This nearly $5 million, award-winning waterfront residence designed by architect, Paul Merrick is located on a seaside bluff in Vancouver, Canada. With glass walls, exposed sandblasted beams along the vaulted ceiling, a fireplace, and neutral color scheme, the decor is understated. The breathtaking view is allowed to take center stage.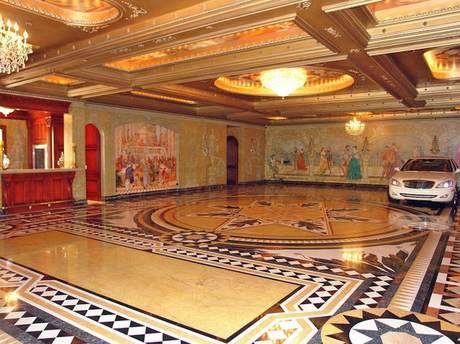 Photo via HGTV.
With a price tag of over $1 million, this garage was custom designed to look like the Salone Maggiore of the Scuola Grande Di San Rocco in Venice, Italy. It took 22 artists to create the Renaissance-style artwork.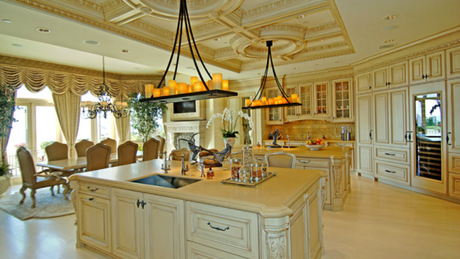 Photo via Forbes.
One of America's most expensive kitchens, the space features Caesarstone quartz islands, three dishwashers, incredible architectural details, and Wolf convection ovens.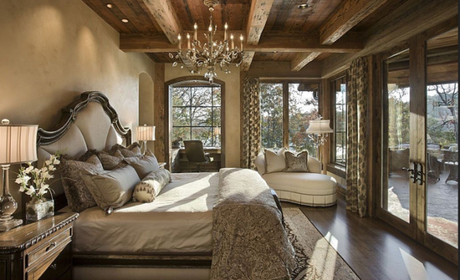 Photo via Zillow. Designed by Locati Architects.
Neutral colors and exposed beams add to the rustic charm of this luxury master bedroom in a high-end mountain home. Love how the space opens up to a patio with a stunning view.
What would your home look like if money wasn't an issue?