0 Flares
0 Flares
×
New to little Indiana? Subscribe for free to my RSS feed. Thanks for stopping by!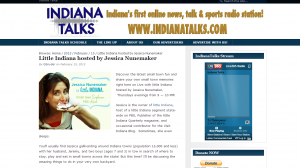 Jessica Nunemaker: little Indiana on Indiana Talks Online Radio
You've heard the Live with little Indiana Radio Show Thursday February 28, 2013! Now, find the places and spaces featured this week.
Tonight's show featured Joe Frost,  as well as John Updike, a lifelong newspaperman, and his youth in Old Fairfield, Indiana–a town that is no longer.
The following items are businesses and places pulled from the show to help you more easily help you plan your own small town adventure!
Off the Off-Beaten Path Segment
Stephenson's General Store
618 West State Road 62
Leavenworth, Indiana 47137
812.739.4242
Moorefield Market
8189 Hwy 129
Moorefield, Indiana 47043
812.427.3970
Jones Robotic Dairy Farm
6814 E 700 S
Star City, Indiana 46985
574.595.7887
Two Cookin' Sisters
210 South Prairie Street
Brookston, Indiana 47923
765.563.7377
Jonathan's Fine Arts and Antiques
Highway 17
Burr Oak, Indiana 46511
574.276.5482
Kniman Bar and Grill
4766 W 900 N
Kniman, Indiana
219.956.3008
Flour Mill Bakery, Bulk Foods, and Cheese
6580 W Co Rd 800 N
Rossville, Indiana 46065
765.379.9995
Tyson Methodist Church
324 West Tyson Street
Versailles, Indiana 47042
812.689.6976
Bongie's Tavern
9830 West 280 North
Perkinsville, Indiana 46011
765.734.1625
Lynn's Restaurant
170 North Chippewa Street
Roann, IN 46974
765.833.5191
Ernie Pyle Site
Dana, Indiana 47847
765.665.3084
Historic National Road Segment with Interview by Joe Frost
Joe Frost is Executive Director of the Indiana National Road Association and Community Preservation Specialist for Indiana Landmarks.  He earned a M.S. in Historic Preservation from Ball State University and a B.A. in Geography from Michigan State University.  While at Ball State, Joe's research focused on the development of Indianapolis' early tall buildings. Joe is an experienced historic interpreter; he has gained experience at various historic sites including the Vincennes State Historic Sites, Harpers Ferry National Historical Park, and Fort Mackinac. In 2012, Joe was instrumental in completing the installation of the Historic National Road interpretive panels in Indiana.
Huddleston House
Farmer's Market at Huddleston House
Cambridge City, Indiana
Centerville, Indiana
Old Fairfield Segment with John Updike
John Updike is an Indiana native, a Brookville H.S. graduate of 1964, and a U of Evansville BA 1969. He is an Indiana blogger, writer, and a lifetime newspaperman, John Updike. John has a story to share about his own small town, his childhood stomping ground, Old Fairfield. You won't find it on any map—it was long ago inundated by water as part of a federal reservoir project. He spent his youth in Old Fairfield, Indiana in Franklin County.
Until Next Week…
Find pictures in Indiana on my Flickr photostream or on the new little Indiana Tumblr blog.
Just don't forget to tell 'em that  little Indiana sent you!
Don't miss a moment. Subscribe to little Indiana and receive instant updates to stay on top of everything "little."
little Indiana: Where to Stay, Play, and Eat in Small Towns in Indiana. Discovering Indiana's best small towns! Now get little Indiana on your Kindle.
Targeted. Relevant. Affordable! little Indiana advertising.